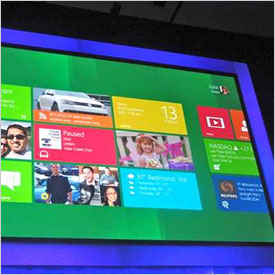 We've seen Windows 8 in action on a device built specifically for it, but how does the new OS fare on an older, standard PC instead of on a touch-tablet? Microsoft has made some bold claims about performance improvements, especially when it comes to startup time, and lower memory usage, as well as overall faster operation. The company has also stated that Windows 8 will run on any computer that could run Windows 7. Since Windows 8 Developer Preview is now available for download from dev.windows.com, we decided to put those claims to the test.
It probably wouldn't be a good idea to overwrite your main machine with Windows 8, since we've seen more than one bug and several quirks. What's more, Microsoft has plainly stated that it wouldn't offer support to those who install the budding, pre-release OS.
The machine we installed Windows 8 on could probably be called "old"—it's a three-year old Dell XPS M1550 with a 2.6-GHz Intel Core 2 Duo CPU, 3GB of DDR2 RAM, and an nVidia GeForce 8400 GS graphics board. It was fully updated to Windows 7 Service Pack 1.
The Install Process
The start of the installation process looks identical to that of Windows 7 and Vista. First you choose your language and keyboard country input method. Only English was available for the OS language in the Developer Preview, but keyboard countries ranged from Afrikaans to Yoruba (Nigeria). After this selection, the only choices were Install Now, and "Repair your computer."
After hitting Install now, the timer, and Setup Is Starting appeared. Then I had to accept the license agreement, just as with past Windows installations.
Next, I was happy to see that there was an upgrade option, so that I wouldn't have to lose all my documents and apps. After all, Microsoft has been claiming that all Windows 7 apps would run in Windows 8, so an upgrade option makes sense. I was surprised to see it in such an early version of the OS, nevertheless. The upgrade choice did read "The option to upgrade is only available when an existing supported version of Windows is running."
[RELATED_ARTICLE]