Headphones are a form of escapism. They transform music listening into an intimate affair, and as the technological advancements in this space are burgeoning, consumers are no longer looking at headphones as an accompanying accessory they get along with their smartphones, but a solid investment that could fulfill their entertainment, work-related, calling, and even gaming needs. The rise of music streaming services such as Spotify, YouTube Music, Apple Music, and others have also led to the astronomical popularity of headphones, since many individuals prefer listening to their own music privately, instead of blasting them on speakers, which has made them into an extremely pervasive commodity.
Improvements and developments in the audio manufacturing industry have led to a vast transformation in the sector, where key players, and even emerging ones, are spending inordinate amounts of time tweaking and perfecting the appearance, sound quality, portability, and connectivity of headphones to make them even more lucrative purchases. Additionally, the growing popularity of wireless headphones, and the introduction of a relatively nascent category in 2016 - true wireless earphones, has seen brands releasing even more headphones per year, than ever before, to ensure they stay at the top of the game and become the defacto choice for certain types of purchases. For example, brands such as Apple and Sony have established a dominance in the headphone industry in certain aspects; Apple with their AirPods which have become almost synonymous with true wireless earphones (for Apple users, at least), and Sony are known for their expertise in the Active Noise Cancelling technology. Not just these brands, several others are also being recognised and revered for their offerings in the headphone sector, be it due to their products' quality, affordability, robustness, and other such factors.
At this stage, consumers are spoilt for choice since a lot of brands are adding features such as voice assistant access, IP ratings, sports fit, NFC connectivity, wireless charging, and other such features, which were previously considered strictly 'premium'. Additionally, premium, audiophile-grade headphones are also seeing a slight but tangible surge in popularity. Founder and CEO, Headphonezone, Raghav Somani said to Digit, "There are a couple of major changes that have been happening today. People are now getting a high-speed Internet connection, and also the storage cost has gone low. Thus, people are moving more towards lossless file formats like FLAC. Earlier we had CDs, DVDs, and then, Blu-ray came in to enhance the movie-watching experience. Similarly, we have been using MP3 files all these days. But, lossless audio file formats are creating a new space for the high-end audio equipment."
Due to the exploding popularity of audio products, the global earphones and headphones market is projected to reach values of over $36 billion by 2024, growing at a CAGR of approximately 13 percent during 2018-2024, as per Mobility India. So, how has this drastic change translated in the Indian scenario? Are users as receptive to buying headphones separately rather than use the free ones that are almost always packaged with smartphones? How has the Indian market reacted to the blooming true wireless segment? We conducted a comprehensive survey to find out the Indian consumer state of mind when it comes to purchasing headphones and earphones. Let's delve right into it.
The shift from wired to wireless
Numerous headphone brands are vying for the top spot in the wireless audio category as people shift from the clutter of wires to ones that snap the cords completely. With the introduction of the AirPods in 2016 and the removal of the 3.5mm audio jack on most smartphones, the audio market started exploding with countless true wireless offerings, with even Indian companies such as Wings, Noise, and others bringing out affordable devices in this elusive category. In our survey, we found that 59 percent of the respondents still use wired headphones/earphones, however, for their next purchase a whopping 78.5 percent of the respondents said that they would be going down the wireless route. This really indicates the shift that the market has taken has boded well with the consumers in India as more and more of them are vying for the newer wireless technology as their next purchase.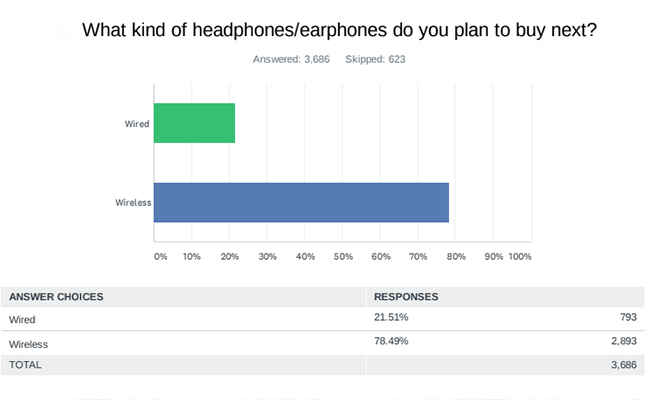 Of the respondents that already use wireless earphones/headphones, about 38 percent own true wireless earbuds, 34 percent utilise wireless on or over ear headphones, while 28 percent use neckband style wireless earphones, giving the slight edge to the true wireless category. However, for their next purchase, the gap widens, with about 48 percent respondents saying that they will be going for the relatively nascent true wireless category over headband style and neckband style wireless headphones. In our survey, Samsung, boAt, and JBL are the three most owned brands of headphones, followed closely by Sony in fourth and Apple in fifth. For their upcoming purchase, however, Samsung dropped to fifth position, with JBL claiming the number one spot, followed by boAt, Sony and Apple. boAt is the only 'budgetary' audio brand in the top 5 of both the 'owned' and 'to be purchased' lists, which indicates that consumers in India value quality, expected lifespan, and even sound quality over the upfront cost.
Additionally, through our comprehensive survey, we also noticed that consumers are now more primed to make headphone purchases online rather than from traditional brick and mortar stores. Of course, the ongoing pandemic could be a large contributing factor to this statistic, and could have definitely skewed the results in the favour of online stores. 72 percent of our respondents stated that they would prefer buying headphones/earphones from online stores and stated discounts as the primary reason for this choice. Other factors that contributed to this overwhelming willingness to buy online are the wide variety of choice, convenience, and easy return policies. For people who still prefered offline stores, the number one reason was that they could try the product before buying it.
The sweet spot in price range
In general, India is a pretty price-conservative society. Value for money deals and discounts is usually what attracts Indian consumers into purchasing electronics, which is why we usually wait for sales such as the Big Billion Day Sale, Amazon Prime Day sale, and others to make more expensive purchases. In our survey, a whopping 41.6 percent respondents bought their current headphones/earphones at the sub-2K price point, while 28.8 percent of them are using the earphones that they got in the box with their smartphones. A meagre 3.72 percent of the respondents owned headphones above the 15K price point, which is where the flagship audio products such as the Sony WF-1000XM3, the Bose NC 700, and the Apple AirPods Pro lie.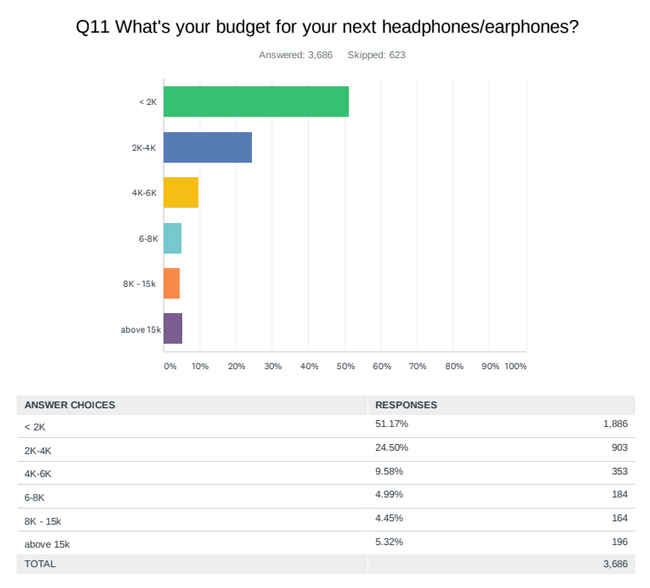 In our survey, we also saw a pretty decent shift in the price range that the respondents would make their next purchase in. The above 15K price range climbed to 5.32 percent, however, the sub-2K range saw a colossal shift, with a whopping 51.17 percent saying that their next purchase of headphones would be under `2,000. That's an increase of almost 10 percent in this price range! This is mainly due to the fact that brands such as Xiaomi, Realme, Zebronics, pTron, and others are offering an array of sub-2K audio products with a decent set of features as well. There are even multiple true wireless in-ears that are being offered at this price range, which is a massive shift from 2016-2017, when only the premium, high-end brands had captured this segment. There are sub-2K products that offer voice assistant support, a sizable battery life, an IP rating, and sometimes, even touch controls! The price conscious Indian market really has very few reasons to move away from the lowest possible price since brands are constantly working towards packing value in this price range to mainly appease the massive Indian market.
Nevertheless, more exorbitant purchases in the headphone market are definitely becoming more common than they used to be. For instance, in 2019, Sennheiser registered a whopping 200-300 percent growth in wireless headphones sales. Additionally, with features such as ANC, Ambient Sound, and others introduced in headphones and earphones, consumers from business backgrounds began investing in premium headphones to utilise these elusive features during flights, daily commute, or even to focus in the office. However, it is apparent that companies that dabble in premium headphones and earphones are now having to offer a set of features that set them apart completely from their budgetary rivels to capture the consumer's attention. Raghav Somani stated, "Around the world, the headphones and earphones category is growing at a very fast pace. In the past few years, the average selling price of popular headphones and earphones has not come down. Rather, it's increasing."
Overall, the Indian headphone market is definitely moving towards wireless freedom, with wireless earphones and headphones becoming lucrative purchases, especially as even the last few phones that sport 3.5mm audio jacks have also begun ditching them in favour of a more clean and streamlined look. USB-C or Lightning headphones and earphones do exist, however, users aren't taken by the idea of not being able to charge their smartphones when listening to music or watching TV series. Additionally, the Indian market is showing minute signs of consumers being more open to purchase the more premium audio products, however, budgetary headphones and earphones still reign supreme, especially as these affordable offerings continue to expand on features, thereby providing excellent value for money.