Every now and then, we talk about Hyperloop's test runs, or Lexus' hoverboard. No matter how much we would love to believe, the future of such fantastic technology is still in the nascent. Sure, they may soon become reality, but for now, they are fodder for mankind's future vision. Some, however, have already become reality, or have the requisite to be so, soon. Here, we talk about nine such technology that we are ready to welcome to our lives, and extensively live with, in the recent years (or maybe months) to come.
Orah 4i: Live-streaming virtual reality in Ultra High Definition
It has already been a while since we have shifted to videos as our primary mode of consuming content, and with Facebook and YouTube (arguably the two most popular social media platforms for video consumption) focussing largely on live streaming your moments, videos have taken a new dimension. Add to that our push for higher pixel density on every device we own to get us hyper-realistic visuals, the day is not far when many of us would have the bandwidth to watch content in Ultra High Definition, live.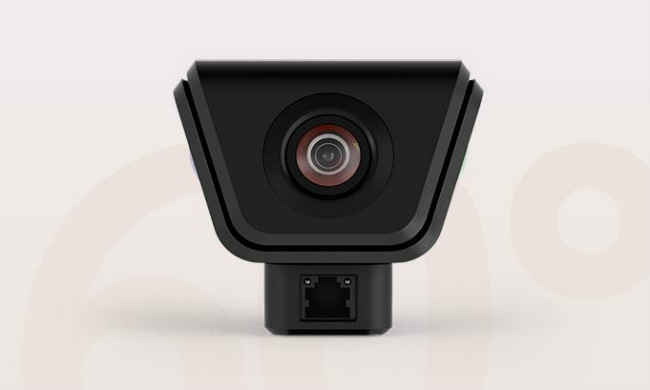 Furthermore, is the aspect of Virtual Reality, or in terms of videos, '360-degree videos'. Captured by multiple cameras on a single mount and 'stitched' together to form a cohesive, continuous video feed that allows you to turn and see your surroundings within a video as if you were really there, 360-degree videos are the latest thing on the Internet. Combine all of these together, and we cannot help but be pleasantly excited. The Orah 4i, by 360-degree video-stitching company VideoStitch (rather conveniently named, actually), is the world's first portable 360-degree camera that will allow you to live stream your captured videos in 4K. It is not entirely portable, and VideoStitch is working to add a rechargeable battery to make it so.
For every video enthusiast, or even for broadcasters from within concerts and football matches, the Orah 4i is a bright prospect for not having to hire a professional VR-shooting crew, bringing the power of ultra high-definition 360-degree video content into mainstream consumption space.
DJI Matrice 600: The drone that makes aerial shooting easier
The famed drone-maker has unveiled its latest, most powerful drone ever. The DJI Matrice 600 is incredibly powerful, managed by the A3 flight controller that uses built-in sensors based on the camera load to best scale its flight balance. The reason why we are excited here is that in place of drones or helicopter-based bird's-eye views, the DJI M600 can be the ace of film crews. It can carry loads of up to 6.6 kilos, meaning that you can load an ARRI Alexa XT-M on to it.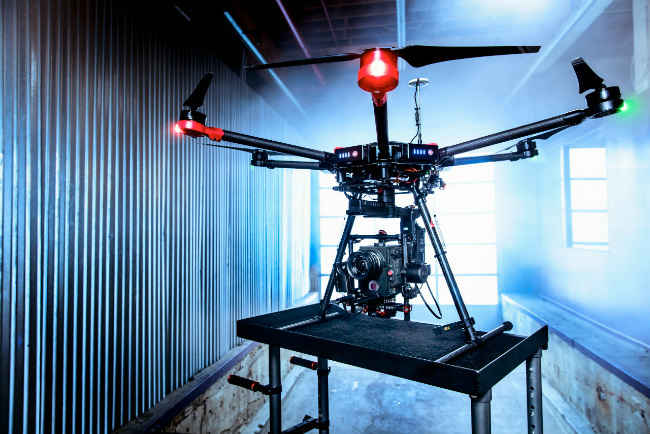 This may not only aid professional shooting crews, but many documentary crews, independent filmmakers or corporate film shooters can utilise the drone's powerful aerial capabilities.
Zapata Racing Flyboard Air: The world's first working hoverboard?
Zapata Racing has been famous for making water-based Flyboards, but a recent video has showed a jetpack-powered board flying on top of a lake. Unsurprisingly, it was initially received with a lot of skepticism, but with Zapata stating how it works and since when it has been in the making, we have suddenly raised our hopes up, again. For the Flyboard Air to work, the rider wears a backpack of jetpack fuel, and the board itself is powered by four engines of 250 horsepower each, along with a logic system inside that combines with the algorithm to maintain balance.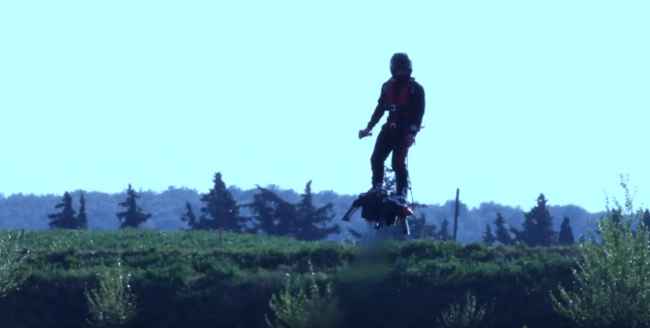 The Flyboard Air is not the commercial product, yet, but is still a start, nevertheless. It seems to be a more practical approach than Lexus Slide, or even the Hendo, both of which primarily rely on principles of magnetic levitation. While the previous ones will always rely upon a magnetic surface to hover upon, Zapata Racing's Flyboard Air seems to be a more practical approach towards hoverboards for our future.
Audeze Titanium EL-8: Lightning-port headphones
There has been much word about the upcoming iPhone 7 not housing a standard 3.5mm audio jack, and if that actually happens, we will most likely see numerous versions of popular headphones being released with Lightning port connectors. One option that is presently available is the Audeze EL-8 Titanium, with Philips' Fidelio M2L being the other. These headphones with integrated DAC will have avoid interference from analogue connectors, and with the fast transfer rate of Lightning connectors and Apple's plans to introduce 24-bit audio streaming to Apple Music, we may soon be looking at an array of headphones with Lightning connectors.
Tesla's latest Autopilot update: Autonomous driving catching up?
Tesla's Autopilot feature mode is not exactly what it means, but is a crucial aspect to consider. In its present state, the Autopilot mode is somewhat like a glorified cruise control mode, capable of maintaining and shifting lanes, gauging speeds and preserving safety of driving. That, however, is a crucial cue for our future. Tesla obviously intends to develop it further and give riders the option to allow the car to completely drive itself, but that day is still quite far away.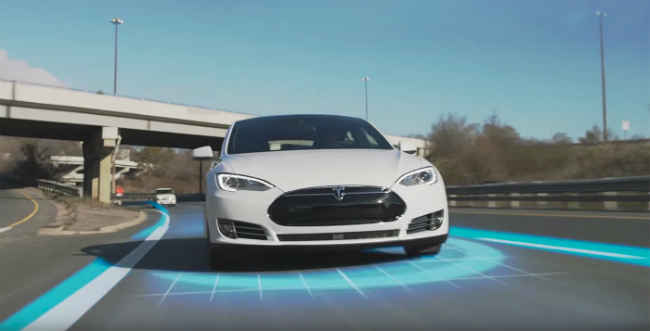 Nevertheless, when major companies like Google and Volvo are still in the testing phases, Tesla's rollout of Autopilot to its Model S and Model X variants (along with the recently-announced Model 3) means that the company wants all of its drivers to try it out, and get accustomed to partial autopilot, before the real deal is rolled out. As of today, it remains the only autopilot feature of any sorts available in a vehicle that is selling already, and gives a glimpse into what driving may seem like, maybe 20 years from now.
pureLiFi Li-Flame: Lights will guide you through networks
Li-Fi is the exact, light-based equivalent of WiFi. Using light to transmit data is a reasonably old laboratory concept, but is only starting to present itself in commercial space. pureLiFi, the company that is looking to capitalise as early-patrons of this technology, is providing Li-Fi routers capable of 10Mbps downlink-uplink speeds along with easier portability and reduced radiations. Maybe, in a few years, we can have our home/office lighting multitasking as WiFi routers, and even as speakers.
Magic Leap: The mystery of augmented reality
Augmented Reality has progressed manifold, and we are slowly reaching a point where companies will soon use specialised headsets and wearable gear for room scaling, giving estimates of furniture placements, or even showing the internal working of cars. Magic Leap, of late, has shot into limelight for its progress on augmented reality. In fact, it has progressed to a point where hyper-realistic projection around you, simulated into a wearable gear, will show up in front of you as exact reality, or 'mixed reality'. Established by the enigmatic Rony Abovitz, Magic Leap is now being held as the biggest step into the future of mixed reality, so radically different from the rest of the pack that a commercial release is not even estimated, let alone widespread application.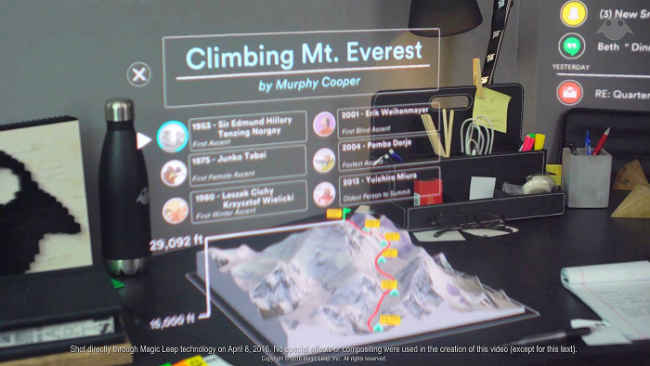 Nevertheless, we cannot help but be excited about what is to follow, soon. Exist within parallel universes?
GoPro Odyssey: 16-camera setup, for 8K30 videos
Extreme setups are quite fun, at times, and the GoPro Odyssey makes its point under this very category. Set up with 16 GoPro camera units, the output video footage is a 3D, 360-degree video shot at incredible, 8K30 resolutions. Talk about progressing 360-degree videos fused with incredibly high resolutions!
Chat Bots: The future of intelligent communication
While team communication platform Slack already has different chat bots for various uses, even Facebook is adding bots to its Messenger app. This may not be entirely revolutionary, but changes the paradigm of communication by a massive margin. Bots can assist you in finding stories that you need, posting queries and accomplish tasks, even when a human counterpart is not online.