The Mumbai Comic Con was held earlier than usual this year. There were a number of improvements in the layout and organisation compared to the previous years. The stalls were wider placed this time around, keeping more room for everyone to move about, so it was a smoother con. The comic books and artists were towards the entrance, with all the merch stalls in the middle, peppered with the experience zone, finally the main stage at the end. The main stage has now been expanded to take up the entire length of the venue, making it much larger than it ever was. Towards the exit was an entire food court, so fans could stay refreshed and well fed without leaving the venue. Maruti Suzuki, the title sponsors had some kind of action right at the entrance. WWE fans could make an entry onto a tiny ring, and take photos with belts.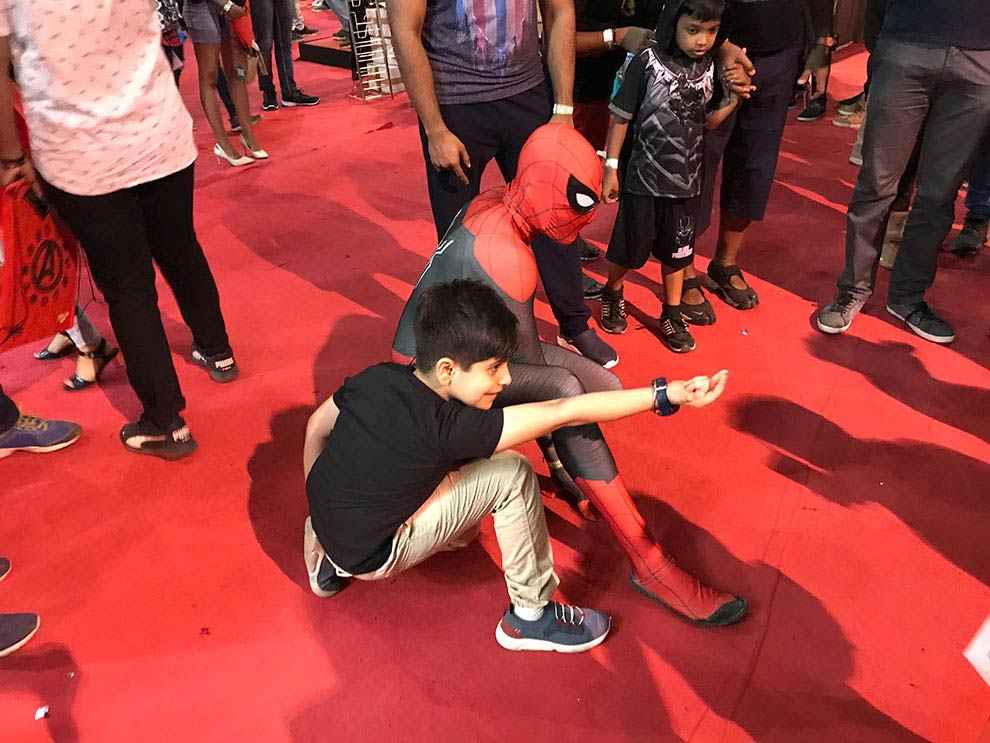 Of course there were cosplayers peppered throughout the con, graciously and tirelessly posing for the photos for fans. The rules for the contest were tweaked a little this time around, with a different sorting of categories. Shine Saha Playing as Jetfire won the ICC qualifier on Day one, with Syed's Ezio winning in the Stitching category, Kedar's Malthael winning the Gaming category and Shabaz's Kill Jaeden winning in the FX category. On Day 2, Saurabh Rawat playing Centaur Warrunner won the ICC qualifier in the Armour category. Rahul as Scarecrow won in the Comic Book/Graphic Novel category, Janhavi won in the Anime/Manga category, Pranav as Xerus won in the Sci-Fi/Fantasy category and Yankish as War Machine won in the Movies & TV Series category. What was funny was cosplayers got into the action, resulting in Bucky or Harley Quinn holding up WWE belts. Hamleys had a big open stall, selling board games and geeky toys.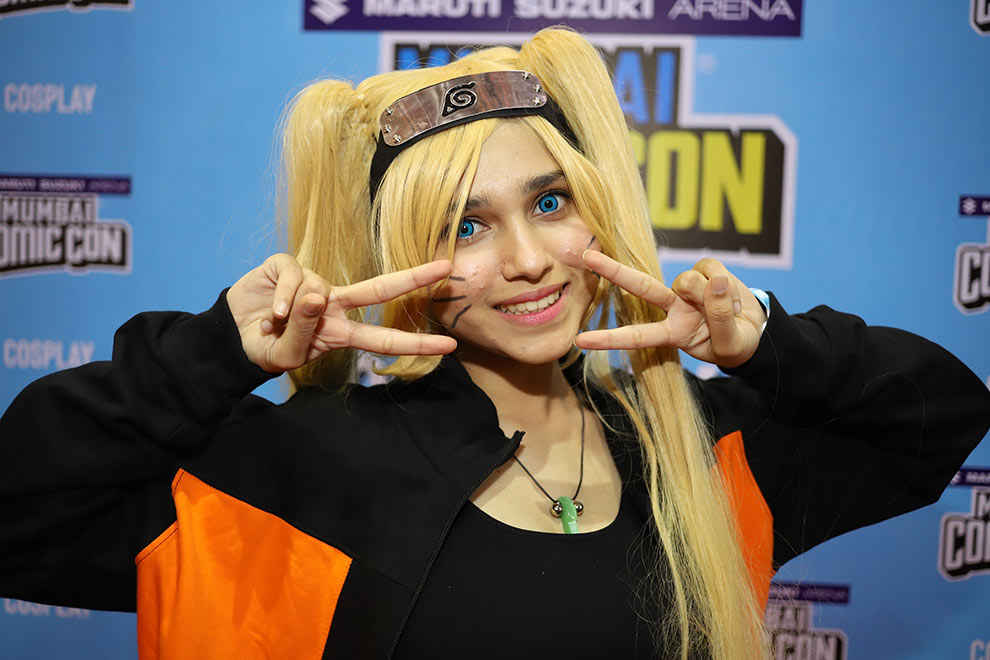 One of the best about this year was all the things that 90s kids would really appreciate. This included an appearance from Mukesh Khanna as Shaktimaan, as a run up to the 3D animation slotted for a 2020 launch. Amar Chitra Katha had a stall with Suppandi and Shikari Shamboo standing outside. Comedy Central had recreated the sets of F.R.I.E.N.D.S with the sofa at Central Perk, and this sofa was basically the cynosure at the con, resulting in a ton of Instagram stories.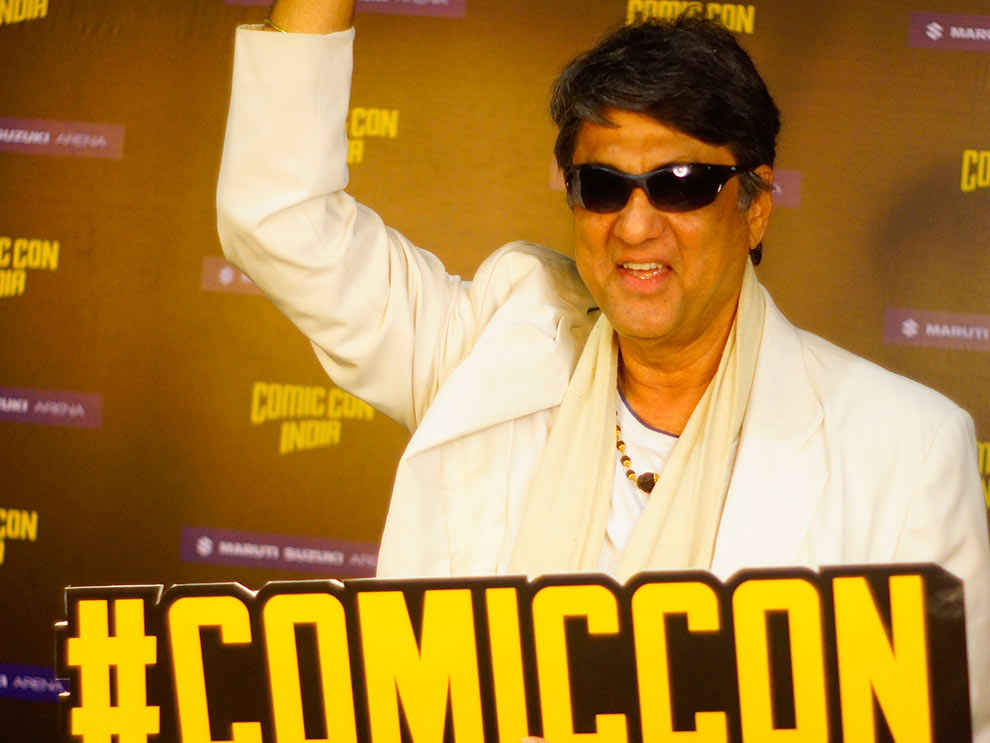 Jatin Varma, founder of Comic Con India said, "Mumbai has always impressed us with its enthusiasm and vigour for Comic Con conventions.This year's edition has once again highlighted the city's passion for popular culture. I am thankful to all the artists, participants, exhibitors, and attendees for making this 9th edition a grand success and congratulate the cosplay participants and winners for their efforts and showmanship. We bid adieu this time, not with a heavy heart but a promise: to reunite next year with more exuberance to celebrate our shared love for pop culture."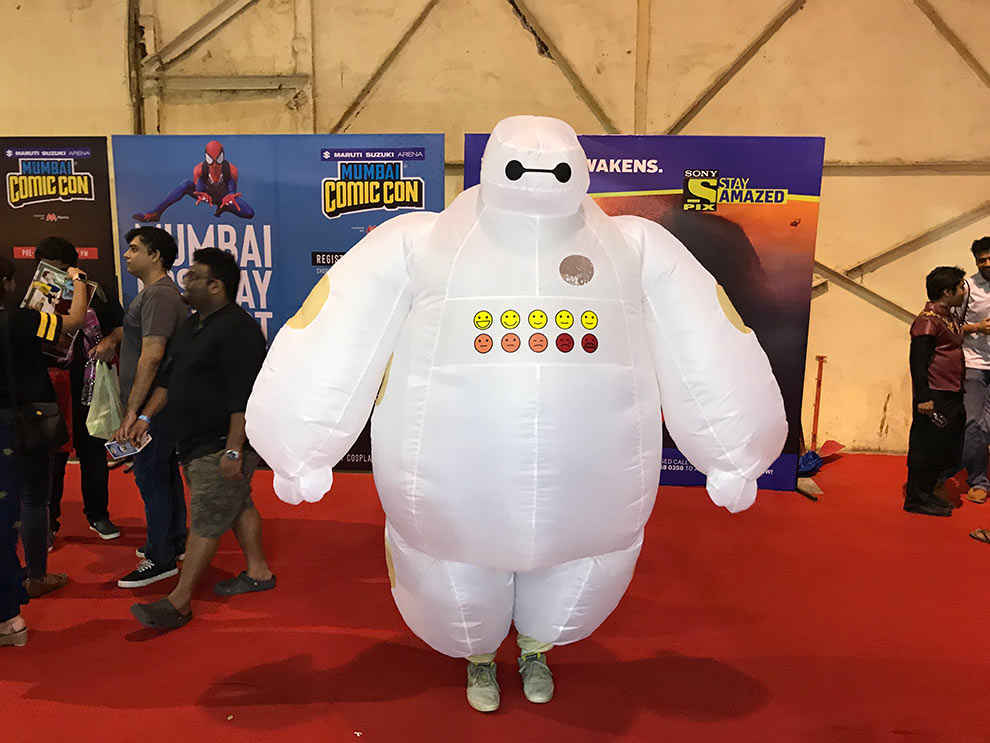 The Comics
Holy Cow Entertainment launched another issue of Age of Immortals, which has become something of a tradition at Mumbai Comic Con. We got a chance to speak to Vivek Goel, the founder of Holy Cow. One of the first questions we had was about the kind of subjects chosen by Holy Cow, which is one of the leading new entries in a local industry that typically focuses on mythology or historical comics. "We basically started with our bestselling series, Ravanayan. Ravanayan was more or less was a passion project for me. After publishing Ravanayan, I decided that I did not want my company to be tagged as someone which only publishes mythology. Then we started to develop superheroes, who are acting in more contemporary styles. Then Aghori began, and actually became really popular. We recently completed the Aghori series. We have published 20 issues of Aghori, along with several other superheroes. Apart from mythology, we are majorly into the superhero business now."
We then asked if Goel saw any other emerging themes in the industry apart from mythology and history. Goel replied, "I do not see anyone emerging (with such themes), because I think the problem is that there is no industry over here. The Indian comics industry is more like a boutique industry. There are hardly any new players coming in. I really hope that more and more people should start coming in, so that we get a variety of the kind of comics we are getting in India. The market is very untapped, and there is a lot of talent over here."
All of Holy Cow comics actually takes place in a shared universe. We probed the creator about this aspect. Goel replied, "basically, it started with Aghori, then we started publishing another title called Shaitan Singh. Both origins go back much before World War I. Shaitan is also working in contemporary times. Then we launched another character called Caster, who happens to be India's first catholic superhero. Recently, we have released a book called The Last Asuran. The Last Asuran follows the journey of Desh, who is supposed to be the last remaining Asura on the face of the Earth. These are the characters which are operating in contemporary times, in the HCverse, which is also known as the Holy Cow Universe."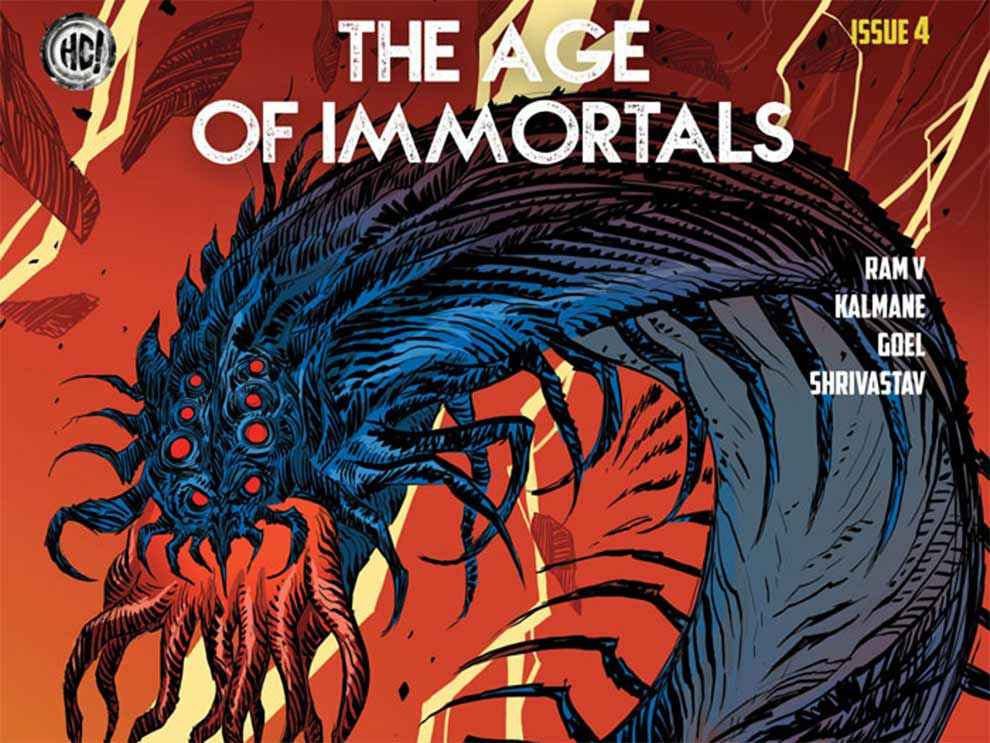 Just a few stalls away was Abhijeet Kini, who has had a long career working on commissioned comics for Tinkle, Penguin, Random and Dainik Bhaskar. Available were Kini's self-published comics, including Angry Maushi, Fanboys and Rhyme fighters. We got an opportunity to speak with Kini as well, who tends to stay away from mythological and historical themes. His stories and characters are comics in every sense of the word, farcical, absurd and hilarious. We asked if this was because of his instantly recognisable art style, "I guess, my art style does lend itself to some humour. I focus on humour, spoofs and satire. And I feel that satire and spoofs are a domain that is missing, and I wanted to kind of make up for that, and provide people something to laugh at. Our political scene and social scene are so full of comic characters, in a way they are all cartoons, so it kind of gives me fodder every day to create something new like this. If you notice my comics, some of them are sociopolitical satires."
Then we asked one of the most basic questions that comic books readers typically get asked. You simply cannot be an adult and read tinkle without attracting some questions. So we asked Kini to explain the relevance of comics to adults. "Comics I feel have no age restrictions. Tinkle is a comic that I have grown up reading. In 2004, I got a chance to start drawing for them. So it has been fifteen years that I have been drawing for Tinkle, and I realise that it is a dream come true for me, because it is a comic that I grew up reading, and I am drawing for them now. It is a very special feeling for me."
One of our favorite series from Tinkle is SuperWeirdos, which features a bunch of kids with ridiculous superpowers. These include the ability to detect superpowers, temporarily turn some humans into animals, or turn roads into conveyor belts in such a way that vehicles and people stay in the same place no matter how fast they move. SuperWeirdos was actually Rajani Thandiath's (editor and author for Tinkle) concept, she wanted us to make some sort of spoof on the superhero genre, something like an X-men meets Tinkle. It has taken off really well, people enjoy reading SuperWeirdos, I've had a good time drawing it."
Then we asked about the comic book scene in India and where it is going. Kini replied, "very good, because thanks to the Comic Cons, people are more open to reading comics or creating comics now. And, if you notice the kind of following that is there, if you look around, there are so many people picking up comics, which is a very positive direction for all of us."
One of the best stores to actually pick up comics was by Viz Media which had entire series of Jojo, Death Note and Naruto up for grabs.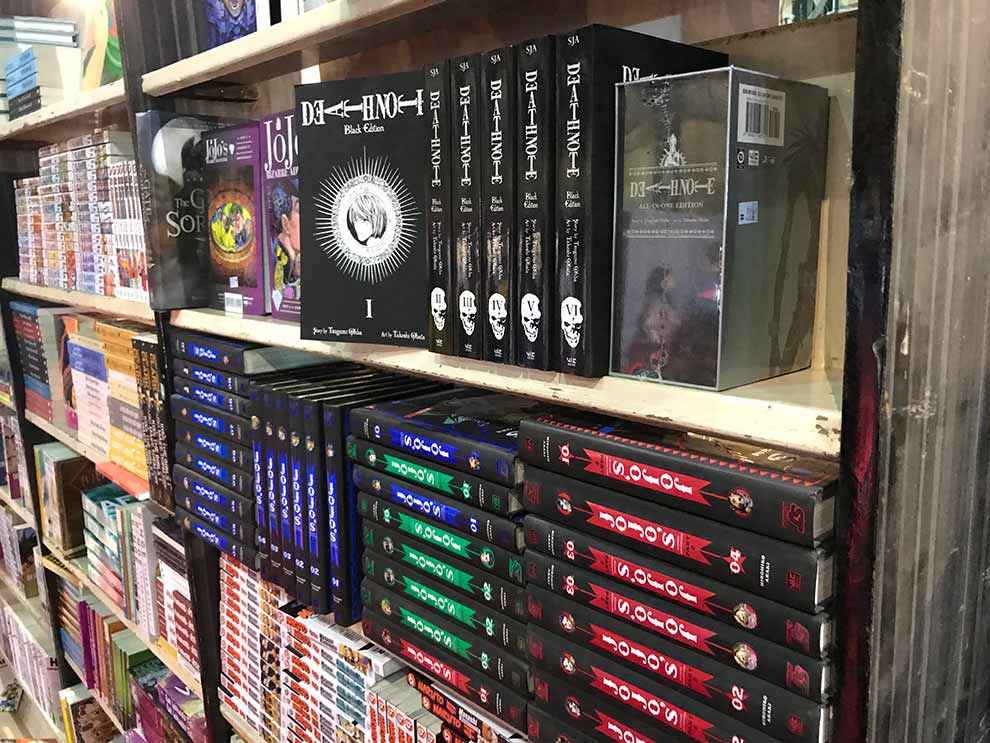 The stalls
If you missed it, you can head over to the web stores of the stalls on the floor, by following the links here.
The comic book artists at the venue included Alicia Souza, Shehzad Kapadia, Vivek Thakkar, and Alison Sampson.
The stores for tees, badges, notebooks and mobile covers included Printoctopus, Red Wolf, POPxo, Cover It Up, Epic Stuff, Macmerise, The Souled Store, Yedaz, Geek Dawn, 1947 Ind and Adimanav.
Action figures and collectibles were on sale from The Entertainment Store, Superhero Toystore, Wizplex, Wowheads, Planet Superheroes, Nerd Arena and The Purple Box.
There were comics, graphic novels and books by Penguin, Crossword, Hachette, Viz Media, Amar Chitra Katha, The Comic Book Store and Comicsclan.
Personalised gift items, props, trinkets and accessories were available at Happy GiftMart, Comic Sense, Naughty Musketeers, EFG Store and Prop Factory.
There were original art products (tees, posters, stickers etc) from Art Angle, Aswhole Ideas, Redesyn, Balenzia, Tinosaur, Appsurd, Madfat Monkey, Living Waters, Labartry, Kavi, Chitra Chaya, Shreeya's, Sobascape, Pop Shop, Toto Cactus, ThaThing and Urban Pitara.
Videogames were being sold by Games Loot and Games the Shop.
While last year, the Mumbai Comic Con was the end of the year's run, there are two additional events to look forward to this time around. The Delhi Comic Con is taking place over three days from 20 to 22 December, and there will also be an Ahmedabad Comic Con between 1 and 2 February, 2020.