2009 has been a rather interesting year for Linux, and 2010 promises to be even better. In 2009 we have seen the explosion of Linux in the mobile phone segment: Google's Linux-based Android OS smartphones have blossomed, Nokia's Maemo based N900 made geeks all over the world drool, Palm released a new linux-based OS for its smartphones, WebOS, even Samsung unveiled a new Linux-based OS for its mobiles called Bada.The year of the Linux Desktop, may yet be far far away, but there is no doubt that 2009 was the year of the Linux Mobile.

That is not to say 2009 brought nothing good for the Linux desktop. For one, we now have a Google created "distribution" of Linux, Chrome OS, targeted towards netbooks. The economy has been a major incentive for Linux adoption, with netbooks becoming increasingly popular. Netbooks which are usually quite low-powered usually aren't capable of running anything more than Windows XP. However, here Linux offered what it offers best, infinite customizability, with a host of new netbook-centric interfaces now available.
Ubuntu now has as many as 13 million users, which might be a small percentage of the whole, but a significant one indeed. That said Linux adoption is still a lonely percent of the whole, as is, Linux still maintains its image of being a geek's operating system, hard to install and use even though those have been far from the truth for quite long. Hopefully the growing adoption of Linux in smartphones is bound to introduce people to the operating system in friendly way. Few people will be attracted to Linux knowing that it runs their favourite website, but knowing it runs your TiVo, your mobile, and your Kindle is sure to have a greater impact -- and shake people's impression of a command line Linux. We might already be using Linux much more than we use Windows, we just don't know it.

As low-powered and cheaper netbooks become the norm, with alternative ARM-based chipsets instead of x86, Linux is sure to be the winner due to its immense portability. ARM ports of Linux are already easily available, making Linux the operating system of choice for PC of that platform. Freescale expects that half of all netbooks will be based on ARM by 2012, so it is quite likely that in 2010 we see more ARM-based netbooks emerge. The few specifications which have leaked about the Chrome OS netbook have it pegged as an Nvidia Tegra-based device based on an ARM processor. For people buying netbooks as their secondary computers alongside a more powerful machine, or an "introductory" basic cheap computer, might find that Linux manages their work just as well, and find the additional cost of the Windows license even more unnecessary.

Linux in 2009 brought KDE 4.3 which finally brought to rest many of the usability and stability issues that had plagues KDE since version 4. Gnome previewed in its latest 2.28 version its next UI iteration entitled Gnome Shell which is to become the default interface for Gnome in their upcoming version 3. For the year 2010, we have a juicy few things lined up for Linux Desktop Environments, 2010 will see the release of KDE 4.4 and 4.5, and Gnome 3 is expected around September. Here is what we can expect from the Linux Desktop in the coming year.
Linux in 2010: Gnome 3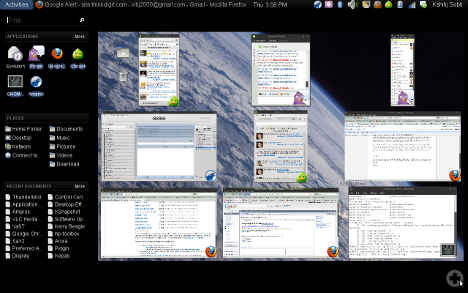 The new activities interface in Gnome 3
Gnome has perhaps as big a change lined up ahead as KDE brought with KDE4, and it has the potential to piss of as many ardent Gnome fans. Yet the new Gnome Shell interface is a new take on desktop organization and interaction.
Gnome can usually be identified by its two panels -- openSUSE does things differently, using just one panel -- on the top and the bottom of which are the interface for interacting with your applications. In Gnome 3 this is replaced by a single black coloured panel on top, which has your notification icons, menu and clock.
The panel only shows information about the currently running application (instead of a taskbar with all running applications). Eventually this will also include options such as opening a new windows, closing the application, and other application specific actions.
A central part of the new interface is the new Activities view which dedicates the full screen to the "activities" being performed by the user, and the different actions which may be performed on them. A major portion of the screen goes to displaying the currently running applications windows all laid out in flow giving one an instant overview of open windows.
Interacting with your virtual desktops is revamped with a different approach. You can arrange your open windows in "workspaces" which area all visible in the Activities view. You start with a single workspace, and can create more for placing different groups of windows on your screen. Windows can be easily dragged from one workspace to another in this view and switching to any window in any workspace is as easy as clicking on it.
Gnome Shell places a lot of focus on applications rather than windows. Instead of enumerating all open windows of each application application in the activities view, it lists only the running applications, and open windows of each application are shown in a submenu. Additionally even while using Alt-Tab features a new interface to switch applications, which shows only the running applications which display preview of open windows when selected. The new Alt-Tab interface now lists all open windows in all workspaces separating them with a vertical line.
The activities view displays both application which are running and those which aren't. The running applications are highlighted with glowing blue circles behind the application title, where the number of glowing circles depicts the number of open windows. Simply clicking on an icon will launch an instance if it isn't running, and switch to the last used instance if it already is.
Gnome 3 brings quite a paradigm shift, and there will surely be split opinions about whether it really is better than Gnome 2 or not. However fore new computer users it does seem like a easier interface to master. While preview builds of Gnome Shell are already available for eager developers to test out, it it to be noted that there being nearly 9 to 10 months before release the current experience will be suboptimal.
| | | | |
| --- | --- | --- | --- |
| | | | |
| Right clicking an application icon displays a menu listing the open windows in the application. | The list of installed application in Gnome Shell | To quickly locate an application you can search for it | The new Alt-Tab which displays running application instead of open windows, and displays open windows for application individually |
Linux in 2010: KDE 4.4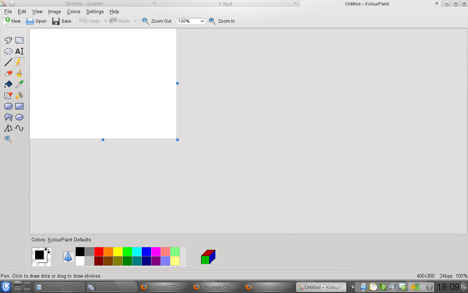 Native tabbed windows in KDE 4.4
While KDE4 received quite a bit of undue negative criticism for its new interface, it was its instability even in its release version. Despite the final release of KDE 4, KDE 3 continued to be the version of choice for many Linux distributions as KDE4 just wasn't ready for the general audience.
(Windows users can try out some of the amazing applications available for KDE4, more information here).
KDE 4.3 changed all that for many people, it was stable, fast and full featured. The release goals of KDE 4.3 were simply to bring it up to par with KDE 3.5 so that people could have a fully functional KDE version which didn't feel like a glossy do-over. KDE 4.4 will now being adding features again, and while it is not likely to be as big a shift as Gnome 2 to 3, it does have some significant changes lined up.
One of the most interesting new features to come with KDE 4.4 is native tabbed windows. With the new feature the window manager itself adds support for tabbing windows, which means that it is possible to have tabs in application which do not natively support them!
How would this work? Well, one simply needs to use an option available by right clicking a window title bar to group the it with another window. The windows need not even belong to the same application. For example, if one is working on three different images in a KDE application called KolourPaint which does not in itself support tabbing, you can group two or more windows together, and you will have one window with multiple tabs (on top, like the Google Chrome browser). You could then add to this group a Dolphin (a file manager like Windows Explorer) window with possible the folder containing the image files being edited. This leaves you with one window for that particular activity.
Besides this brilliant new functionality KDE 4.4 features a host of improvements, such as KDE 4.4 multitouch support allowing for multitouch resizing, rotating and moving, integrated searching and new timeline view in Dolphin, improvements to KRunner (adding support for more commands and sources), improvements to Alt-Tab window switcher, and many many more.
Many new features and application have also been added to KDE4.4 such as, a new blogging tool, new games, new scientific and educational tools, and many new widgets. Some of the interesting new features to be added is the ability to drag and drop remote content i.e. a web link to the desktop and turn it into a widget, the beta version of KDE 4.4 also includes a new netbook oriented shell which is current just a technology preview. The new widget explorer comes in the form of a tray and makes it much easier to drag and drop widgets to the desktop. KDE 4.4 also includes a Windows 7-like snapping feature which windows can be snapped to desktop edges by moving them close to the edge.
This isn't all, since KDE 4.5 is also scheduled for 2010 KDE is likely to have many more improvements over the year.
Linux has always had the advantage of being more up to date than an operating system like Windows. It's shorter release cycles mean that users get newer features and access to newer technology faster, due to the open nature of the OS, bugs can be discovered and fixed faster. If one looks at the changes that have occured in the Linux arena in the time between Windows Vista and Windows 7, Microsoft's latest operating system seems dwarfed indeed!
2010 looks to be another great year for the Linux community, irrespective of whether Linux sees some mass adoption spree. Linux developers have quite a few juicy features lined up for Linux fans, and Linux newbies are sure to find 2010 a good year to finally get their hands dirty.