To most, including us here at the Digit office, Hyperloop seems to be a far fetched dream for India. However, Elon Musk's brainchild, and the company behind it don't think so. Hyperloop One has been showing interest in India for a while now, and it may be finally time for us to learn more. The company just sent out an invite, promising to share its "Vision for India", on February 28, just under a week from now.
Present at the event will be Suresh Prabhu, Minister of Railways and Amitabh Kant, CEO of NITI Aayog. They will be accompanied by Shervin Pishevar, Executive Chairman and co-founder of Hyperloop One, along with Rob Lloyd, the current Global CEO and Board Member at Hyperloop One.
If you haven't heard yet, Hyperloop is a pod-like land-based transportation system that can go faster than an aircraft. Hyperloop One wants to bring it to India, presumably with intimate involvement from the Indian Railways, given Prabhu's presence at the event. A Hyperloop pod can travel from Chennai to Bengaluru in just about 30 minutes. Hyperloop Transportation Technologies' Bibop Gresta had earlier suggested building a link between Mumbai and Pune as well.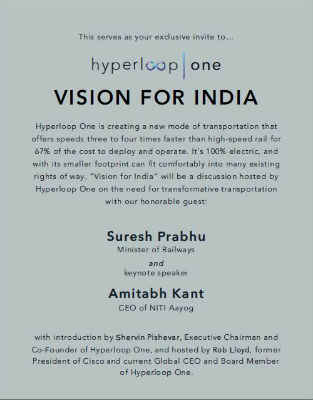 What's happening now?
In May 2016, Hyperloop One had announced a worldwide competition to identify and select places around the world where the first Hyperloop networks can be laid. The company got a total of 35 participants, five of whom made it to the finals. These finalists will now make a presentation in New Delhi, on February 27 and 28.
According to reports, Delhi-Mumbai, Bengaluru-Thiruvananthapuram, Mumbai-Chennai, Chennai-Bengaluru are some of the corridors that Hyperloop One is looking to connect. There will also be a 'Port Connector', reports say.
If successful, Hyperloop's pods should be able to connect all these placed in significantly lesser time than an aircraft. The technology propels pod-shaped vehicles through a near-vacuum tube, allowing it to reach speeds close to 1200 kph. In comparison, a passenger airlines usually travels at about 800-950 kph.
Who is Hyperloop One?
While the concept of Hyperloop pods comes from Tesla and SpaceX founder, Elon Musk, Musk himself is not involved in the projects. Instead, two companies - Hyperloop One and Hyperloop Transportation Technologies Inc. (HTT), are involved in the development of these pods. Interestingly, both companies are interested in introducing the transportation system to India.
Hyperloop One has been building a prototype of its system in the deserts of Nevada, in the United States. The Hyperloop One Global Challenge was meant to find the company partners who would license its technology and build routes in other countries.
Hyperloop One's Nick Earle, Senior VP of Global Field Operations, had earlier come to India to meet possible partners and government officials. "When we look at which country could benefit the most from Hyperloop, we look for large ridership population or freight demand, GDP growth, requirement for national productivity, and the engineering and academic prowess to build this locally," Earle had said then.
The company evidently finds India to be favourable now.