Location sharing can be helpful in navigating unfamiliar places and helping others find you. It is thus a nifty feature built-in to all mobile smartphones. Here, in particular, we will be discussing how to share location on iPhones. That means we will be covering Find My and other solutions. While we are at it, we will also ponder upon the various use cases of sharing location and the associated privacy implications.
Let's begin.
Reasons to use location sharing on iPhones
1. Location sharing helps in knowing the whereabouts of your loved ones and locating them easily.
2. It helps service persons like courier boys and postmen to find your home/work address.
3. Before you are out and about exploring a new place, it's prudent to share your live location with trusted contacts so that in case if you are lost they can find you.
4. You may also share your location with Health and Fitness apps on your iPhone to let the apps accurately track your activities, distance covered, etc and share the same with your accountability partner.
5. Most iPhone apps may seek permission to keep tabs on your location for it enables them to personalize your in-app experiences.
6. People tend to share the location of the places they are at or have been to on social media platforms.
7. God forbid, but in case of an emergency, sharing location on your iPhone with assistance services can prove life-saving.
So, let's now get to the real deal. That is how to share location on iPhones.
FInd My is a proprietary feature on iPhones that let you keep track of your Apple devices as well as your loved ones.
How to share my location on iPhone
a) Find My
1. Go to the Find My app and tap on the People tab
2. Add a person (using their name or phone number)
3. You can choose the duration of location sharing and hit on Send.
The other person can share their location with you the same way.
Within the Find My > Me tab you can change the device from which you share your location, name the various locations you frequent, share driving ETA from Apple Maps with your contacts, etc.
b) Satellite connectivity
On iPhone 14 series and later, you also get Emergency SOS via satellite, which enables iPhone antennas to connect to satellite when there is no cellular or WiFi connection. You just need to be pointing the iPhone to a clear sky. Then, within Find My > Me > Send My Location and do as the on-screen instructions say. As Apple underlines, the feature may take some time to send the message via satellite.
c) Google Maps
Of course, you can share your location via Google Maps and our guide on the same will help you with that.
d) Facebook Messenger and WhatsApp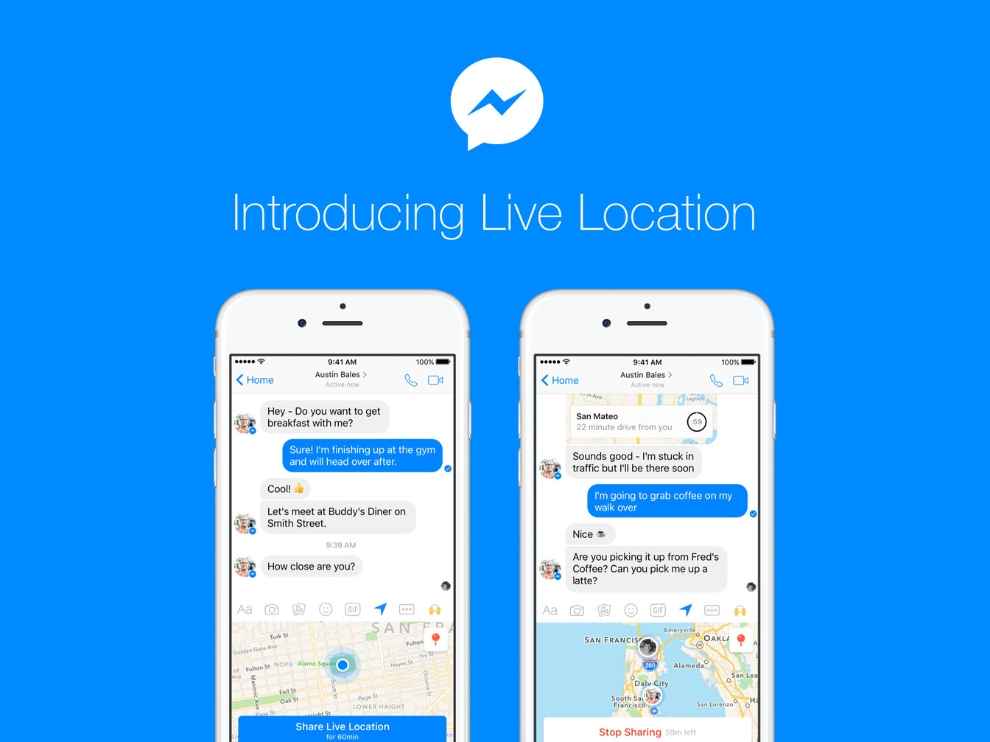 Similarly, the location icon within the share menu on Facebook Messenger and WhatsApp can help you share your location with others. You will have to grant location permissions when asked by both apps. You get to share between live locations and your current location (which is a static point of where you were when you shared the location.
Now that you know how to share your location on iPhones and why would you want to do that, here are some privacy concerns that are also something you should take note of.
Privacy issues with location sharing on iPhones
1. Location sharing reveals sensitive information about you that miscreants in society and in your life can misuse.
2. Stalkers can use your location detail to surveil and control you.
3. Location data, if gets into the hands of cybercriminals, you could be subjected to identity theft and ransom demands.
4. Your location can be used by advertisers to push obtrusive ads and spoil your online/ in-app experience.
So, as long as you are smart about location sharing on iPhones, in terms of whom you share it with and be diligent about removing unwanted location permissions to apps and people, you should be safe.