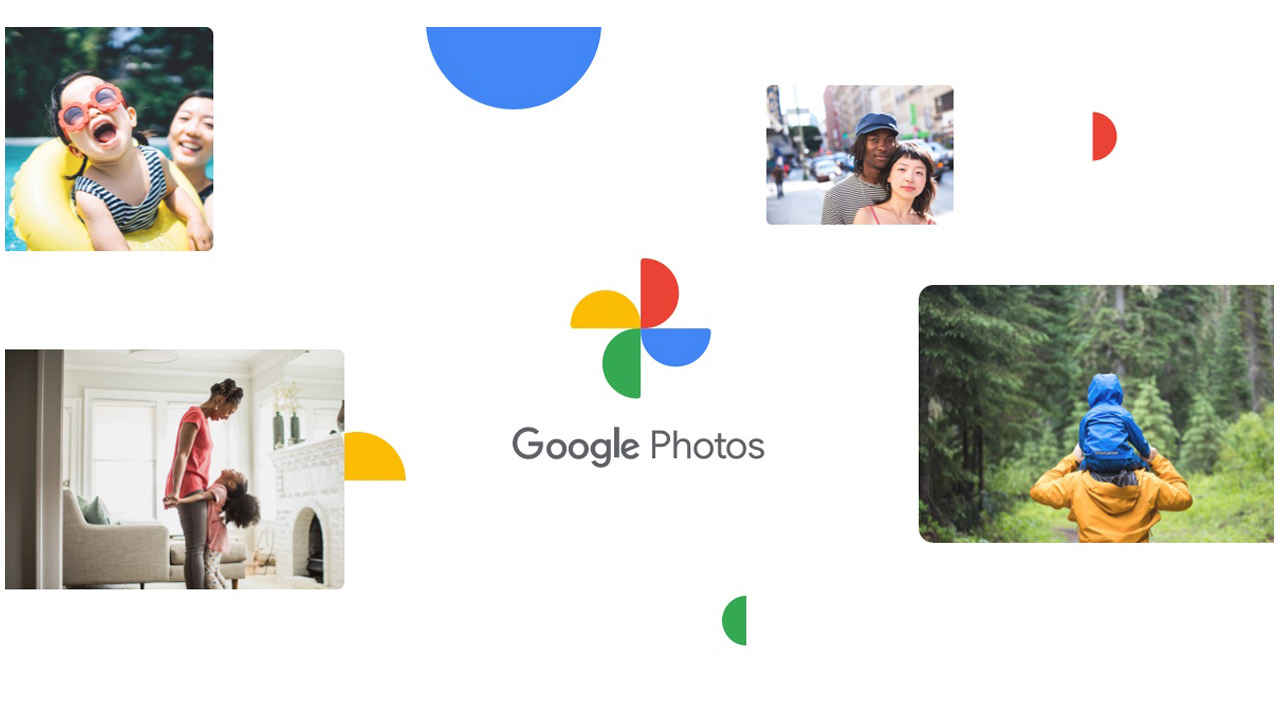 Free unlimited lifetime storage for Photos was arguably one of the best Google services available. Users could choose to backup unlimited photos in "high-quality" for free or backup "original quality" photos against their allotted drive storage. But alas, all good things must end.
Come June 1, and Google will revoke the option for free "high-quality" uploading. It will also now change the name "high quality" to "storage saver", which should be a better indication of the compressed nature of these images.
The reason for the abrupt change in policy is simple – free back-ups are costing Google a lot of money. According to the mountain-view giant, more than 28 billion photos are uploaded to Google photos every week, and it isn't economically viable anymore to pile these on its servers for free.
If you are still trying to figure out whether you will continue using Google photos after the free storage ends, or if you are unsure how to migrate, we are here to help. Here are some answers to queries related to Google Photos. We also have a few tips that'll make it easier for you to manage your data.
Will my existing photos be deleted?
No. All existing 'high quality' photos uploaded before June 1, 2021, will remain backed up for free. It's what you upload after June 1, 2021, that will count against your 15GB free quota.
Essentially, you need not hurry to download or transfer high-quality photos already backed up to your account. They will remain their as-is and the space they consume won't be deducted from your 15GB free storage limit. No worries.
Google has rolled in a new tool that will let users know what photos are backed up against their 15GB quota and what images shall remain backed up for free. The tool will also help users quickly access blurry photos and videos that they can delete to free up more space.
How to check and manage the Google Photos storage I have used?
If you are wondering how much of your 15GB free storage is tied up in Google Photos, here's how you can be sure.
Go to the Google One page and tap on the storage tab on the right. Here you will see the breakup of your free 15GB google storage space and can check exactly how much is being used by Google Photos, Google Drive, and Gmail.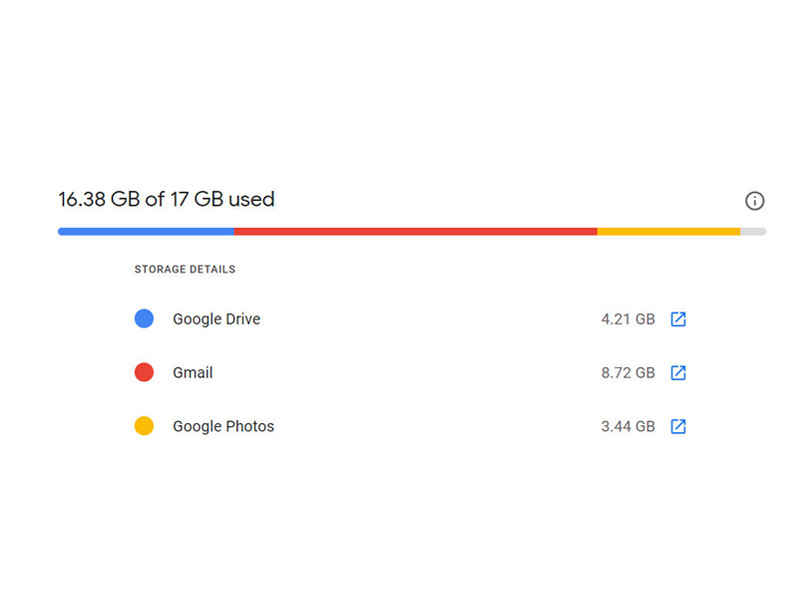 It must be noted that if you are checking before June 1, the Google Photos storage that you see does not include all the photos that you have in "high-quality". These are primarily the photos that you saved in 'Original quality'.
To further manage Google Photos storage, you can directly head to the Google Photos management page.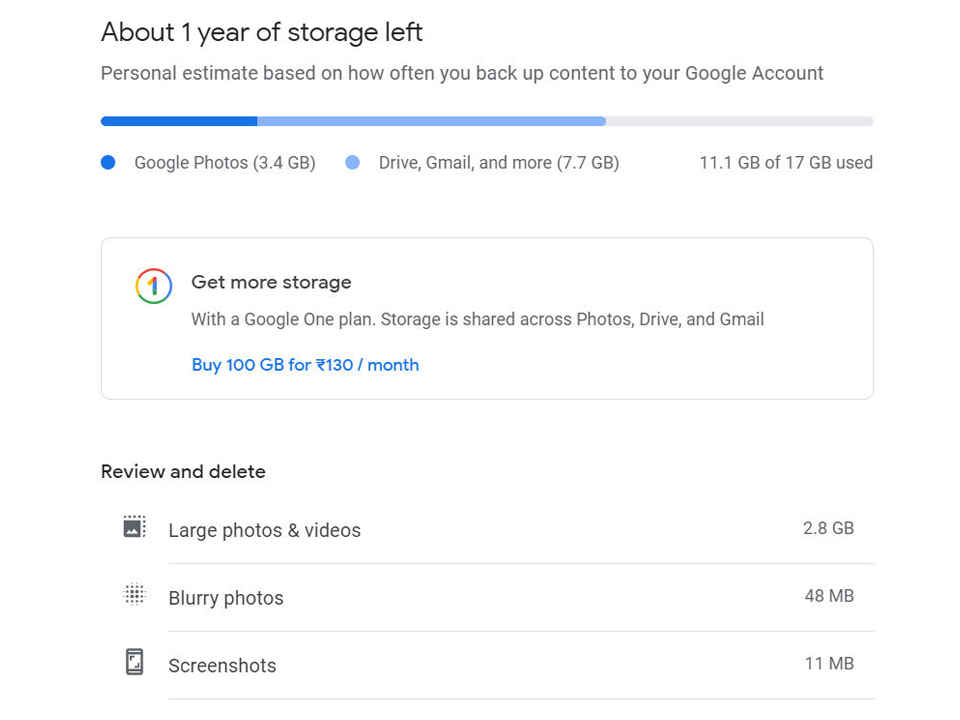 On the Google Photos quota management page, you will get an estimate of how long your free storage is going to last. You can also get direct access to what Google identifies as blurry photos, screenshots and storage hogged by third-party apps.
Convert "original quality" photos to "high-quality" to free more space
Before June 1, you may also convert images backed up in 'original quality' to 'high-quality' and free up all space used by Google Photos. The converted photos shall remain backed up for free moving forward.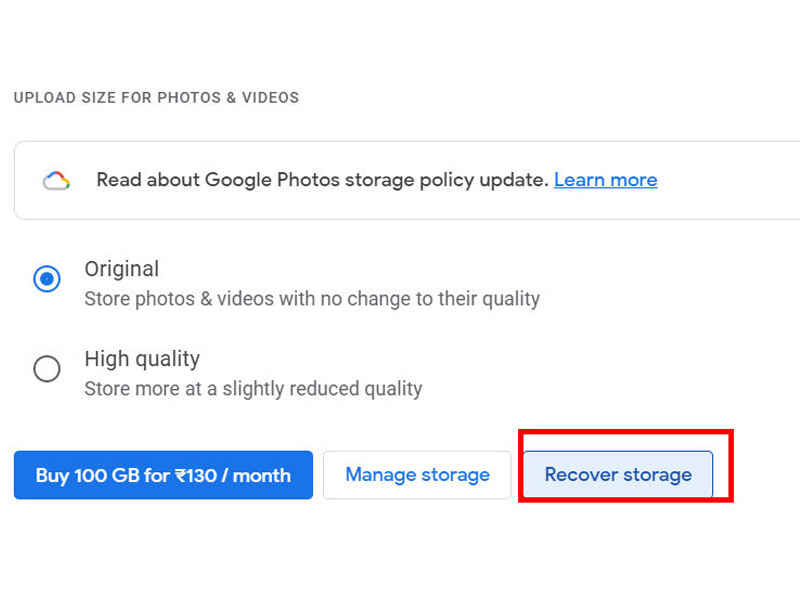 To do so, go to Google Photos Settings Page from your PC. Now, tap on the 'Recover Storage' option as shown above. Hit 'Compress' and you are done.
Note that this action is irreversible. Once you back all your photos as high-quality, you won't be able to switch back to 'Original quality'.
How much does Google Storage cost in India?
In case you plan on sticking to Google services and don't mind paying for some extra cloud storage, you can choose from one of the following Google One plans:
100GB Plan – Rs. 130/ month or Rs. 1300/ year
200GB Plan – Rs. 210/ month or Rs. 2100/ year
2TB Plan – Rs. 650/ month or Rs. 6500/ year
Users get a discount of 2 months if they go with annual payments. Google One membership also entitles users to share their cloud storage with family members and to seek support by the mail or via chat when needed.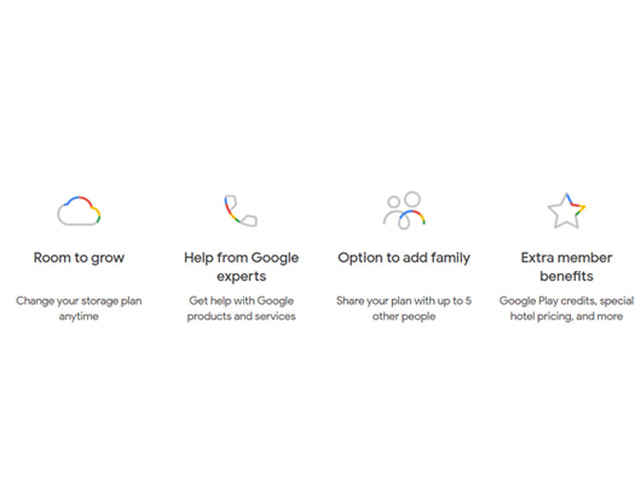 Other membership benefits include special access to Google Photos editing features on Android, Google Play credits, and free trials on Google services like Stadia Pro and YouTube Premium.
It must be mentioned that among popular cloud storage options like One Drive, Dropbox, Apple storage, Amazon cloud storage, etc. Google's pricing is the most reasonable for India. So, if you are ok with a paid subscription, you may continue with Google Photos.
How to download all photos from Google photos?
If you have decided to move on, you can download all your Google photos and back them up using alternate services.
The easiest way to download all Google Photo albums at once is using Google Takeout.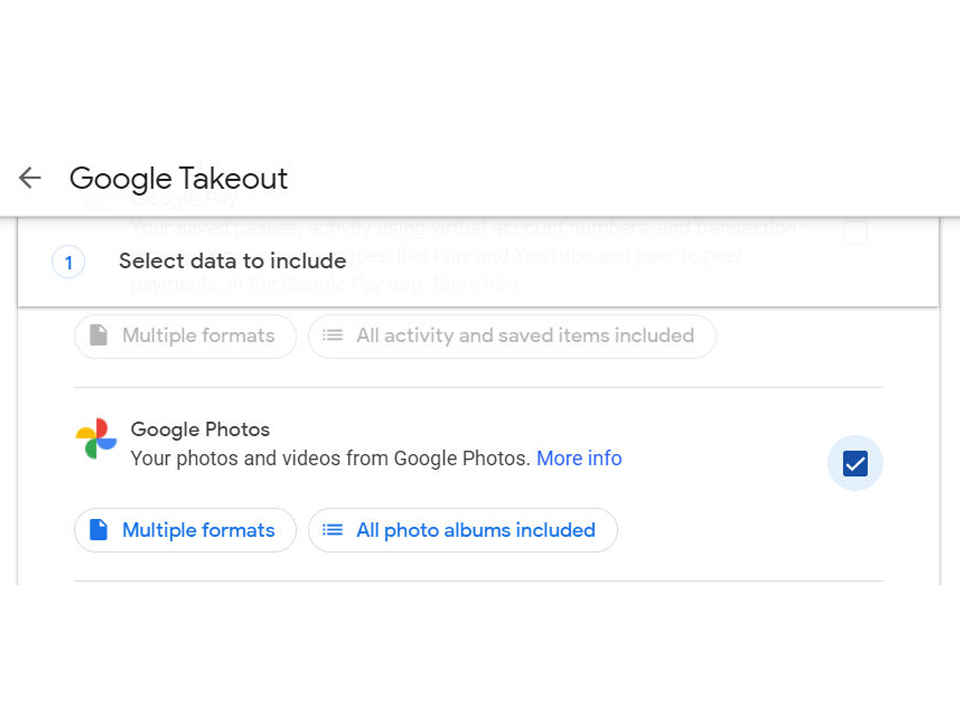 Go to the Google Takeout page and click on the 'Deselect all' option at the top of the list.
Now scroll down the long list of data Google maintains and check Google photos. Now proceed to the 'Next step'.
You can choose the size of downloads and between 'zip' and 'tig' file type.
If you want to only back up a particular album, open Google Photos from your PC browser.
Now go to Albums, and open an album you wish to download.
Click on the triple dot menu on the top right corner (after opening the album) and you will find a 'Download all' option in the menu that unfurls.
Press the download button to get a zip file of all images within that particular album.
You may repeat for all other albums you wish to download.
Google Photos Alternatives
Once you have downloaded all your data, you can easily share it across different services or keep it on a local device like a Synology NAS setup.
Here are a few economic cloud storage options that you may try:
Mega – Offers 50GB of free, encrypted cloud storage to all users. Mega mobile app is available for Android, iOS and Huawei App gallery, so users can upload photos from their phones as well.
Digiboxx – Digiboxx is India's cloud storage platform that offers 20GB of free storage and 100GB of SSL secured cloud storage per month for just Rs. 30.
Microfost One Drive – If you already have an office 365 subscription, you can use 1TB of allotted space to backup your photos. If not, you will have to pay Rs. 140 per month for 100GB of cloud storage.
Degoo – Degoo is well suited for people who need high storage capacity. It offers 10TB of cloud storage for a one-time payment of $99 (roughly Rs. 7,250).