Another year, another Google I/O, more interesting announcements from Google. On the second day of Google's 2015 developer conference, the company's secretive Advanced Technologies and Projects (ATAP) team took center stage, telling the world what the future looks like. ATAP unveiled many of the stuff it has been working on, including Project Ara. Here's a look at what the team had to show us.
Project Ara: Almost there
Everyone's favourite Project Ara was perhaps the most interesting development in the I/O this year. Google's ATAP (Advanced Technologies and Projects) team proved that it's all but ready to bring Project Ara to the market, with the first live demo of such a device.
In the demo, an Ara phone was assembled from scratch, adding everything except the battery module. The phone was then turned on and shown to be working fine. The battery module was then added, without rebooting the device, and it didn't face any issues in accepting the newly added module.
Project Vault: Pint sized security
An entire secure computer on a micro-SD card, that's what ATAP has done with this project. The team went with a micro-SD form factor to make it portable and achieve higher data throughput, and the device supports all platforms, includig Windows, Linux, OS X and of course Android. Just like your SIM card is responsible for protecting sensitive data relating to carriers, Vault does the same for your own phone or computer.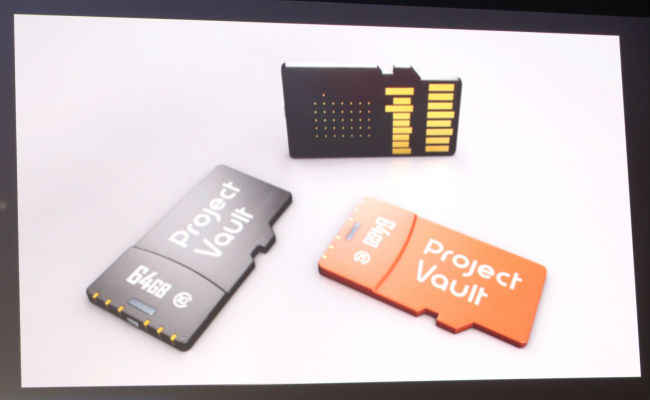 Vault has 4GB of storage and runs on an ARM processor of its own, along with NFC for authentication purposes. ATAP also mentioned that developers won't have to do anything extra in order to use this system in their apps.
Project Soli: Thanks for the gesture
In this ambitious project, Google's ATAP team is trying to once again change the way we interact with devices. The company is developing a system where users can interact with smart devices through natural hand gestures instead of touches. Watch the video below to get a better idea.
According to Google, a version of this should be ready by the end of the year. It could be a part of Android Wear soon enough.
Project Jacquard: Technology on your sleeve
Speaking of wearable technology and different ways to interact with devices, Project Jacquard is arguably the craziest of the day 2 announcements at the I/O. Google announced that it has developed interactive and touch sensitive threads, which can be woven into fabric, allowing users to operate devices through their clothes. Yes, Google wants you to operate your phone using nothing but your shirt sleeve.
The company said it has struck up a deal with Levis for this project. Talk about wearable technology!