Here's how owning a smartphone seems to work for many people. They buy a smartphone, then pay separately for certain apps and services.Then once they feel like owning a new smartphone, they either discard their current phone or sell it off at a much lower price. But what if there was a way to not only get the full value of the phone back, but also enjoy some of the benefits of premium subscriptions and services. Say hello to Flipkart SmartPack, which has its sights set on becoming the smartest way to buy a phone in 2021.
So what is Flipkart SmartPack?
With Flipkart SmartPack, you can get 100% Moneyback on your smartphone after one year of use. Not only that, but you also get to enjoy top subscription apps for a small monthly fee. This means that not only will you be able to enjoy your new phone, but also enjoy premium services, while also keeping in mind the 100% Moneyback at the end of the plan's tenure.
What exactly does 100% Moneyback mean?
It means exactly that. You can get 100% of the amount you spent on the phone back. It should be noted that this does not mean that you will get the money back in the Flipkart Wallet or as Super Coins. The money will be returned back to your bank account, leaving you free to spend it as you see fit. In fact, as long as the phone is in any working condition and IMEI number is displayed on the screen, Flipkart will take it off your hands.
What services are a part of Flipkart SmartPack?
Online services that are a part of Flipkart SmartPack include Disney+ Hotstar VIP, SonyLiv, Zee5, Eros Now, Cult.fit LIVE, Zomato, Gaana, Practo and more. Not only that, but users also get access to Flipkart's Complete Mobile Protection plan. This insures the phone against screen damage, liquid damage and more. So users can even get the phone repaired and get it to working condition so that it can be returned at the end of the plan.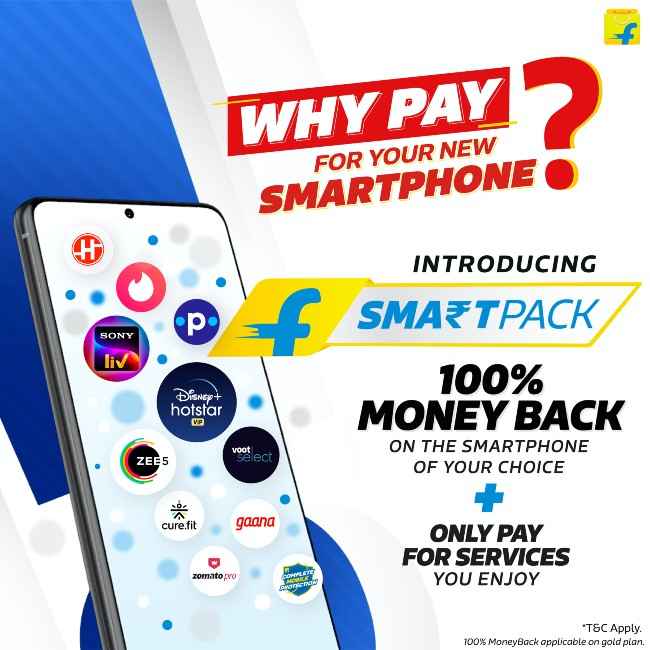 How does it work?
Step 1: Pick any smartphone of your choice from Flipkart.
Step 2: Choose between the 12 month or 18 month Flipkart SmartPack plan.
Step 3: Pay for the phone upfront and pay for the Flipkart SmartPack services every month. It is also valid if you decide to pay for the device in EMIs.
Step 4: Return the smartphone after 12/18 months in any working condition and the guaranteed moneyback will be credited directly to your bank account.
How much to pay each month?
Flipkart Smartpack is available in three plans, namely Gold, Silver and Bronze. The table at the bottom should make things clearer. As an example, let's take into consideration a phone that is priced at Rs 10,000.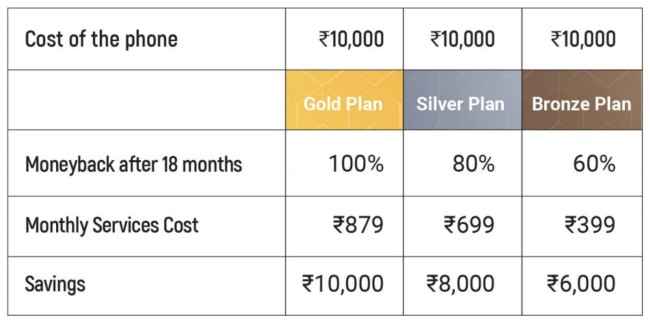 Depending on their choice, users will have to play Rs 879, Rs 699 and Rs 399 respectively every month, However, This also changes the amount users will get at the end of the period. Those on the Gold Plan will get 100% moneyback, while those on the Silver and Bronze plans will get 80% and 60% moneyback respectively. It should be noted that while the phone can be purchased using Cash On Delivery (COD), the monthly payments need to be done via a digital payments service.
When will Flipkart SmartPack be available from?
Flipkart SmartPack will be available from January 17, 2021 and will be available on all popular brands like realme, POCO, Samsung, Xiaomi, Redmi, Motorola, Infinix, OPPO, vivo, and more. Needless to say, if you have been thinking about buying a new smartphone to ring in the new year, things are looking very exciting indeed! So what are you waiting for? Click here to head over to Flipkart and learn more about the new Flipkart SmartPack plan!
[Sponsored Post]