In India, in almost all homes, there is that one "store room" or "garage" where all things old and broken are dumped and forgotten about until a mountain of crap threatens to spill out, or we run out of nooks and crannies to stuff away more junk. Used smartphones fill up our drawers, old TVs lay boxed up awaiting that second-hand sale, broken ovens and toasters get replaced but never repaired. And one fine day, when we decide to clean up, we simply call our local waste collector or "Raddiwala" and get rid of all this e-waste, with a happy buck or two in our pockets.
There is a reason why India is the fourth largest producer of e-waste in the world. 95% of e-waste in India ends up in informal break-and burn units such as those in Seelampur, Moradabad, suburbs of Chennai, and others - India's largest digital dumping grounds. This in turn creates larger environmental and health hazards, since e-waste collected by informal units does not get recycled properly.
"Most of the e-waste produced in India is ending up in the informal sector and that is where it is getting recycled. Very little quantity, like 30,000 or 40,000 metric tonnes of it, is getting recycled properly. In the informal sector, crude methods are being utilised to extract whatever is possible," Pranshu Singhal, Founder of Karo Sambhav a Producer Responsibility Organisation in India, tells Digit.in.
So, that broken smartphone or old computer that you throw out with your garbage pollutes the very soil you walk on, the air you breathe and the water you drink.
What can you do?
Let's start with awareness
As fun as it is to buy and use the latest gadgets, it is equally important to know the environmental impact of our choices. According to the global e-waste monitor, India one of the largest e-waste producers in the world. Globally, 44.7 million metric tonnes of digital debris was generating in 2017. India alone produces 2mn+ metric tonnes of e-waste annually and this number is expected to hit 5 million metric tonnes by 2021. According to data compiled by Intellecap Advisory Services Private Limited, most of the e-waste produced in India comes from computers and peripherals, followed by telephone equipment, electrical equipment, and medical equipment.
More than 25% of all smartphones in use right now will end up as e-waste in India, 40% of mobile phone users replace their phone every year! As our lives become more digital, we will only use more devices like smartphones, smart home devices, laptops, computers, consoles, cameras, IoT devices, peripherals, TVs, speakers, the list is endless.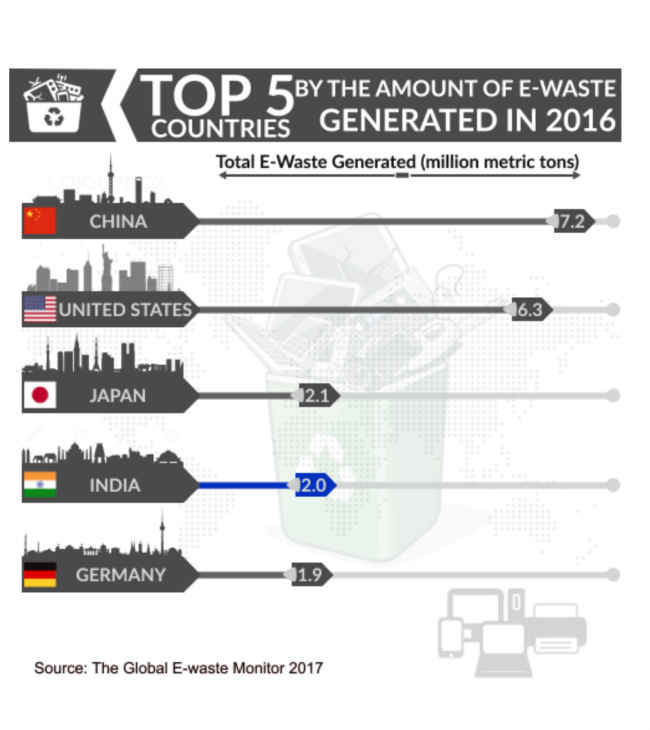 "Electronics are really complex things with different materials inside. Some of those could be toxic, some of those could be valuable and we could need them in society, so, we should bring them back to the market again in new products and gadgets. We really need that. We are running out of resources soon if we don't better ourselves in this area," says professor Thomas Lindhqvist, a Swedish academic and the father of the concept of Extended Producer Responsibility (EPR).
When all this e-waste ends up in informal units, electronics are taken apart to extract precious metals such as Copper, Gold, Mercury, Palladium, Lead, Brass, Silver and others. Very small quantities of these are present in smartphones, PCBs, motherboards, batteries, wires and such. A typical yield from 1 tonne of e-waste is 200 Kg of Copper, 200 gms of Gold, and 20 gms of palladium. Once these metals are extracted from electronic waste, their carcasses are usually burnt away.
Open air burning of such waste can lead to release hydrocarbons in the air. So much so that 76% of e-waste workers suffer from respiratory diseases. Metals can also leech through the soil to the ground water and end up in reservoirs or ponds, which are sources of drinking water for many villages and communities. Toxins released from heavy metals can cause long term problems in the brain, heart, liver, kidney, and can be a cause for birth defects, cancer and other more deadly health issues.
It is our responsibility as consumers to responsibly use our gadgets, prolong their lifetime and properly dispose off of them so they can be completely recycled.
How to responsibly dispose e-waste?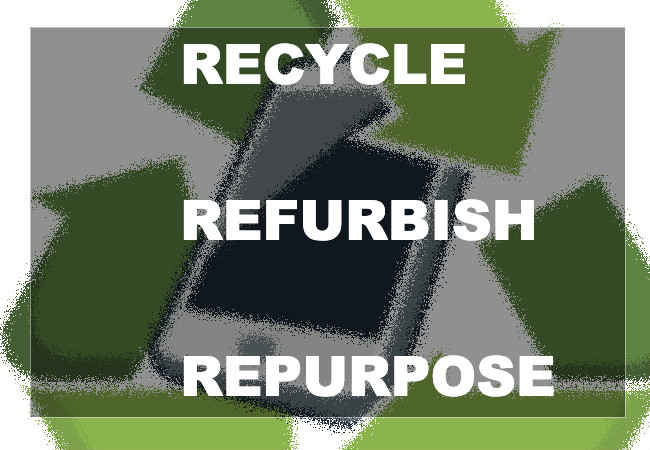 "We will run out of rare Earth metals to produce any future electronics if we do not recycle e-waste," says Singhal.
Responsible disposal of e-waste entails that it ends up in formal recycling centers where scientific methods are used to extract precious metals and recycle other waste parts.
There are various methods to dispose electronic junk in India. Unfortunately, the majority of e-waste ends up in informal units, but this can be avoided.
"In case you are holding a brand of a phone (you want to dispose) the first thing is to reach out to the brand. Brands are liable to collect these devices for recycling. Many brands have committed to the government and they have submitted an EPR plan in which they are stating that they will provide solutions on their website. In case you are not finding that, then maybe find ways to make noise around it," advises Singhal.
Recycle
Many Smartphone makers, including the likes of Xiaomi, Apple, Samsung, LG and others, in India are liable to collect used devices from consumers for recycling under EPR guidelines. You can click on the above hyperlinked names to access their recycling websites. Larger electronics like TVs, ACs, Refrigerators, Washing Machines etc can also be given back to manufacturers for proper recycling and metal extraction. So the best way to dispose of a broken, unusable device is to first contact your brand. In case of phones that are in working condition, it is also advisable to sell them to refurbishers or any other resale unit so that its life can be prolonged.
Another way of responsibly recycling old smartphones and other electronics is to drop them off at the various e-waste collection points spread around multiple cities in the country. The current hiccup this method faces is that consumers seldom take the time to drop of their gadgets to these collection centres.
"People don't go and drop their products. There are these collection points but does it result into collection? The answer is no. People are looking for very large incentives," says Singhal.
To make this process simpler, there is a substantial amount of information available online about how to access collection centres. You can find an e-waste collection point near you through KaroSambhav's list of collection points here. You can also check out websites of other producer responsibility organisations in India like Attero Recycling, Terrapro Recycling, and others to give back your old electronics and find more information about how to recycle them.
"I think the first step is to create awareness and that's what we are trying to address is to create a broader awareness about not only what are the options available with you In terms of what you do with your phone once it's dead, but also when you are giving it to certain people, you need to understand where it's going. Inherently, consumers do want to make the right choice," Sarina Bolla, Program Manager, India E-waste Program, IFC
Refurbish
An easy way of prolonging the lifespan of your electronics is to hand them down. Giving away your old electronics or selling them is a good alternative to avoid adding to e-waste. Multiple classified websites like OLX, Quikr, and other provide tools to advertise and sell old electronics. You can even speak to dedicated refurbishers to purchase your old electronics to repair and sell them further.\
Alternatively, purchasing refurbished devices is also a green way of keeping your e-waste footprint to the minimum. Major ecommerce websites like Flipkart (2Gud.com) and Amazon sell refurbished products like smartphones, speakers, headphones, laptops, kitchen accessories, smartwatches and such at discounted prices.
Also Read: The Smartphone Refurbishing Guide
Repurpose
There are many times old devices like smartphones and tablets can come in handy for purposes you did not even think of. For instance, old phones and tablets can substitute for expensive surveillance cameras. Apps like Manything for iOS and Android, Salient Eye (iOS and Android) and others can convert your old smartphone or tablet into a security camera.
For other electronics, the internet is full of ideas for repurposing things like TVs, Washing Machines, Refrigerators and more if you are up for some DIY tricks.
There you have it, the three R's of e-waste disposal - Recycle, Refurbish and Repurpose. So do the environment a green favour and become a declutter your digital debris.