For the longest time, the CES showfloor has hosted some of the most innovative and out of the box gadgets this world has ever seen. Not all of these cool devices make it to the market, but their presence at the Consumer Electronic Show gives us a glimpse into what technology is capable of in our world and how it can help make our lives simpler.
In the past, CES has brought forth products like the Hoverbutler - a hoverboard that transformed into a robot to stream videos and open doors, a robotic bartender, an anti-sickness bracelet, the Star Wars Force Band and other interesting tech, some of which indeed became mainstream.
Although the CES 2018 showfloor officially opens on January 9, with pre-CES announcements slated for January 8, exciting gadgets have already started pouring in.
This year, CES enthusiasts can expect to see smarter robots, wearables as smalls as a fingernail, customised perfume dispensers and many other strange and wacky gadgets that will make their debut on the world's most revered technology stage.
Here's all the innovative, out of the box tech to look forward to at CES 2018.
L'Oreal's thumbnail-sized UV sensor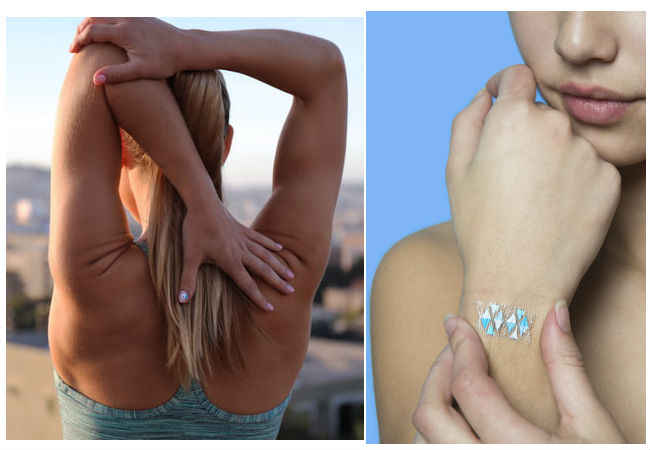 This tiny little device can stick to your fingernail and help you keep track of your UV consumption on a daily basis. The L'Oreal UV Sense is actually just a sensor designed for those who are worried about how much sun they are getting in a day. The sensor can be attached to a fingernail using an adhesive that accompanies it. It connects to a smartphone via NFC and stores upto 3 months of data which can be transferred onto the app for analysis. The app also provides users with essential tips about sun exposure. In addition to UV Sense, the company also unveiled a limited-edition My UV Patch which incorporates photosensitive dyes that change colour when exposed to the sun.
Bob - The world's smallest and fastest dishwasher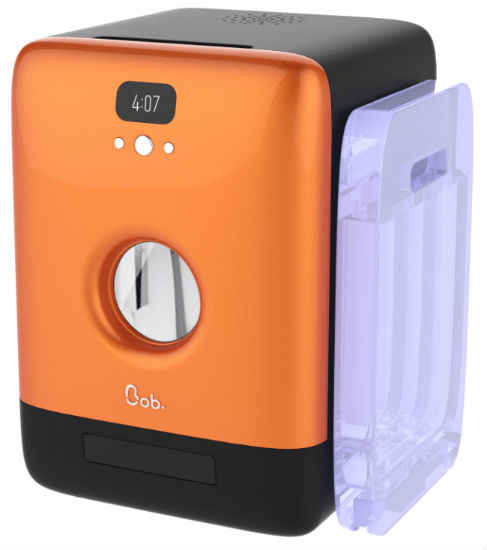 Tired of washing your own dishes? Don't have the need to purchase a giant dishwasher? Bob could be the answer to bachelor life's dish-washing problems. Bob is a tiny dishwasher measuring 35 x 45 x 40 cm in dimension. It looks ideal for a small household as it can clean dirty dishes from 1-2 people, without taking up a lot of space in the kitchen. The makers of Bob claim that it can cleans and dry dishes in just 20 minutes. It consumes only 3 liters of water per cycle and is Wi-Fi, bluetooth enabled for remote operation.
Merge 6DOF Blaster Gun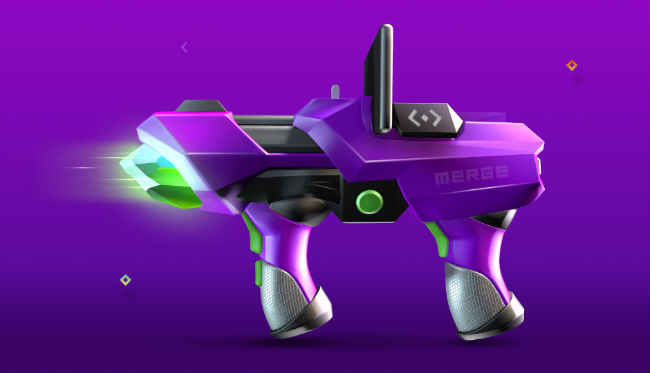 Smartphone AR/VR is shaping up quite interestingly at CES 2018 and Merge, a maker of Virtual Reality experiences as well as headsets, has introduced a smartphone AR/VR gun that looks like it stepped straight out of a comic book. The Merge 6DOF Blaster Gun is a two-handed gadget with triggers for both hands. It offers six degrees of positional tracking and uses a smartphone's display to complete the experience. The Merge 6DOF Blaster Gun features a smartphone mount on it and users can prop up their phones to play shooter games using the gun. At CES 2018, Merge showcased its own first-person shooter VR game built on Apple's ARKit platform. The company will make the Blaster Gun available to developers in the summer of 2018 so that they can design experiences around it.
Create your own perfumes with Nota Nota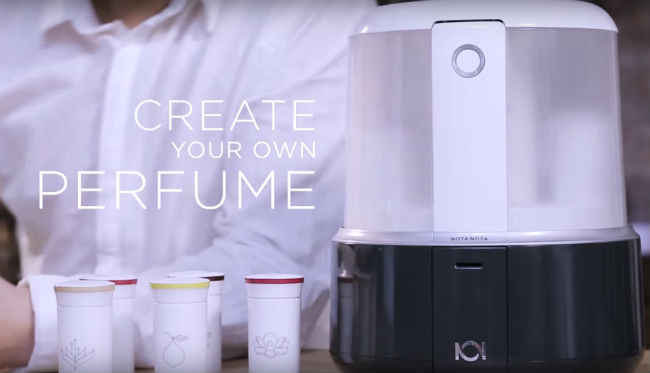 Why buy expensive perfumes when you can create your own? Yes, Nota Nota is a smart perfume dispenser that can be used to create and share customised perfumes. How does it work? Well, it comes with a selection of scents in the form of cartridges called "Tola". Tolas have absorbing fragrance components, like Musk, Vanilla, and other aromas which form the basic composition. A smartphone app can be used to mix and match them to design a unique perfumed mixture. Once the recipe is ready, the Nota Nota can be filled with the required Tolas to instantly create the customised perfumes and scents. Users can also share their custom perfume recipes for others on the platform to replicate and produce.
Short Edition's Story Dispenser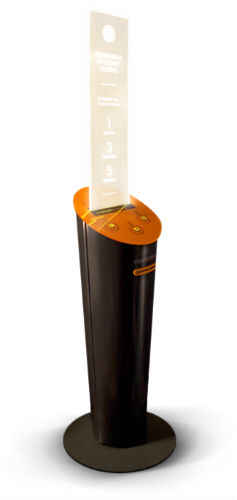 Imagine waiting for a flight at the airport with nothing to kill time. Short Edition has been designed to help you pass time precisely in such situations. The Short Edition Story Dispenser is a vending machine that spouts out short stories to help people catch up on some reading while waiting at various public places such as airports, train stations, restaurants and more. The machine gives users an option to choose between 1 minute, 3 minute and 5 minute reads. It then simply prints out a short story on eco-friendly paper. It also offers smart alerts for the site manager to trace number of stories dispensed, paper consumption and more.
OBlend - The World's First Home Dispensary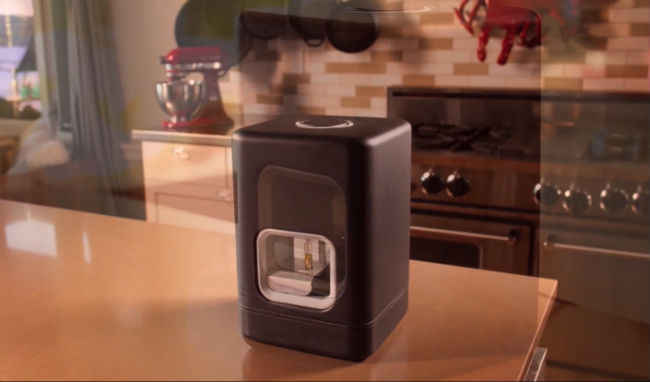 The OBlend is here to challenge your grandmother's favourite home remedies. The device creates vapes, tinctures, culinary oils, massage oils, lotions, drinks, aromatherapies and supplements from legal herbal extracts and essential oils. It comes with pre-installed essential oil cartridges and an app that tracks customised recipes created by users, which can also be shared with friends. The OBled received this year's CES Honoree Innovation Award.
Mu Tag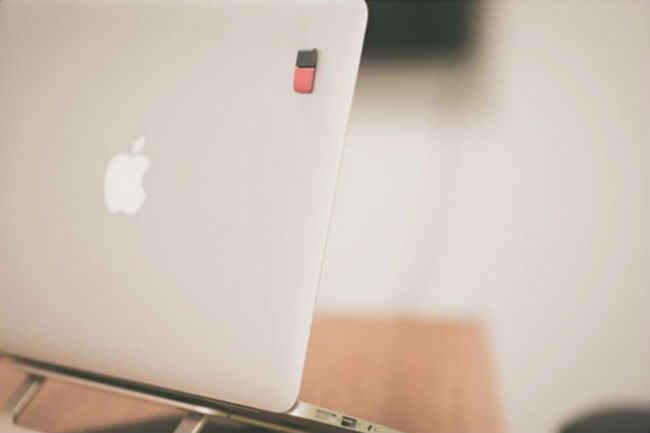 "The Mu tag is the only solution which actually prevents the loss from happening in the first place," claim the creators of this tiny security gadget. Originally a Kickstarter project, the Mu Tag will make its official appearance at CES 2018. It can attach to a number of daily-use objects such as purses, keys, tablets, smartphones, cameras, wallets, cars, sunglasses and more. The device uses Bluetooth to create a virtual 'leash', instead of using GPS. Mu Tag connects to a user's smartphone and when it goes out of range, the user receives a notification that they've left their precious belongings behind. The last known location of the tag is also notified to the user. The tag also integrates with a users' calendar to remind them to carry important items that are tracked using Mu Tag. For instance, if you are taking a trip, Mu Tag notifications will remind you to take your wallet and passport.
Buddy, the robot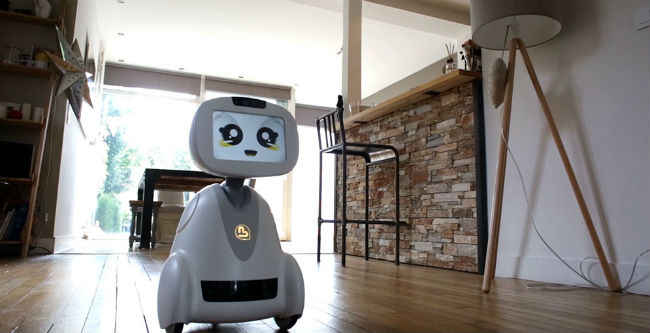 Buddy is an open-source robot that is essentially a physical embodiment of smart assistants like Alexa, Siri and Google Assistant. It can be used to set reminders, play games, suggest recipes, video chat, share media, display weather forecast and traffic info, as well as function like a home security system. Buddy houses temperature sensors and can activate alerts in case of a fire or flood. Buddy also features facial recognition and uses it as a security feature to detect intruders or unwanted guests. The Buddy robot is Wi-Fi enabled so it can be remotely controlled and can also connect to other smart home devices.
Olie, the voice-activated AI lamp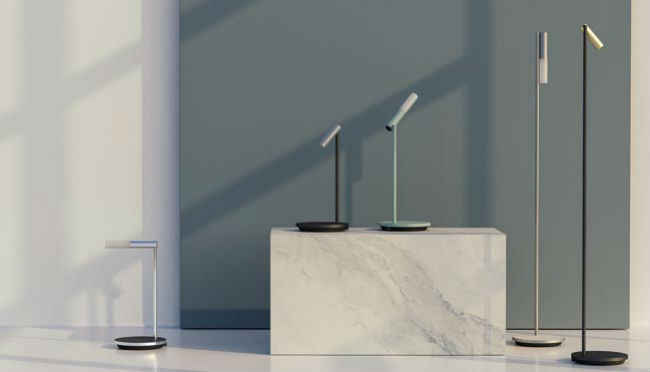 Olie is a smart lighting lamp that houses Amazon's Alexa and Google's Assistant onboard. The smart lamp features voice-activated operation and can also search the web for you thanks to its AI assistant integration. The base of the lamp functions as a Qi wireless charging pad that can be used to charge compatible devices such as smartphones.
Orosound Tilde noise filtering earphones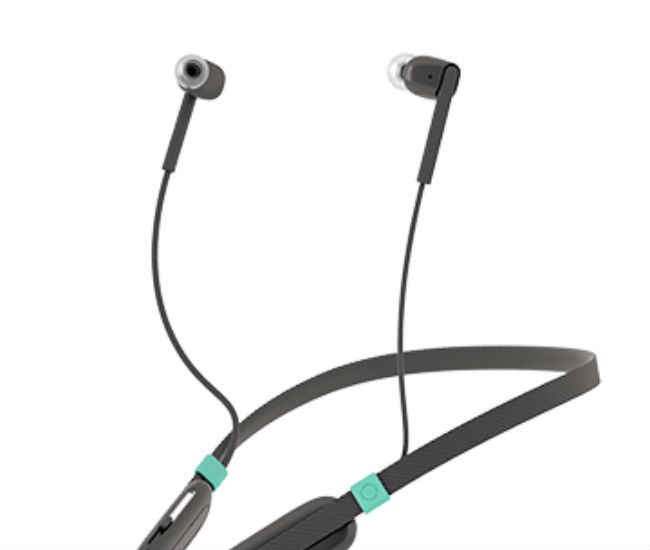 Most of us work in noisy offices which can get very annoying, especially while trying to focus on an important task. Enter Orosound Tilde, the earphones that filter out noise. The Tilde earphones use a proprietary noise-filtering technology that lets users hear only the voice of the person they are facing in a 60 degree cone, while reducing ambient noise in the remaining 300 degrees around the user. The company claims that the noise cancellation is adjustable from 0 to 30 dB at the move of a slider. In addition, the earphones feature six microphones to capture sound and drown out noise. A crowdfunded product, the $350 Tilde earphones feature 20 Hr battery life and voice controls using Siri and Google Now.