Staying true to their mission of 'Ideas Worth Spreading', this year TEDx Gateway set out to host more than 25 speakers, scheduled to talk about their journeys across different topics. Not only were we educated on a few amazing inventions but we also learned about the humanitarian efforts towards which many of the hard-working speakers have dedicated their lives completely. The line up saw a diverse array of speakers including musicians, artists, photographers, a scientist, a quantum researcher, a peace activist and many more.
Listening to numerous short stories one after the other throughout the day, we found almost each of them to convey a message of its own. Picking a handful of speakers from this illustrious line up was difficult, but we've done it for you:
The opening: A standing ovation right at the beginning
TEDxGateway started off on a positive note with the first speaker of the day, 12-year old Capri Everitt from Canada, singing the Indian National Anthem. What is special about Capri is that she can sing the national anthems of 80 countries in the respective national languages. As she wins hearts around the globe by singing anthems, Capri also raises money for orphaned, abandoned and abused children.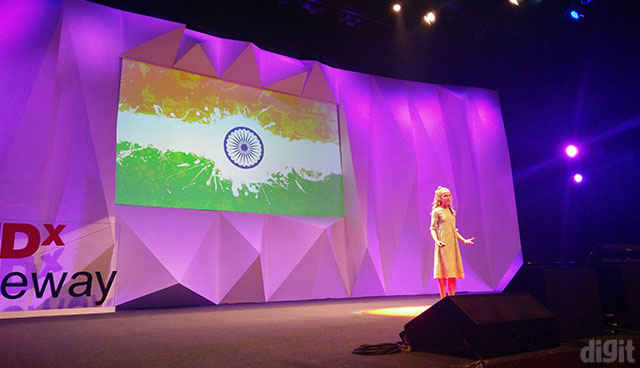 Innovation redefined: A demo worth remembering
A TEDx talk is incomplete without having a speaker demonstrate a compelling invention, and Boaz Almog made sure we were in for an ingenious invention called BRIXO. Boaz is a quantum researcher who had given a TED talk on quantum levitation back in 2012. He started off his demonstration with quantum levitation by levitating a superconductor, leaving the audience amazed. He then went on to showcase BRIXO which is simply LEGO bricks with electricity that makes it easier and fun for kids to learn about building circuits.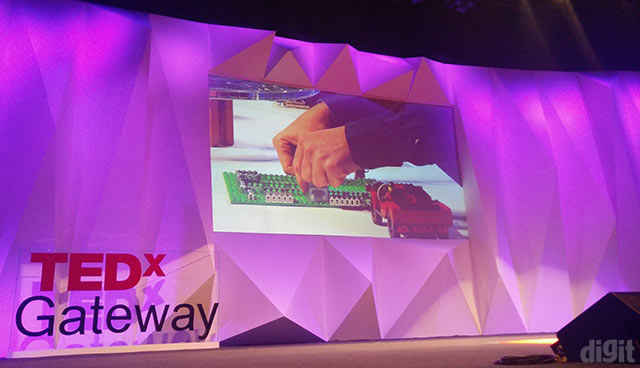 A picture is worth...
Wim Van Egmond showcased some of his work as a micro-photographer, as he whizzed us through fascinating photographs of microorganisms lurking around at the bottom of lakes. Through his photos, Wim contributes both to art and science, and eventually he went on in helping build a unique museum for microbes named Micropia in Amsterdam.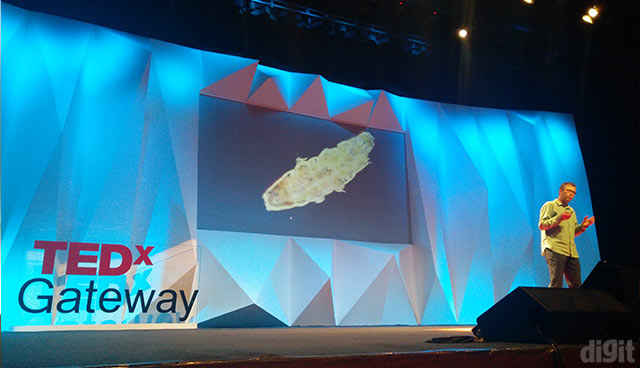 Paper to digital isn't easy
Acquiring local data and converting it to the digital format can be mind-boggling as described by Prukalpa Shankar while she was collecting data about LPG centres in India. Tiny errors like a simple difference in the spelling at two different centres resulted in new data fields being generated which further invited errors. But against all odds, her company SocialCops was able to streamline all the data and setup new LPG centres in remote areas.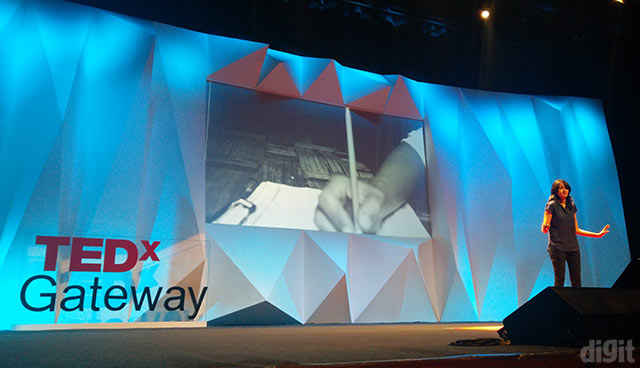 Medi-sensors of the future
Bringing in more incredible inventions, Dr. Roozbeh Ghaffari talked about the products developed by his company MC10. Roozbeh specialises in nanotechnology and bioelectroincs, and with his expertise with biosensors, he built wearable products called BioStamp and My UV patch. These wearables look similar to a bandaid that monitors your vital signs and directly sends them across to the assisted app. This will not only drop the costs incurred in medical equipments but also make it easier for physicians to obtain health data from their patients.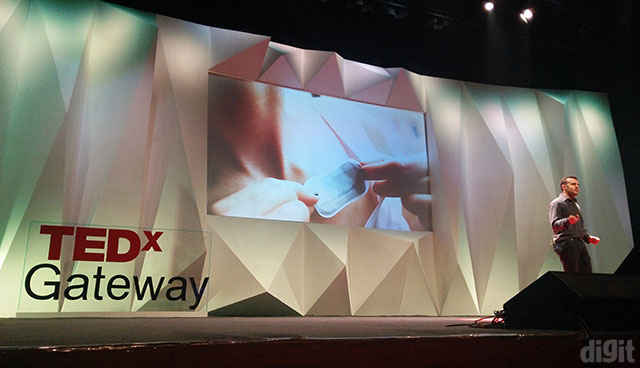 School students building Android apps
Dharavi Diary was another uplifting project started by Nawneet Ranjan, a filmmaker who wanted to introduce an enjoyable learning and teaching methodology using hands on experiences. The impact has made students under the project capable enough to code and build their own Android apps, where two such students spoke at the event about the apps they had developed to fight against female infanticide and foeticide.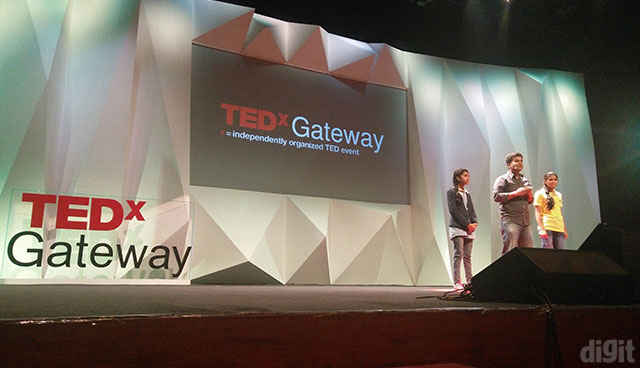 A singing child prodigy
TEDxGateway had to end on a high-spirited note and Sparsh Shah's performance nailed it. If you've been active on social media, Sparsh went viral after his cover of Eminem's Not Afraid in his own style which he calls RagaRap. He was diagnosed with Brittle Bone disease (where the bones are fragile) at birth that made it extremely difficult for him to do regular tasks. But that didn't stop him from following his passion, ultimately coming up with his own form of music.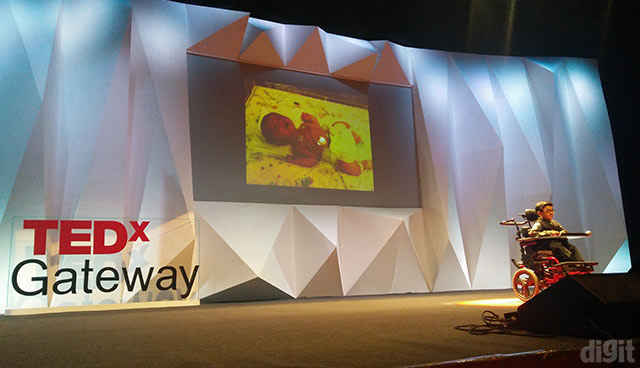 Right in the feels
The event was indeed successful in achieving this year's theme of inspiring lives, but we observed most of the stories revolving around four basic themes – altruism, curiosity, hope and passion. Altruism was present with several projects like Nawneet's Dharavi Diary project and Neel Ghose's Robin Hood Army (where volunteers collect excess food from restaurants and serve to the less fortunate ones). Curiosity was a trait that led to the invention of BRIXO and pushed Krtin in researching about Alzheimer's disease and breast cancer, getting him international recognition.
Hope and passion go together, and that's what kept artists such as Sumit Sadawarti (a self-taught jazz, blues and soul singer/songwriter) and Sparsh diving deeper into music, and also Divyanshu Ganatra whose passion to overcome his blindness at a young age of 19 motivated him to become India's first blind person to paraglide solo. Hope was alone highlighted through Deepak Ramola's (a United Nations speaker and poet) talk on the life lessons he learned from refugees in Europe.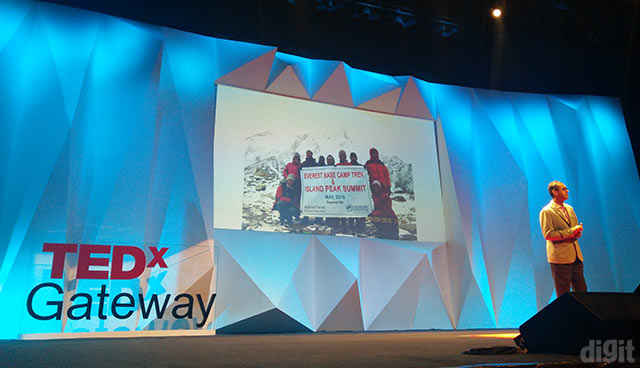 From the organiser's desk
While we were still assimilating the entire package of emotions that TEDxGateway delivered, we got to have a little chat with the brains behind the operation. "It wasn't easy to shortlist the final speakers," said Yashraj Akashi, who's been the Curator for TEDxGateway since the very beginning. "As always, the basic idea of selecting speakers is always the same – whether their content will leave an inspiring impression on the minds of the attendees for years to come," he added.
What is amazing is the organisers started off with a list of around 800-1000 speakers and over a span of close to eight months condensed it to the final line up which Team Digit got to witness.
We are now looking forward to the next edition of TEDxGateway which will hopefully only up the ante by bringing to local audiences more inspiring stories from across the world.