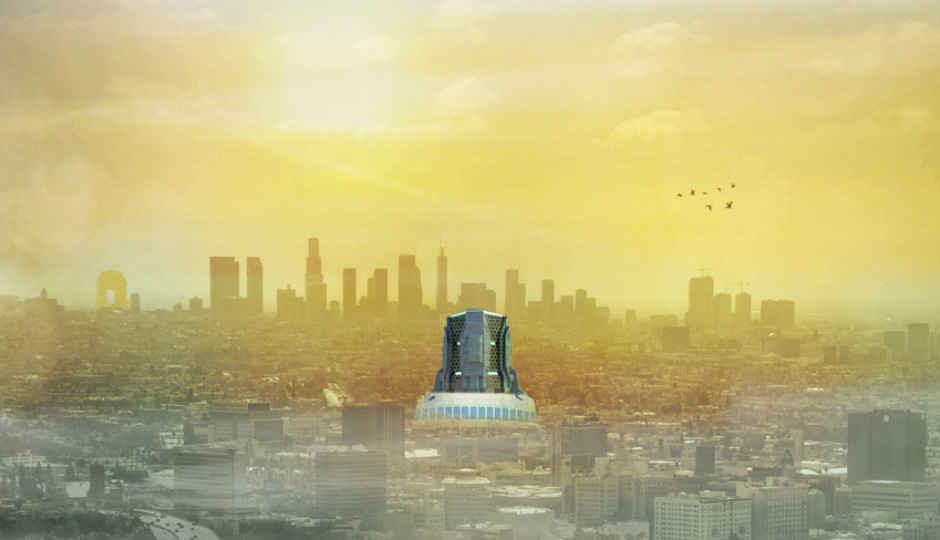 HIGHLIGHTS
A startup called Kurin Systems is helming the 'City Cleaner' air purifier project which aims to clean 32 million cubic meters of air per day. Currently, at a nascent stage, the company is seeking the government's approval to get its pilot air cleaning project running in the world's most polluted city of New Delhi.
Air pollution levels broke all previous records and soared many times the permissible limits in Delhi and surrounding NCR region this festive season. The Supreme Court's order banning firecrackers on the festival of Diwali was grossly defied and the result was an overall Air Quality Index (AQI) that reached Severe levels, with PM2.5 levels tearing way past 1000 when they should've ideally been under 40. This, unsurprisingly, skyrocketed Delhi to the number 1 spot as the most polluted city in the world and many other Indian cities like Ghaziabad, Faridabad, Noida and Varanasi also slid into the top 10 polluted cities in the world.
Now, a New-Delhi based startup named Kurin Systems intends to change this ever worsening situation. The startup has obtained a patent that describes a 40-feet tall air purifier tower that is to be installed outdoors for large-scale air purification. In a conversation with Digit.in, the company's co-founder Pavneet Puri reveals what one can expect from the upcoming 'City Cleaner' air purifier.
The Plan
First off, the startup intends to erect a 40 feet air purifier tower that it is calling the 'City Cleaner'. This is not a first time someone has thought of this as China already has a similar contraption in Xian, which is 100 meters high and capable of filtering 10 million cubic meters of air per day within an area of 3.9 square miles (10 km). Speaking to Digit.in, Puri said that their planned air purifier tower will be capable of filtering thrice the amount of air in comparison, around 32 million cubic meters per day, around a 3km radius.
There are many hurdles that need to be cleared before the project gets going. Kurin Systems is currently awaiting the government's approval, after which, it can take around five months to install the first of these City Cleaners in the Anand Vihar area in New Delhi. Puri said that Anand Vihar was chosen as the first place for the pilot run of the air purifier tower because it is one of the most highly polluted areas in the region and also because of the garbage dump nearby that exudes harmful particles in the air since the waste lying there catches fire sometimes, causing a sharp decline in air quality in the surrounding area. This could be a success story for the company if the City Cleaner is able to clean the air to a satisfactory level in one of the most polluted areas of Delhi.
When asked about how Kurin System aims at acquiring land for setting up their giant air purifier, Puri says, "We are hoping that our first project is with the government itself. We have had a lot of interest from the private sector as housing societies are showing high interest in it but we are dependent on the government to help us out in setting up the device in areas near trash dump sites or industrial areas." The company has a lot riding on land acquisitions and the government's help could go a long way for Kurin Systems and for the people living in Delhi with plummeting air quality. The startup is also planning to set up more air purifying towers in areas like Tughlaqabad and Golf course road Gurgaon, once their pilot project shows promising results.
City Cleaner: How it works
Kurin Systems filed for their patent for the City Cleaner air purifier tower back in January 2017 and it's proposed to be a 40-feet high air purifying tower that is 20-feet wide on each side. Puri told Digit.in that to set-up the device and all of its auxiliary components, a total area of 1000 square feet will be required and the company is currently in talks with private realtors and the government to procure land for their project. However, what good is an air cleaning device if it consumes electricity produced from coal or other fossil fuels? Keeping this in mind, Kurin Systems says that the City Cleaner will run completely on renewable energy as it will be hooked to solar panels that provide electricity.
The City Cleaner will feature a chamber with nine different stages of air filtration. There will be a pre-filter to trap larger particles that are of PM10 size and higher. Next up will be High Efficiency Particulate Arrestance (HEPA) filters that are of grade H-14 and certified to trap 99.99 percent of harmful particulates in the air. Grade H-14 filters are usually used in hospitals and pharmacies with higher requirements and where more stringent control over the air quality is required. These filters will trap PM2.5 particles as well and have a total trapped particle retention greater than 99.995 percent. There will also be carbon filters on the device that will take care of Total Volatile Organic Compounds (TVOCs) and other gases that are detrimental to one's health.
The air purifier will solely rely on mechanical means of air filtration, meaning that there's no use of ionization, UV sterilization, electrostatic or any other method of air purification. It will be equipped with 48 fans that are going to pull the air in from all sides and expel purified air. Now, indoor and outdoor air are totally different when it comes to the types and amount of pollution. Filter life becomes an important factor in such aspects since it's a recurring cost the company has to bear. Kurin says that considering the current pollution levels, they are looking at 15-20 HEPA and carbon filter replacements in a year. These filters will be recycled and every material that the City Cleaner uses will be sourced locally and made in India.
How much will the project cost?
Considering all the equipment, devices and the land acquired, the cost of building one City Cleaner is said to come around 1.7 to 2 crores. Kurin System says that it has enough backers and funding to cover the construction and maintenance of the City Tower. However, the Annual Maintenance Contract (AMC) will be taken care of by the company for the foreseeable future. While the air purifier tower could be remotely operated, the company says that on-ground staff will be preferred for any maintenance operations.
When asked whether the air purifier tower will be run throughout the year, 24×7, Kurin Systems' Puri told Digit.in that the government will have to take a call on that. However, the company will suggest keeping it switched off in seasons where the air quality is satisfactory so that the electricity produced by the solar panels can be fed back to the grid. While the current City Cleaner is said to clean 32 million cubic meter of air in a day, the company says that they could scale up in the future depending upon the area and available technology.
Kurin Systems started their research and development in the field of air purification back in 2014 as it felt that the existing air purification solutions in the market were not good enough or even tailored to tackle the pollution in India. The company started off by making home air purifiers but also wanted to work for the greater good, hence it came up with the City Cleaner project. Since the government and the apex court's attempts to regulate pollution emissions didn't bear any fruit, it remains to be seen if the City Cleaner can hold its own in a city with skyrocketing particulate levels. However, there is still some time for the project to come to fruition and Kurin says that they haven't been able to implement it till now because of the regulatory hassles and patent claims that had to be taken care of first.
The smog combating tower in China that we talked about earlier has been showing results since the day it was installed. However, it is much larger in size and the air quality in its surrounding area is checked with over 10 air quality monitors to ensure that it is performing as intended. Kurin System's City Cleaner will also have to ensure that the polluted air is constantly being filtered and monitored, but it remains to be seen when or if at all we will get to see it in action.
Disclaimer: The cover image is used only for representation purpose.