On Wednesday, Google CEO Sundar Pichai was interviewed by veteran tech journalist Walt Mossberg at the Recode Code Conference 2016. Here, Pichai opened up about some of the new announcements made by the company at Google I/O 2016, along with the search giant's vision for the future. So what did Google's Indian CEO have to say? Let's find out
1) Artificial Intelligence & Google Home
"The actual way in which machine learning can actually do a much better job in many specific instances that's been much more recent for us," said Pichai, talking about one of Google's core focus areas - Artificial Intelligence. Pichai recognised that 3-4 years ago, AI was a big internal shift for the company. Now, Google wants to leverage their finding in AI and bring them to the mobile platform, owing to its immense popularity. Pichai explained, "Mobile gives a great platform to do it. You know it's a very different paradigm. People use it all the time. They use it when they are on the go. So, the bar is much higher. People expect you to help them instantly." Here of course, Pichai was hinting at Google's latest voice assistant, which will be at the heart of its upcoming IoT device, Google Home.
2) Google Vs Amazon, Apple, Microsoft, Facebook
Pichai also shed some light on the company's plans of competing with Amazon Echo, saying that the Google Home will feature an "off the record" mode. This will behave like the Chrome's incognito mode, and will enable users to keep their conversations with Google Home private. Google is also adopting a similar mode their upcoming Allo Messenger, which will allow users to choose if they want their conversations to be encrypted or not. When asked about Google's plans of competing with the likes of Apple's Siri and Microsoft's, Facebook's bots, Pichai said, "People have been asking Google questions for a long time and with voice, we saw the trend too. Today I do think we take the magnitude higher, the number of queries compared to anyone else. It's not like Game of Thrones, it's more like the NBA championships"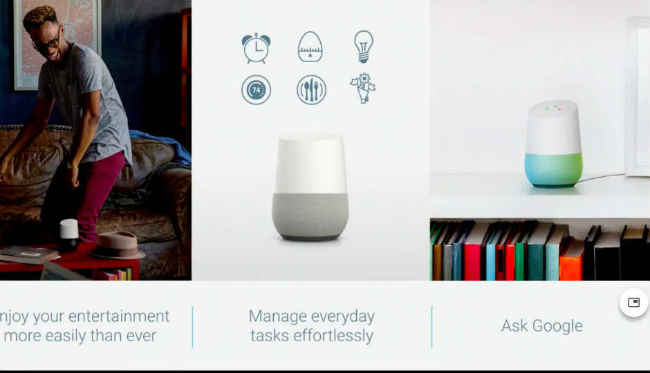 Google Home
3) The Future of Nexus Devices
There have been many rumours that HTC will be making the next Nexus smartphone. So naturally, with Pichai on stage, Nexus devices came up in conversation at the Code Conference. Sharing Google's future plans for Nexus, Pichai said that the company will continue partnering with OEMs to make their smartphones, but he also revealed that the company will work towards expanding the functionality of future Nexus devices. To be precise, Pichai said that "more thought" will be put into Nexus devices going forward. Although he made it very clear that Google has no plans of making a smartphone end-to-end, he said that users can expect additional features built upon stock Android, along with a new design focus from the company.
4) The New Search
With Google, Apple, Microsoft and Amazon all vying for the top spot in voice-based search and smarter AI based conversations, the question of Google shifting focus from traditional 'typed' search to voice search, is one that's vital to ask right now. Afterall, typing in queries on Google has been an input method for search since the inception of the company. Now, with the whole search ecosystem moving towards voice, Google has even more pressure to deliver a highly skilled search assistant with state-of-the-art natural language processing abilities. To this, Pichai said, "To me it's like PC to Mobile transition in computing. It's still computers you know. We see the same way people's need for information. We see it expanding at a phenomenal rate. People come at it many different ways and we want to be able to do it for them. So it's a natural evolution."
5) Google In China!
"Where possible, we want to be in China serving Chinese users," said Pichai. Google has been trying to enter China for a while now. There have also been reports that the company is planning a special Play Store for China. Although Pichai did not put a timeline to the search giant's plans of entering China, it seems the day is not far from now.
So, those were the 5 important points discussed by Google CEO, Sundar Pichai. It's pretty clear from the above that Google really wants to invest its energy into AI and Voice search, while it seems Android and smartphones could get the 'second child' treatment going forward. You can catch the complete interview in the video below.