Finally, a South park game that feels like it's gonna break a few video game records. Join the boys as they go on an epic adventure to get the Stick of Truth and regain control of the universe. You'll find all sorts of characters from the series and get to know a little more about them. Along the way you'll also encounter Al Gore, Mr. Hanky, a bunch of cows (We're not talking about Kyle's mom!) and, of course, aliens.

Sir Douchebag! A quest for you
We know there are plenty of guys out there who've watched South Park from the very date it was released. Such a crass, crude show with piles and piles of obscenity piled on that most people won't be able to digest it; insensitivity on so many platforms across different levels; all of this done to perfection! South Park's dark humour is an acquired taste but us fans are not a minority. Now we've been presented with a chance to finally take part in the magic that these fourth graders indulge in on a everyday basis.
The game has undergone quite a lot since the creators announced the intention to go ahead with a new video game. The previous titles had been criticised heavily for not staying true to the unique look that the TV show had developed. The creators, Trey Parker and Matt Stone only agreed to go ahead with the development after the developers came up with the initial concept art and it matched the way the show is played out. THQ had initially purchased the rights to publish the game but when they filed for bankruptcy the future of the game became rather hazy, however, Ubisoft soon bagged the rights and we like the way the game has finally turned out, at least in the beta run. When we finally got to have a go at the game it became quite clear that look and feel of the game felt so similar to the TV show that it was as if we were part of an episode, and a rather well done episode it is.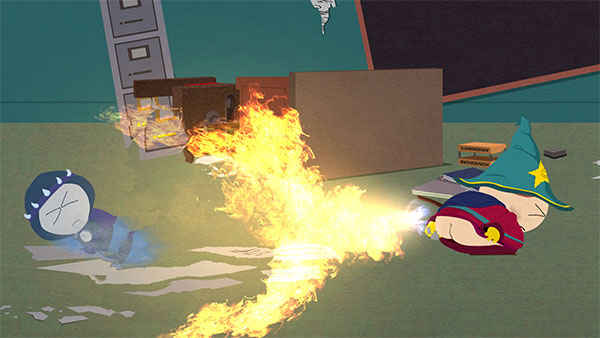 Farts make for the most powerful spells in your arsenal!
A mysterious beginning
You start off as the new kid in town with what might be a mysterious past, soon enough you venture out on the streets and get embroiled in a quest given to you by the Great Wizard himself – Eric Theodore Cartman. The build up to the initial meeting and what happens from then on has been pretty good. Even the cutscenes are so seamless that you'd forget whether you were playing a game or watching yet another hilarious episode.

There once was a maiden from Stoneberry Hollow,
She didn't talk much but boy did she swallow!
- The Bard
Interface and graphics
I don't know how many times I've said it but I'll say it again. The game in its beta version looks exactly like an episode. Only when you do open up the action menu on your character does it even appear to seem different. Your inventory looks like the computer screen whenever one appeared in any of the episodes. The creators have tried to use as many elements as possible from the TV show. We played the game using an Xbox 360 controller and as a PC gamer it felt not much different from using a standard keyboard and mouse. You get a buddy to tag along for fights and both your vital stats are shown in the top left corner and special skills and all are activated depending on the items you equip.
So if you wish to get some kickass moves then don't forget to visit Mr. Slave and Randy. What they'll teach you might mean the difference between winning and losing battles, especially at higher levels.

I had a nice lance that she sat upon,
The maiden from Stoneberry who is also your mom.

- The Bard
Gameplay
You start off with selecting your character class, there are four classes and it seems to be the standard fare, that is until you start going through each of them and the never-ending giggles start. The quests begin with you having to gather more members to join your cause i.e., get the Stick of Truth back from the scheming drow elves.
Throughout the game you'll find out about things that have never found a mention in the TV series or any other media. If you wish to figure out what I'm talking about do check out Cartman's mom's room. It'll either scar you for a long time to come or you'll fall off your chair laughing. It all comes down to whether you've acquired a taste for the unique humour that South Park showcases.
RPG elements similar to what you've played before exist all around. Different weapon and skill animations, glowing lootable bodies (don't worry you don't kill anyone) and hidden secret loot that only open when you obtain a key. Something which in turn requires that a quest be completed. So you don't need to like the TV series or have watched every episode ever in order to get into it, anybody can play the game. However, there are plenty of references which might require a little wiki-surfing to get.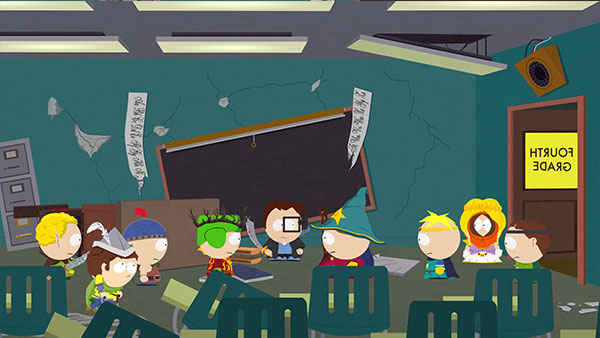 The two opposing factions – The Humans and the High Elves
But wait there is more
The game is fricking hilarious. If you follow the series then you'll definitely love it and from what we've seen it is not a disappointment like the previous games that have come out. It pains me to a great extent to not reveal more since it'd spoil the experience for you, so I'd like to share this video as we await the game's launch.