Zynga, one of the top names in social gaming segment, last week announced quite a few new games and a self-branded social gaming network. Dubbed as "Zynga with Friends", the network is said to provide a complete social networking experience to users, who can have their own profiles, send messages to friends, share their achievements, see what others are playing, communicate with new people based on similar games played so on and so forth.
No doubt Zynga is on a roll with the recent releases of FarmVille 2, Bubble Safari, and other new games. A social network dedicated to gaming sounds like it could be a good idea. And with a new gaming network, Zynga evidently aims to reduce its dependency on Facebook for revenues.
But with the presence of a dominant social network - yes, we're talking about Facebook - will users turn up to another social site, just for gaming? We're already aware about the sad story of Google , which recently saw several gaming companies pulling their games from the network due to lesser activity.
Is Zynga taking a huge gamble by trying to compete with the majors in the social networking segment? Are users even interested in social/online gaming? Last week, we'd asked you the same in our weekly poll question. Well, the results are now with us.
Out of 248 respondents, the majority 82 said they have no interest in social or online gaming. However, 70 respondents said Zynga's initiative could turn out to be a great platform for online gamers.
That being said, quite a few people want a status quo. As many as 68 respondents said they will stick to Facebook plus Zynga. Only 25 respondents, saw no future for a social network for gaming.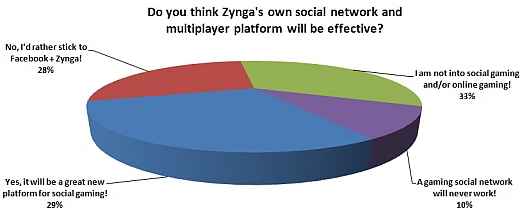 We thank you for your participation in the poll, and hope for the same enthusiasm in future. Now, it's time for another weekly poll question. As you already know, Google has announced their latest Android OS, Jelly Bean. What do you think of Google's Android 4.1 Jelly Bean OS? Let us know your opinion in the poll section. In the meantime, check out our previous weekly poll results here.