I'll be honest, I have a soft spot for Bethesda. Elder Scrolls Morrowind was one of the first RPGs I ever played and I was hooked on to the genre. Then came Fallout 3 and the love affair continued. All the games that followed in the series offered me exactly what I expected from a Bethesda RPG. A vast open world filled with loot to find, quests to complete and enemies to vanquish. I spent countless hours playing these games with absolutely no regrets.
So when Bethesda Game Director, Todd Howard announced new installments of Fallout and Elder Scrolls, I was giddy like a schoolgirl. Then I played the B.E.T.A of Fallout 76 and… well… you can read about that here. Suffice to say, I was disappointed. Maybe Elder Scrolls: Blades can redeem my feelings for Bethesda. A RPG for the mobile, count me in.
Please note: Elder Scrolls: Blades is currently available as an Early Access on the Play Store and I have been playing it for a couple of hours on my OnePlus 5.
Controls and graphics
One of the best features of Blades is the fact that you play on it in landscape and portrait mode. It may not sound like much, but it really does make a difference. Switching between the two modes is also pretty smooth, and from my experience, it's possible to do that any time. In landscape, you get the two virtual joysticks on either corners of the phone. Attacks and items are collected by tapping. In portrait mode, you go from one place to another by tapping, and look around by swiping. Attacks and items are selected by tapping.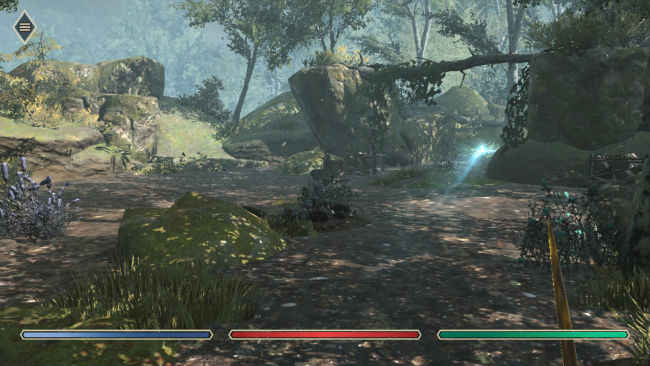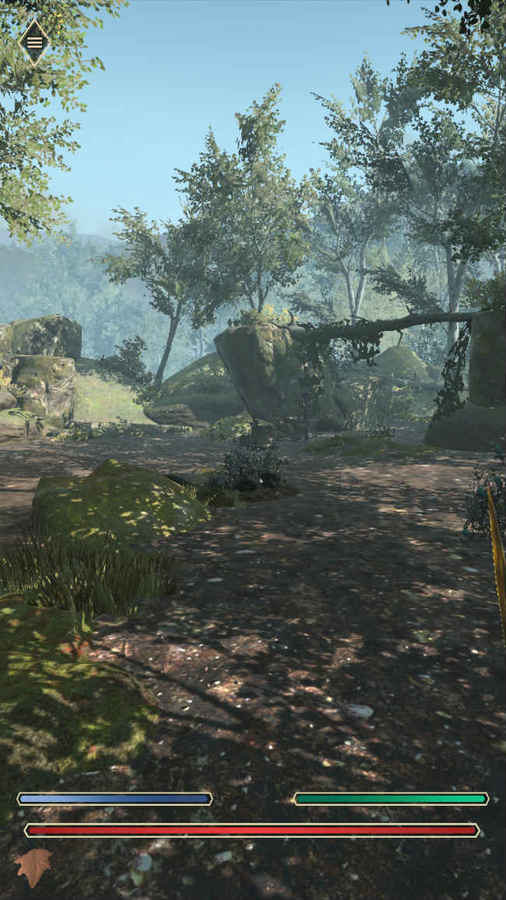 The ability to switch between landscape and portrait mode may not seem like much, but I found it to be pretty cool. I could continue to eat or hold a carry bag, without the need to stop playing.
The graphics of the game may not be top notch, but they aren't too bad for a mobile game. I'd say it's on par with PUBG Mobile when it comes to lighting and shadows. But it could do with a bit more polish, especially when it comes to beards and hair. The low quality texture really takes away from immersion. Regardless, it's still a pretty mobile game. Sound was an issue though, the game has no dialogue and that further takes away from the immersion.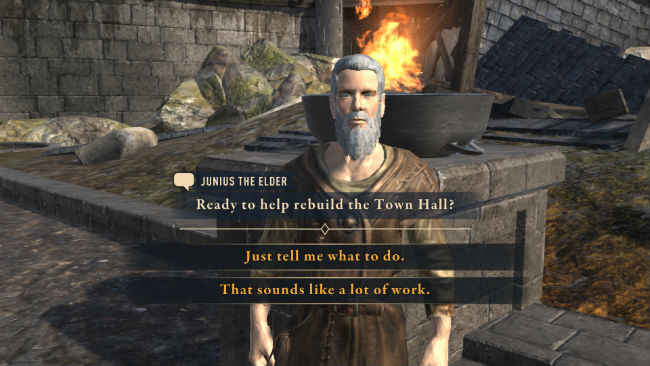 Gameplay
If you play Blades expecting an experience akin to Skyrim, then you will be sorely disappointed. Bethesda is known for its expansive, open world experiences and Blades does not offer that. While you do get to choose a starting race (which adds certain buffs to the character) and customise the looks, that's about it when it comes to similarities previous Elder Scrolls games.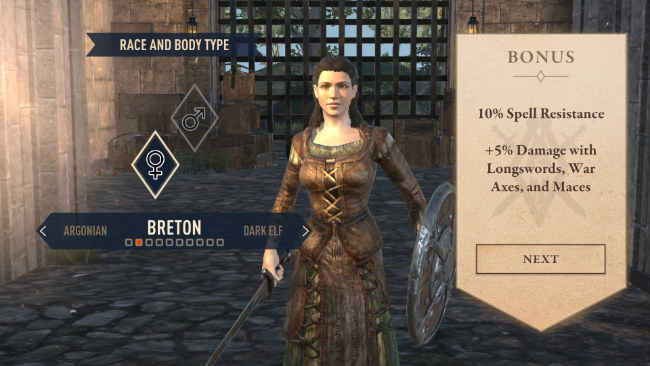 Players are restricted to certain paths and combat is limited. Players can only attack enemies one at a time. There is also a central town that acts as a hub. You get missions from there and are teleported to the quest area straightaway.
As mentioned before, enemies attack you one at a time. So you'll never be overwhelmed by enemies. You attack by tapping the screen, while there is also a shield icon that lets you block attacks. Separate icons let you cast various spells if have unlocked them. You get the chance to unlock more spells by leveling up your character. It should also be noted that there are no options for ranged attacks. So the 'stealth archer' game path is non-existent.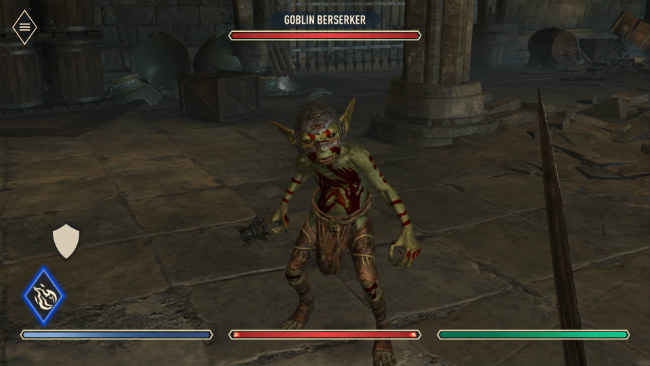 The central town seems to form the center of the story. The town has been plundered and razed by enemy forces, and it's up to you to rebuild. You gain loot like lumber and copper which can be used to improve the town by constructing buildings, these buildings then offer different benefits, like the blacksmith, which lets you upgrade your weapons and amour. So there is a dash of city-building elements in the game. Why can't other NPCs help with the rebuilding process? Because, video games.
Loot Boxes
Elder Scroll: Blades is a freemium game. So, while the game itself is free to download, it has micro-transactions. During your adventures, you'll come across chests. Now, chests are a staple of RPGs. Beat the boss, open the chest, pick up loot, and repeat. In Elder Scrolls: Blades, chests will take time to open. Simple wooden chests take five seconds to open, while silver chests take three hours, and so forth. Of course, you can spend 'Gems' to unlock them immediately. Gems can be purchased from the store or occasionally found during your playthrough. It should be noted that you can only unlock chests one at a time, so you will have to wait for one chest to unlock before you can start unlocking the other one.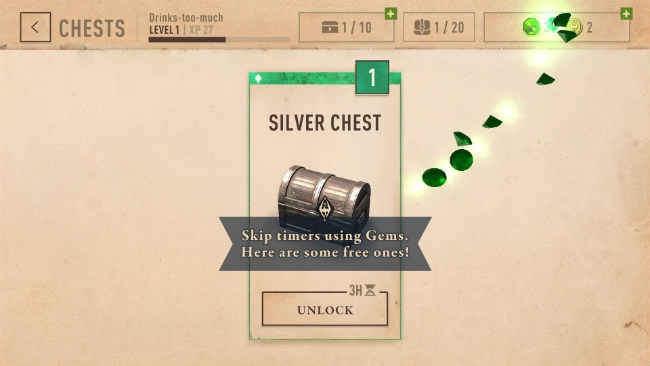 This slows down the pacing of the game quite considerably. Weapons and armour are few and far between since enemies no longer drop theirs. So you depend on high level chests to get high level weapons. If you've played enough freemium games, you can see where this is going.
It should be noted that you also get the option to spend Gems and complete a quest immediately. If that isn't literally 'pay-to-win', I don't know what is.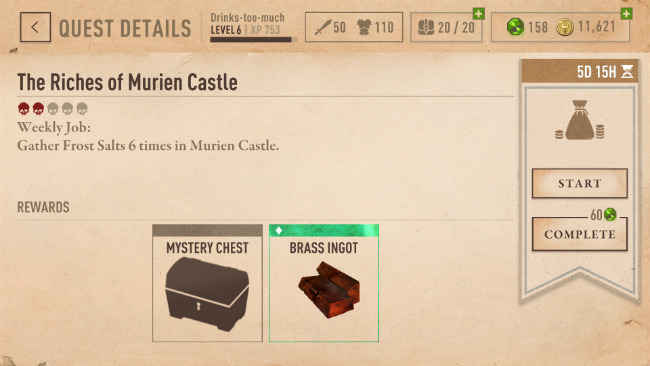 Bugs
This is a Bethesda game, and that too in early access. So there were bound to be some bugs. The game crashes A LOT. Sometimes you're stuck on the loading screen not sure what to do next. The in-game store just did not open for me and instead crashed the game. It should also be noted that while this was a single player experience, you would need the be connected to the internet in order to play.
Final thoughts
Blades is a pretty game that is fun at times. But this is not an Elder Scrolls title meant for the fan. The open world, the lore and other little things that are hallmarks of the series are missing. Add to this the slow pace caused by the additional of micro-transactions and loot boxes, and you've got an experience that seems to be geared towards the casual gamer. Since it's free to download, you might as well pick it up and give it a shot.