E3 2014 finally hit the ground running last night and it sure didn't disappoint. There were big games and big names in store for everyone who tuned in and some of the big announcements included GTA V finally heading home to the PC, a new Mass Effect and gameplay trailers for big titles like the new Far Cry and Dragon Age: Inquisition.
Here's a look at what all made a splash on day one of E3 2014:
1. GTA V headed to the PC, Xbox One and PS4
The news that everyone expected yet were anxious for finally saw the light of day- Grand Theft Auto V will hit the PC, along with the two new consoles, sometime in August or September of 2014.
And to that news we have but two things to say- "YEAH!!!" and "What the hell took you so long?!"
Check out the GTA V PS4 trailer that Rockstar showed off at E3:
2. There's a new Mass Effect on the horizon
The Mass Effect trilogy arguably provided the most memorable moments in gaming in the last generation, so, it's not really surprising that Bioware wants to build on the franchise with a new game headed to the new generation of consoles and (presumably) the PC.
As shown off in the trailer below, the new Mass Effect game is still in the very early stages of development and Bioware has revealed that it will not be crippled by whatever happened in the original trilogy and will instead let gamers explore new stories and an entirely new section of space.
3. Far Cry 4 has elephants, auto-rickshaws, crazy villains
After the excellent Far Cry 3, we all expected the next Far Cry game to be good, but what Ubisoft showed off at E3 was simply incredible. Far Cry 4 is set closer to home, in a fictional Himalayan country and includes Hindi speaking villains, indigenous wildlife like yaks and elephants, snow-capped peaks and best of all, drivable auto-rickshaws.
Far Cry 4 will make its way to PC, last-gen consoles and new-gen consoles on November 18. Check out the seven minute gameplay trailer from E3:
4. Lara Croft is coming back
The Tomb Raider reboot from last year was a surprisingly good game and the perfect representation of the action-adventure genre that basically ruled almost all of last-gen. The new Tomb Raider game, clunkily titled 'Rise of the Tomb Raider' continues from where the last game left off with a Lara Croft who is still finding her way as an adventurer and who continues to be psychologically affected by the bloodshed from the previous game.
Rise of the Tomb Raider will be out summer 2015.
5. Assassin's Creed gets co-op, is en amour avec Paris
After letting you step into the boots of pirates in the Caribbean in the 17th century, Assassin's Creed is back in its fifth installment (named Assassin's Creed: Unity) set in revolution-era France. This time around, and for the first time ever, you'll be able to take on the single-player game with three other friends.
With huge detailed crowds, intricate architecture and gameplay that mixes up stealth, tactics and swordplay, Assassin's Creed Unity looks like it will impress.
6. Have Faith in Mirror's Edge 2
The original Mirror's Edge may not have been a runaway success but it was hugely popular among gamers for its unique art and design, and first-person Parkour gameplay. Mirror's Edge 2, developed by DICE and shown off by EA at E3 2014, looks like it captures all that was so right with the first game, all the while adding new moves and gameplay elements.
Check out a video of Mirror's Edge 2 which is still in early development:
7. Yes, Dragon Age: Inquisition has massive dragons
Bioware and EA are in the final stages of readying Dragon Age: Inquisition for an October launch but that hasn't stopped them from releasing an impressive video that shows off how players can take on a gigantic dragon with the help of both third-person combat and the classic tactical view that lets you pause the game and decide on your next moves.
The more I see of the new Dragon Age game, the more it seems worth getting excited over. Watch the E3 2014 video below:
8. Rainbow Six: Siege goes back to the series' roots
The ancient Rainbow Six games were well known for putting equal importance to both planning an operation and executing it. The new Rainbow Six: Siege shown off at E3 2014 seems to be headed back to that style of gameplay after a detour into third-person cover based action territory. Ubisoft showed off a multiplayer 5 vs. 5 match last night with a team playing as a SWAT squad and another playing as criminals who've taken a hostage.
With destructible environments, gadgetry and close-quarters urban combat, Rainbow Six: Siege seems to be on its way to a good showing.
9. The Crew gets November release date
The Crew is one of the most ambitious driving games ever announced and it lets you drive the breadth of the United States with a group of your friends that forms the titular "Crew". At E3 2014, Ubisoft announced that the game was headed to the PC, Xbox One and PS4 on November 11, so get ready by watching their newly released trailer below:
10. Uncharted 4: Drake's final adventure?
Finally, one of the Playstation's most successful franchises, Uncharted, will be getting its fourth installment next year and by the tone of the trailer revealed at E3 2014, the Playstation exclusive title looks like it may chronicle Nathan Drake's last ever adventure.
Uncharted 4: A Thief's End is scheduled to be out next year.
Bonus: Alienware's Steam Machine
Even though Valve pushed back the launch of the Steam controller to next year, Alienware has revealed its hardware that adheres to Valve's vision of a PC for the living room but will also launch with WIndows 8.1 instead of Steam OS. Alpha Console, as the machine has been branded, will cost $550, will launch this year and will come with a console type interface that can be easily used on a large screen TV.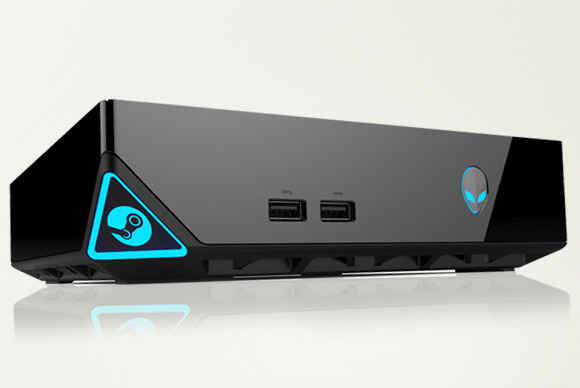 In terms of specifications, the Alpha console will be powered by an Intel Core i3 Haswell CPU, customised Nvidia Maxwell GPU with 2GB of video RAM, a 500GB HDD and 4GB RAM. If you want to spend more than $550, you can also opt for Core i5 or i7 processors, 8 GB RAM and 1 or 2TB hard drives.
Main image: PC Gamer