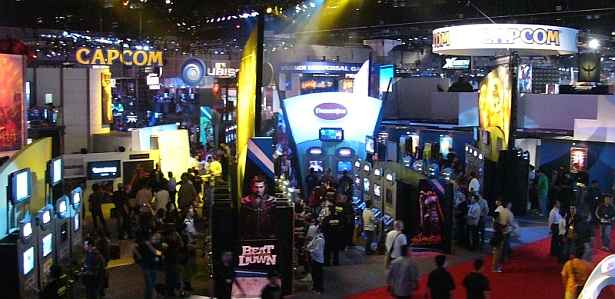 If you want to get your hands on the newest console and computer games months before they are released, there are few places better than E3. Held each summer in Los Angeles, California, the Electronics Entertainment Expo is quite a spectacle of an event where video game designers and publishers show off their upcoming software to members of the media and retailers. It isn't open to the public so only qualified industry professionals will be there, but thanks to news leaks and announcements we already have a good idea what to expect.
While many are focusing on console gaming this year, especially with Nintendo planning to show off their newest hardware (codenamed Project Café), there will be several major new PC titles on display. Perhaps the biggest and most closely guarded of these games is Blizzard's Diablo III. First announced in 2008 and in development since 2001, Diablo III is the eagerly anticipated third entry in the series which celebrates its 15th birthday this year and has already sold over 18 million copies worldwide. Featuring a completely new graphics engine, the game looks fantastic and considering its legacy we expect it to play just as well. This will undoubtedly be one of the most talked about games at E3 this year.
2K Games is expected to have 3 games we are very excited about at the show. If you are a PC gamer from years back, the most exciting of these may be the re-imagining of the classic XCOM. While the original was strictly a tactical strategy game, this time they look to combine strategy elements with first-person shooter action and a surreal graphical style. They also are expected to show off BioShock: Infinite, the latest in the hugely popular series. While the previous games took place in an underwater city, this game will see the player adventuring in the clouds. It takes place in a floating city called Columbia, in the year 1912. 2K will also be showcasing The Darkness II.
Electronic Arts always has one of the largest booths at E3 and this year looks to be no different. They are expected to have over a dozen playable games at the show including two new role-playing games. One of the highlights will be Mass Effect 3. While the series started as an Xbox 360 exclusive it has now expanded to both PS3 and PC and the third in this series of universe spanning RPGs is expected to come to all three platforms simultaneously. It is one of several big name role-playing games expected to be at the show and in this installment the Reapers will be bringing the fight to Earth. Also from EA, Star Wars: The Old Republic is a persistent world online RPG that takes place 300 years after Knights of the Old Republic. It is a change of pace for developer BioWare as it will be their first foray in to massively-multiplayer games, but they have proven themselves talented at adapting the Star Wars universe.
Need for Speed: The Run should satisfy fans of driving games. This time the player will be avoiding the police while competing in a race across the United States from San Francisco to New York. Graphics and physics should impress as the game uses the FrostBite 2 engine from DICE. Battlefield 3 will also be featured heavily by EA. If you aren't familiar with this series by now then you probably haven't been paying much attention, as it started the large scale online combat genre that is now so popular. Developed by DICE, this game will also use their FrostBite 2 engine to allow for fully interactive and destructible buildings, landscapes, and vehicles. For more casual PC gamers EA has the latest expansion for The Sims, The Sims 3: Generations. Players can now experience new activities as they grow with their characters from childhood through the teenage years.
Ubisoft is another publisher that will have a huge lineup on display. From Rayman Origins to Call of Juarez: The Cartel, there should be something for just about anyone. Their booth will be anchored by three big names. The first is Tom Clancy's Ghost Recon: Future Soldier, a third-person shooter with a heavy focus on futuristic (but also realistic) combat gear. The second is Driver: San Francisco. In this free-roaming driving game you have access to over 100 cars and use them in an effort to take down a crime lord. The last of the three is Assassin's Creed Revelations, the third in the award winning series. Developer Ubisoft Montreal hopes to expand on the combat and online multiplayer of the previous games while also expanding on the storyline that stretches across multiple generations and continents.
[RELATED_ARTICLE]Bethesda Softworks is planning to showcase three big titles at E3. The first of these is Rage, a first-person shooter with graphics powered by id Software's new idTech 5 technology, which will also be used in the upcoming Doom 4. Rage takes place on a future Earth where an asteroid impact has sent the world in to chaos. Bethesda will also have Prey 2 on display. The original received mixed reviews from the press and gamers, and with that in mind the designers have taken this sequel in a new direction. Instead of a strictly linear storyline players will now have an open-world to explore, with quests and a morality scale (think Mass Effect). Of course, the biggest game Bethesda will have at the show is The Elder Scrolls V: Skyrim, sequel to 2008's multi-million selling Oblivion. The new graphical engine looks absolutely fantastic and this open-world RPG will again provide hundreds of hours of gameplay. Bethesda is also promising many tweaks to the gameplay and attribute systems that they hope will make Skyrim even better than Oblivion.
In all, there are over 60 new and upcoming PC games that we know will be at the show and there are always many surprises as well. It's shaping up to be a great year for computer games. The Electronics Entertainment Expo will be held June 7-9, 2011 in Los Angeles, California.