It's been a long time coming, but here it is, finally, our Cyberpunk 2077 review. We're going to be honest here, it's not pretty. Okay, wait, we're always honest wtf. What we mean is, if you were living in a cyberpunk bubble, we're here to pop it, if playing the game hasn't popped it for you already.
First things first, some backstory. A lot of us here at SKOAR! are big fans of CDPR, or CD Projekt Red. With the masterpiece that is The Witcher 3 (TV show review) under their belt, it really shouldn't come as a surprise. Plus, their social media posts, their interactions with the community, overall, we got – we still do for that matter – a pretty good vibe from them. Naturally, because of this we made a mistake, a mistake we've frequently warned others against. We got aboard the hype train. *sigh*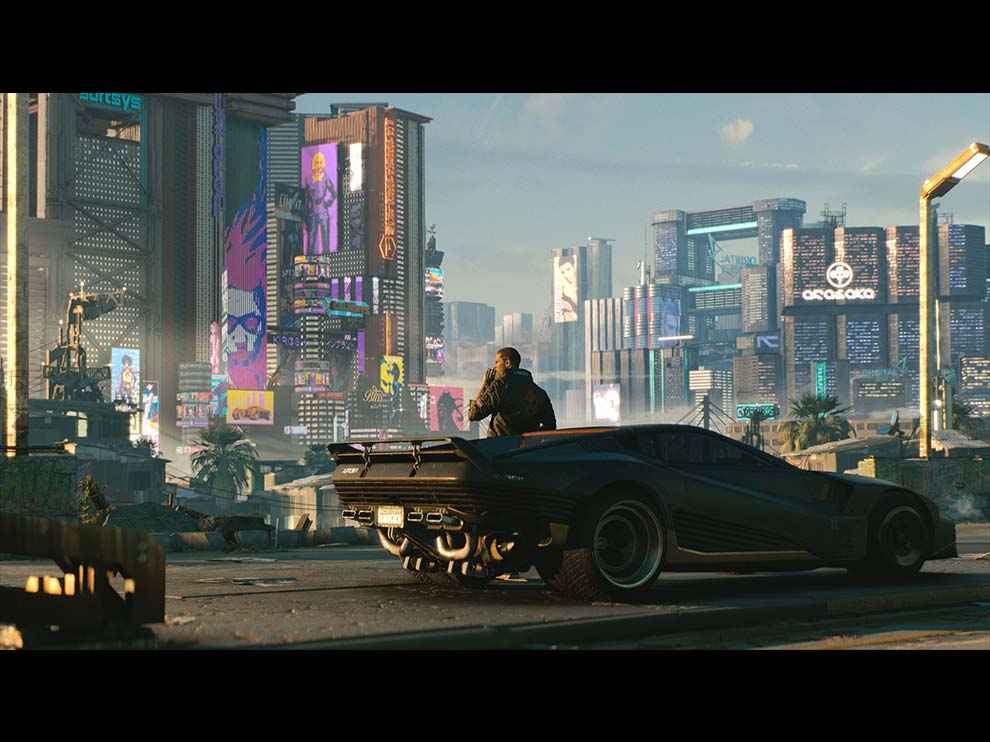 Cyberpunk 2077 – The Release
Development for Cyberpunk 2077 started in 2013. To say the game was ambitious is an overstatement. It was on December 10, 2020 that we finally got our hands on the game, many of us having already pre-ordered it. Another cardinal sin in the world of gaming. Of course, this would come to bite us in the arse. You see, the game was expected to launch early last year, slated for an April 16 release. But it was delayed to September 17. No worries, CDPR are working on it, polishing it up, they want to avoid crunch; all valid reasons (read "excuses"), and we're a reasonable lot. Come September 17 no Cyberpunk, it's been delayed to November 19. Same excuses, we buy it, moving on. November 19? No dice. The game got pushed back yet again. Now, at this point, there were understandably quite a few upset gamers. Gamers who had pre-ordered god knows when and were now wondering if the game would even actually release. Oh but it did release. Only, it seems that those extra 8 months of development time were not enough. The game was a buggy mess at launch, with crashes aplenty. PC users still had it easy. The most unfortunate lot were the ones who got the game on PS4 and Xbox One. The game ran like garbage on these two consoles. It was so bad that Sony removed the game from the PlayStation store. The problems with the release didn't end there though, CDPR apologised for the game's performance and offered full refunds across all platforms, except, Sony went "nah, not happening, we can't refund a game that's not even on our store, see?" Then they yoinked the game from their store. Wait for the review kids. And don't Pre-order.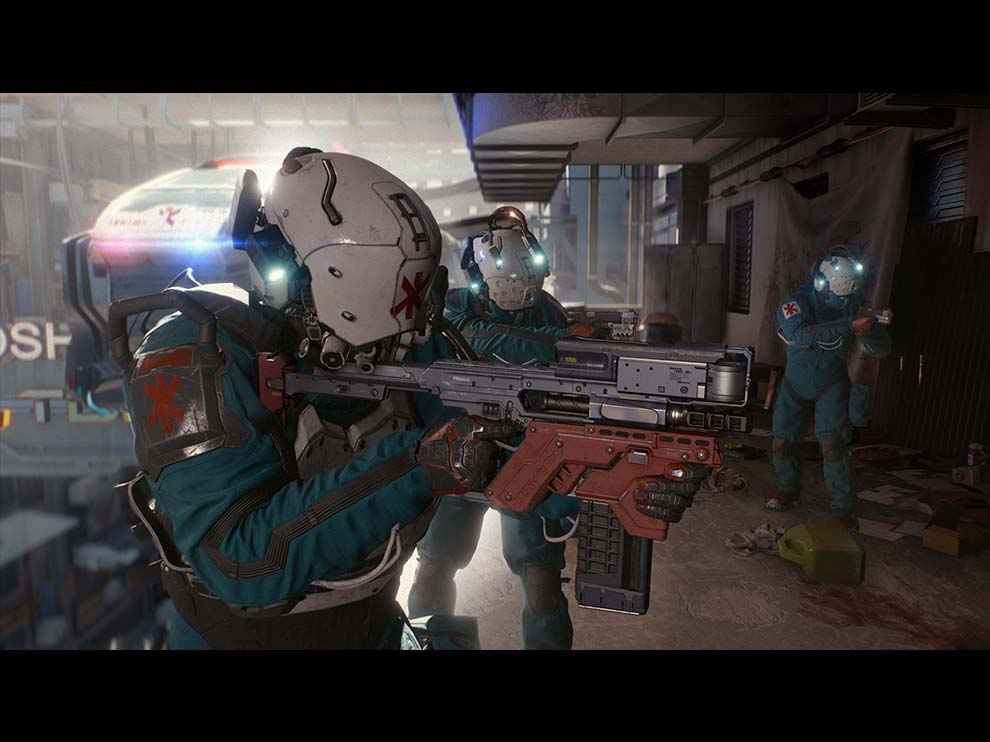 Cyberpunk 2077 Story
Cyberpunk 2077's story is probably its biggest strength. Although, it doesn't feel anywhere near what CDPR were promising, considering how quickly you can actually wrap the main story up. While we're sure that there might be n number of alternative endings or different routes to take, just the state of the game when we played it discouraged us from bothering to pursue them. You can only take so many crashes before the exact same sequence before you go f*ck it and stop playing. Which is exactly what happened to us. The game kept crashing at the exact same point every single time; we even made new characters to test this and again, a crash at the exact same spot. So we literally gave up on the game and waited for patches. A few patches later, we weren't crashing anymore, and managed to actually get through the story.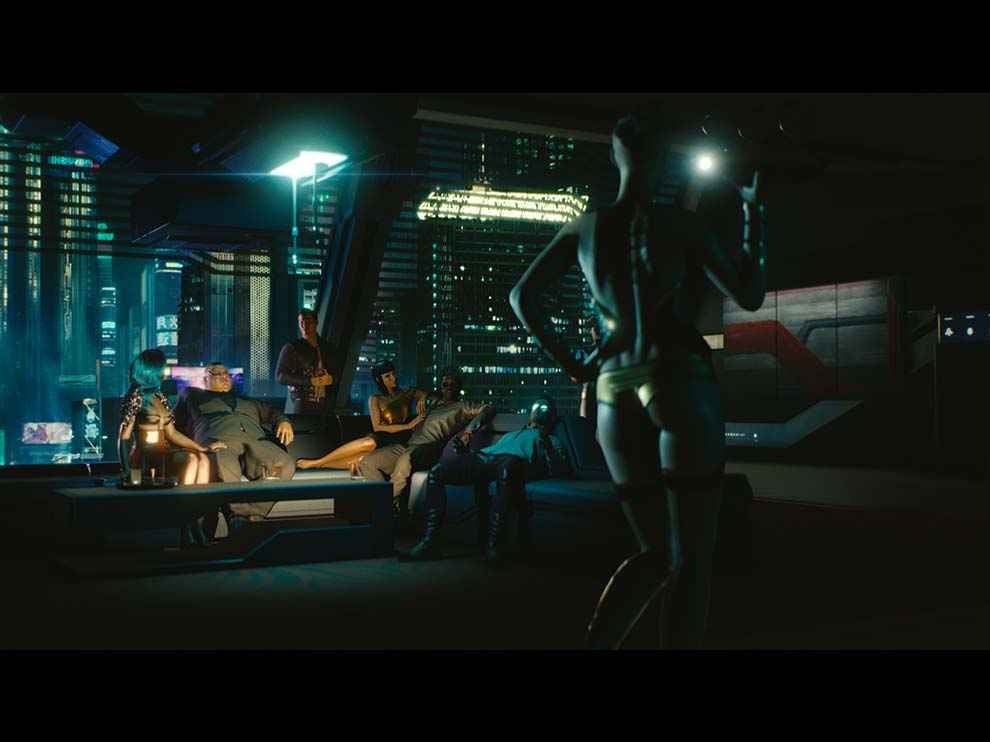 As is the case with most western RPGs, you start off by making your own character. In this case, V. Cyberpunk 2077's character creation was also pretty hyped before the game's launch. The demos they showed us looked pretty fantastic, they were going all out with the customisation, even including the character's nether regions. It's rated M afterall. However, what we've learned is that it all looks pretty terrible if you don't have a powerful enough rig.
Moving on, you've got the three origins you can choose for your character, Corporate, Street Kid, and Nomad. If you thought picking one over the other meant something different down the line in the story or interactions with people, you're wrong. Your origins carry no weight. No matter where you start, ultimately all three origins end up at the same point. Which is kind of bummer, because they clearly put effort into those origins. It feels like a waste to have all those loose ends and great characters and then never see or interact with them again.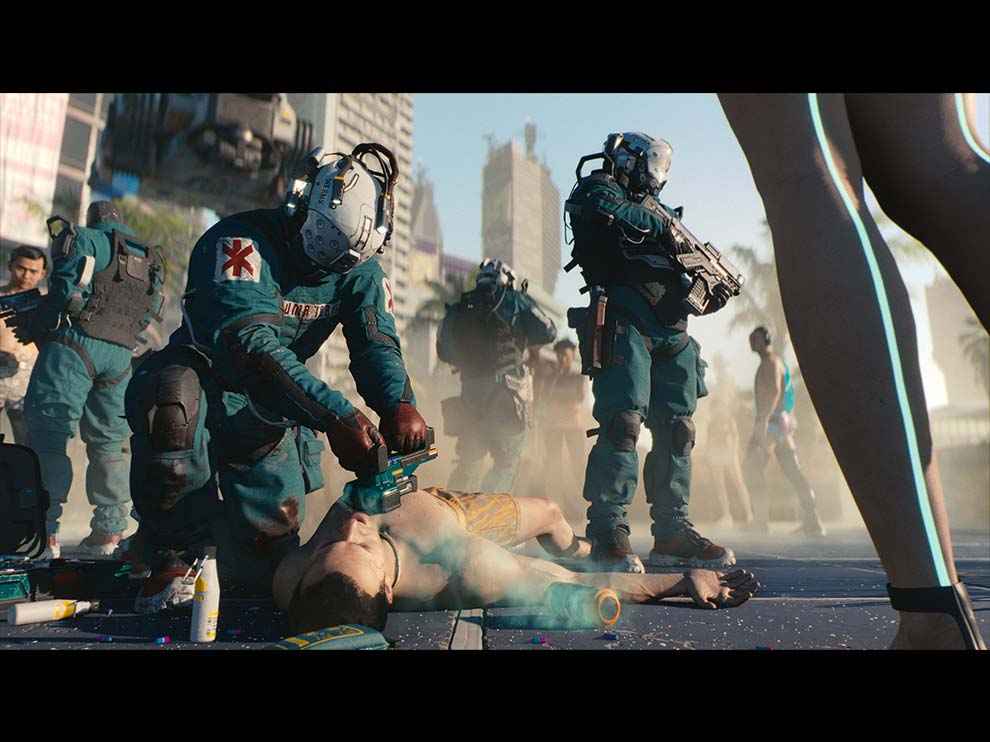 Coming to the main story itself though, if you survive through the bugs and glitches, it's actually pretty good. CDPR definitely knows how to make memorable characters, we've seen that in The Witcher 3. Plus they know how to animate faces and expressions, and most of the time it looks great. Characters like Jackie Wells (your first companion), Judy and Panam (potential romance options, with quest chains to boot), and Johnny Silverhand (Keanu Reeves' character) can help you power through the game's story if you're not keen on anything else the game has to offer. Without giving away too many spoilers, the story basically has you taking on the big bad Arasaka megacorporation, who have somehow poisoned/hacked your brain, and you need to find a cure.
Cyberpunk 2077 Gameplay
When it comes to gameplay, Cyberpunk 2077 doesn't exactly revolutionise anything. If you're familiar with GTA gameplay, plus add in a little bit of Watch Dogs hacking, you're good to go. The game has plenty to offer for those who are willing to the look for it. The world's literred with side missions and activities for you to while your time away. Unfortunately, the fear of crashing at any second veered us away from doing anything but the main story. Of course, we did get sidetracked by the odd interesting character or two.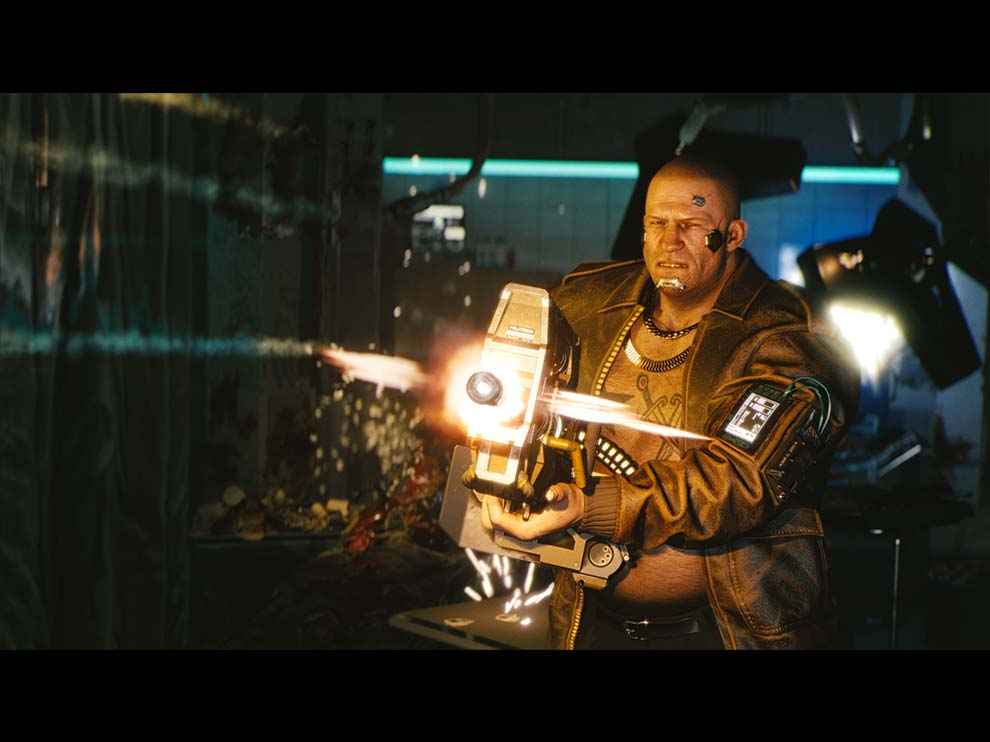 Getting general gameplay out of the way, next you have stats, or your character's build. Depending on how you choose to play, this could have a significant impact. If you're simply looking to run and gun, you don't need to bother too much, and just focus on the stats you think will help. This is easily the most forgiving option. Similarly, hackers and stealth players will want to adjust their stats accordingly, but these approaches can be more challenging.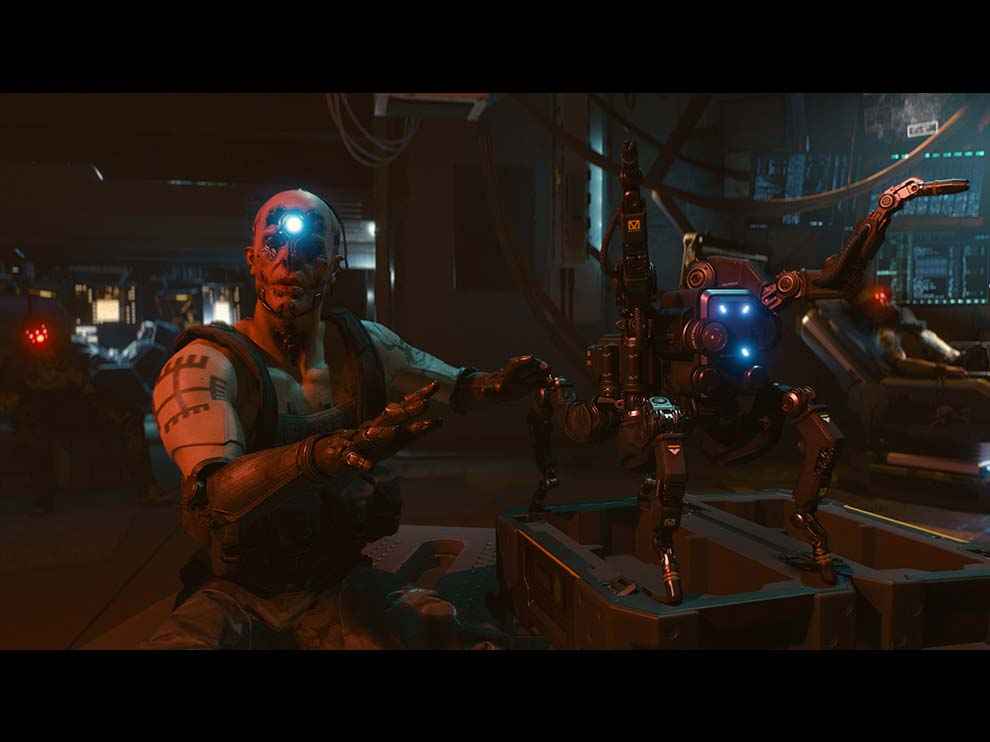 There's plenty of loot to be found, that also offers stats, such as damage, defences and more. Additionally, you can upgrade your body with cybernetics, with the caveat that you shouldn't go full robot. These upgrades can be used to focus even further into your prefered playstyle, making you stealthier, making it easier to hack stuff, helping you aim better and more.
Cyberpunk 2077 Graphics and audio
We've mentioned it a few times now, but Cyberpunk 2077 runs best on a tripped out gaming PC. If you haven't got one of those, your experience is going to be a buggy bummer, because the difference is quite significant. We aren't even going to bring up how horribly the game runs on last gen consoles. Oh wait, we already did earlier in this review.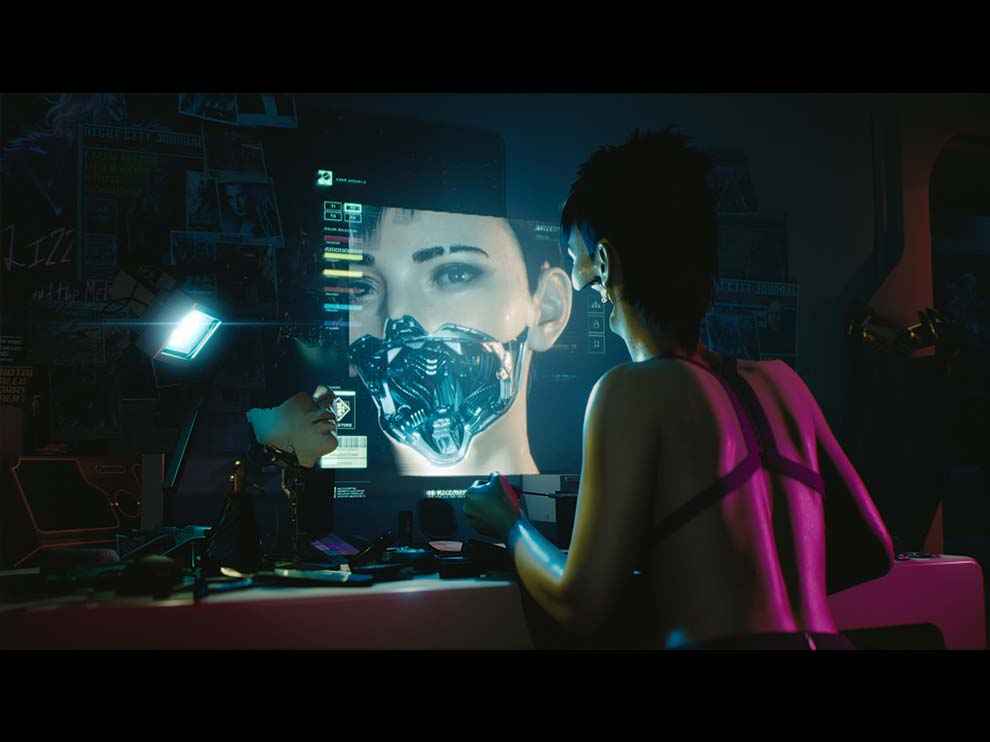 The audio though, right from the main menu music to the voice acting, it's top-notch stuff. We're sure we aren't the only ones who have the Cyberpunk music from the trailers in our playlists.
Cyberpunk 2077 Verdict
There's no denying the game released a buggy mess. There's also no denying that CDPR put in a lot of effort into this. It probably – okay definitely – needed more time in the pot before being served. All the patches that have been released so far have definitely worked towards making the game more stable, at least on PC, we can't speak for other consoles though. CDPR have a decent track record, and this will definitely go down as one of their biggest fudge ups, but there's definitely potential here. For the time being though, we'd advise against buying the game till it's actually finished.
SKOAR! – 5.5/10
MOAR!
Platforms: PlayStation 4, Google Stadia, PlayStation 5, Xbox One, Xbox Series X and Series S, Microsoft Windows
Played on: Microsoft Windows
Developers: CD Projekt, CD Projekt RED
Publishers: CD Projekt, CD Projekt RED
Price: INR 2,999 (Steam)