Respawn Entertainment dropped somewhat of a bomb when they announced the release of Apex Legends alongside confirming that the studio was not working on TitanFall 3. The game is set in the TitanFall universe, but there are no Titans. The players are not pilots and there is no mention of the IMC or the Militia. If you haven't played the TitanFall games, you're going to be just fine going into Apex Legends. IF you have played the TitanFall games, you're going to notice a lot of similarities, but as a whole, the experience will be nothing alike. We've spent a considerable number of hours playing to game to get a handle on what it has to offer and how to get started. Here's everything you need to know about the new battle royale game from Respawn.
System Availability
Currently, Apex Legends is available for free on PC, Xbox One and the PlayStation 4. If you are going to play the game on PC, then the minimum specs you will need are as follows.
CPU: Intel Core i3-6300 3.8GHz / AMD FX-4350 4.2 GHz Quad-Core Processor
RAM: 6GB
GPU: NVIDIA GeForce GT 640 / Radeon HD 7730
GPU RAM: 1 GB
HARD DRIVE: Minimum 22 GB of free space
OS: 64-bit Windows 7 (or newer)
We ran our copy of Apex Legends on a PC with the following specs
CPU: Intel Core i9-9900K
RAM: 32GB
GPU: NVIDIA Geforce RTX 2080Ti
HARD DRIVE: 1TB WD Black NVMe
OS: Windows 10 Professional
With the above configuration, we were able to get stable 120fps (and higher) on our Asus ROG Swift PG27VQ monitor. The display resolution was 2560x1440 and all graphics settings were set to their highest.
After spending a considerable about of work and sleep hours playing the game (much to the jealousy of those around me), here are some reasons why you may want to give Apex Legends a shot.
All the Familiar Game Dynamics
Apex Legends, at its core, is very much a battle royale game. If you've played PUBG, you will feel right at home jumping out of a plain, looting buildings and crates for supplies and of course running to safe zones. When it comes to similarities other battle royale games aren't the only inspirations. There are very strong elements of TitanFall here as well and you'll instantly recognise them the minute you find yourself a gun. A lot of the weaponry loadout is right out of TitanFall 2, from the Despair to the AUTO-CAG 8 shotgun and even the high-powered Mozambique pistol. If that's not all, you can even call for special weapons and health drop in the middle of a match, just like you would a Titan. The game does leave out the more fun elements of TitanFall such as wall running.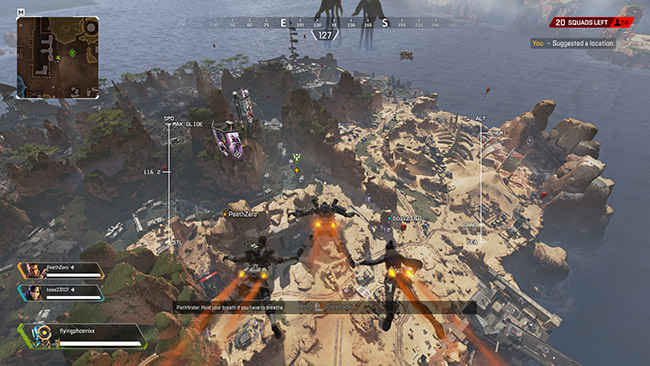 Jump out of a plane with your squad and onto an island. sound familiar?
Death and Rebirth
One of the most fun aspects of Apex Legends is the death and respawn mechanism. Unlike other games where a team-mate can just rush over and revive you with a med-kit, Apex makes things a lot more fun. When you're downed by an enemy, you may be revived by a team-mate. However, if you've been killed, if your team-mate can get to your banner, they can have you respawn by rushing it over to one of the many respawners littered across the map. While this gives you a second (or third) chance in the game, it is a difficult process and one that is not guaranteed to work.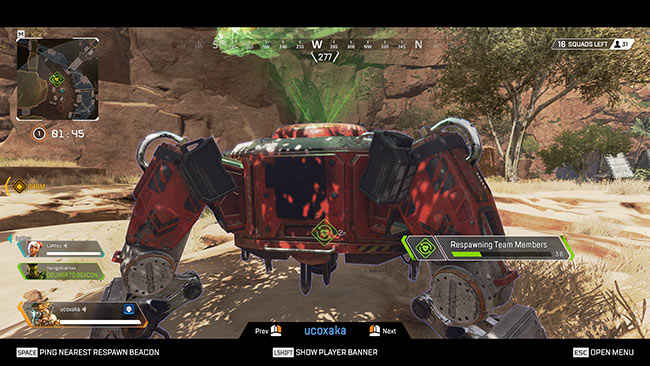 Apex Legends allows for player respawn within a reasonable time
Characters: More than just a face
Apex Legends offers a buffet of 8 characters for players to choose from. As has always been the case with most online shooters, each character belongs to a particular class. You have the usual soldier, tracker, medic and scout, but Apex Legends also offers characters whose special abilities involve shielded fortifications, the ability to generate toxic clouds and a character can even use portals on the war-field. One character is capable of generating holograms of himself, which tricks the enemy into shooting the wrong target. It's a healthy mix of tactical characteristics that do make the game a lot more fun, but we can't help but hope that Respawn will lean more heavily on EA's universe of characters and introduce them into Apex Legends.
More Nuance than the number of players
Apex Legends has an incredible amount of nuance that actually makes it very different from PUBG or even Fortnite. Little things such as no fall damage or the fact that abilities have a very low cooldown time ensure that you can play at a fast pace without having to wonder about the safest way down a building. While we don't have the wall-running from TitanFall, sliding is an essential component of how you will be traversing the terrain as it allows you to not only move faster but also potentially avoid enemy fire. The colour coded loot boxes will help you take a call on whether its even worth your time or not, without interacting with it. Look out for those golden and purple loot boxes.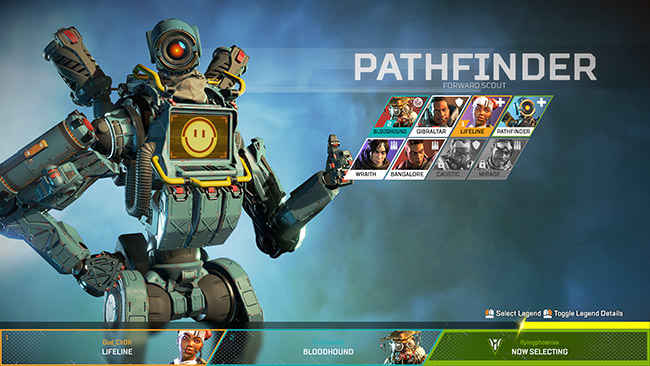 Choose to play as one of 6 characters to level up and unlock the remaining two
As engaging as the game has been in the first few hours, we can clearly see a few issues with the game. For starters, there's currently only a single map available, which will definitely get boring after some time. However, an even bigger challenge in the way of player growth is the uneven matching system. The 60 players in one arena are matched randomly and not on the basis of their skills. This can be a painful process for players whose skills are average. We often found ourselves in matches against players with a significantly higher ranking, which led to an early death, slowing down the rate at which our character levelled up. Lastly, there is a steep learning curve with regards to all the controls, which when paired with the uneven matchmaking, results in a very quick death.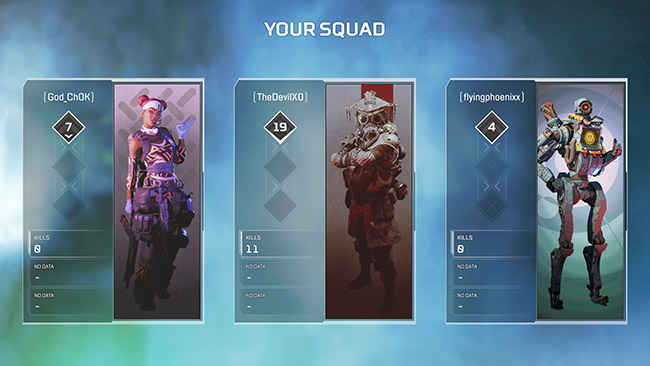 Your Squad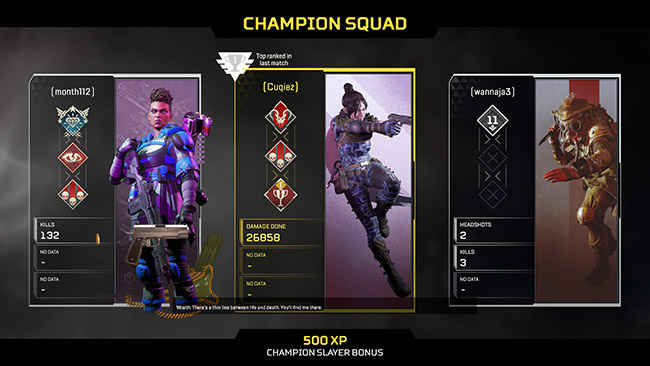 Your competing squad
As of now, Apex Legends is limited to a team-based battle royale game, although a single-player mode is expected in the near future. Probably the biggest hurdle in the way of Apex Legends achieving the kind of success PUBG and Fortnite have is the lack of a mobile version of the game.
What can be said about Apex Legends is that whatever it has to offer, comes in a well-polished package. For a studio like Respawn to release a free game across three platforms is a pretty big deal. The success of Apex Legends will eventually lie on the frequency of new content being added and of course, whether Respawn can maintain the quality of the game over the years. Cross-platform play wouldn't hurt either, but apparently, that's something the company won't be bringing to the table.