In a pre-CES announcement at Las Vegas, Nvidia's CEO Jen Hsun Huang launched the successor to the Tegra 3 system-on-chip - the Tegra 4 last night. It will be the first commercial implementation of the ARM quad-core cortex A15 architecture and shall be seen in smartphones, tablets and notebooks.
The new SoC which was codenamed Wayne before launch, has 72 Nvidia GPU cores which is roughly six times the GPU horsepower seen on Tegra 3; along with a quad-core processor and a fifth low power core for minimising battery use in idle state (as was seen in Tegra 3). It also boasts of 4G LTE voice and data support through an additional Icera i500 chip (LTE is not onboard the Tegra 4 SoC). No details were out on the manufacturing process: whether it is 28nm or 40nm. The four cores are expected to run at a speeds up to 1.9GHz.
"Tegra 4 provides enormous processing power and efficiency to power smartphones and tablets, gaming devices, auto systems and PCs," said Phil Carmack, senior vice president of the Tegra business at Nvidia. "Its new capabilities, particularly in the area of computational photography, will help improve a whole range of existing products and lead to the creation of exciting new ones."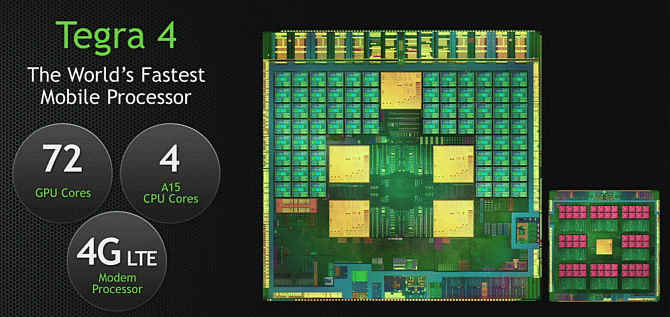 Comparing the new mobile processor with competing system-on-chips, Huang claimed that a new Tegra 4 based tablet could load 25 webpages in 27 seconds as compared to 50 seconds on the Google Nexus 10 tablet which uses a Samsung Exynos 5250 chip. Huang further stated that the new SoC is even faster than Apple's A6X processor seen in the new iPad as far as loading websites go. The chip also support 4K ultra HD videos.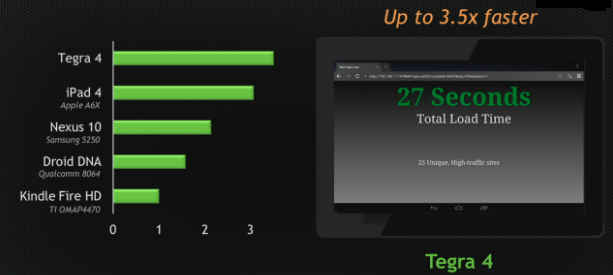 One of the main features of the Tegra 4 SoC is its support for HDR photography. The camera takes two photographs - one at a higher exposure and the other at a lower exposure and recombines them to form a single image with a higher dynamic range. According to Huang, Tegra 4 takes shots at the rate of 0.2 seconds per frame, which is around 10 times faster than the HDR photography on the iPhone 5 which takes 2 seconds for an HDR shot.
So technically, you can get an HDR shot in one-shot and you will hardly notice any lag as such while making an HDR image. HDR is also supported in the video and burst modes. Other applications include HDR Panorama, Strobe motion effects, 3D reconstruction and object tracking ensuring that it stays in focus even when in motion.
As far as gaming goes, since it has six times the GPU power of Tegra 3, you can expect a smooth gaming performance. Nvidia has also announced Project Shield, a handheld gaming system with a 5-inch multi-touch display to be based on the Tegra 4 chipset.
Source: Nvidia