There has been a steady influx of competent audio products in India. Ultimate Ears has entered India, Bose is attempting to make its entry-segment speakers more affordable, and Altec Lansing has re-entered India after a hiatus of about five years. In light of this, we decided to take a look at the recently-launched speakers. Audio quality is always the most necessary parameter for you to consider when buying a speaker, but these speakers come with specific sets of features, across varying price points. Which one suits you the best? Read on.
Bose SoundTouch 10
At its launch, Bose spoke of its latest, revamped SoundTouch series as an essential component of modern homes. The Bose SoundTouch is one of the speakers that we are presently testing, and is the entry-level offering of the SoundTouch lineup. Among the five speakers that we will speak about here, the Bose SoundTouch 10 is the only one that is targeted at home audio and is not portable. This automatically narrows down the audience for it, so if you are looking for portable speakers, please proceed to the sections below. You can also check out the Bose SoundLink III, if you fancy a portable Bose speaker to satiate your music needs.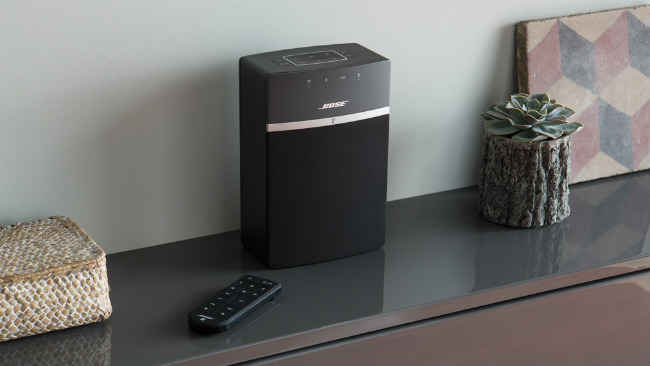 See what I mean?
The Bose SoundTouch 10 is the bedside speaker in the SoundTouch lineup. It comes in two colour variants, black and white and while my colleague Ashwin Bhakuni swears that he is in love with the white-liveried SoundTouch 10, I personally find the black variant more appealing. This, of course, is a matter of taste. Design-wise, the SoundTouch 10 looks suave, and there is a sense of smooth, flowing lines, well-manufactured creases and a premium factor that gives it very appealing looks. The build quality is good, although I personally found the smoothness of the SoundTouch 30 missing here, the matte plastic feels good, nonetheless.
On the audio front, the Bose SoundTouch 10 disappoints. For a brand with a market status like Bose's, the audio sounds blunt. Audio is clear and there is no distortion, from what we have heard from it till now. However, the highs lack sharpness and there is a point where the audio sounds muted. Bass frequencies are powerful, but sounds more booming than tight. What this means is that the bass is prominent, but its quality is not as good as we have come to expect from Bose. The balance of audio is good on the Bose SoundTouch 10, but even the mid frequencies sound muffled. As a result, the entire gamut of audio sounds muffled out of the SoundTouch 10. It is not exceptionally loud, either, although that is somewhat justifiable, seeing that the SoundTouch 10 is intended to be a bedside speaker among the connected SoundTouch environment, aimed at light, early morning bedroom audio.
"There are smooth, flowing lines, well-manufactured creases and a premium factor on the Bose ST10"
The SoundTouch 10 retains a sense of Bose's trademark audio timbre, although the muted audio ruins the overall experience. It connects via WiFi, Bluetooth and aux, and connectivity retention over Bluetooth remains stable for around 25 feet. Since the speaker remains connected on power, there is no reason to worry about battery backup. The SoundTouch 10 also comes with three different power adapters for varying sockets, and all aesthetic aspects, as you would expect with Bose, are present here. It also comes bundled with a remote, reaffirming its status as a small, room speaker. The remote control adds a world of convenience in using it, and can be used to control multi-room SoundTouch setup, which itself requires the SoundTouch Companion app to set up. It is priced at Rs. 19,013, and is the most expensive of the speakers here.
PROS
Good looks, good build
Remote control
Multiple connectivity options
CONS
Muffled audio
Expensive for a bedside speaker
Who should buy this?
Ideally, the Bose SoundTouch 10 will appeal to two varying classes of speaker-buyers — the Bose fans, who love the brand based on personal preference, and the casual listeners who would prioritise aesthetics as the first criterion while choosing an audio equipment for the room. The Bose SoundTouch 10 delivers clear audio, but lacks details. The ideal case of buying the SoundTouch 10 is for a well-designed room, with a hard-polished mahogany table for the black variant of the speaker to sit upon.
If you are neither, you're probably better off looking elsewhere.
UE Roll
The UE Roll was launched in India yesterday, and has a very different area of focus. Unlike the smooth creases on the Bose SoundTouch 10, the UE Roll screams "action" from the moment you see it. Dressed in lively colours and patterns with stitched fabric, a marine-grade bungee strap, and IPX7 waterproof certification that allows it to remain submerged under 1 metre of water for 30 minutes, the UE Roll is for a polar opposite audience in comparison to Bose.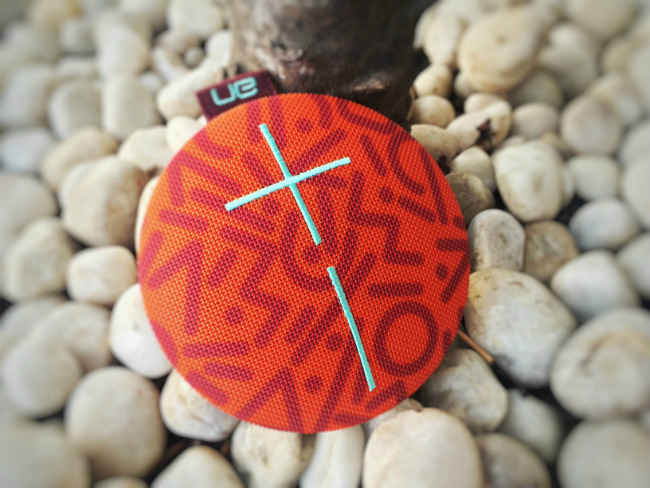 The UE Roll comes in four funky avatars
Priced attractively at Rs. 8,490, the UE Roll impresses with its 360-degree audio delivery. Places where it sounds exceptionally good are clean tracks — take Chris Isaak's Wicked Game for example. The audio balance is excellent, and despite the sharp highs and neat, powerful basslines, the mid frequencies are well-pronounced, thus producing excellent details. The only point where we have complained till now is when we tried playing metal tracks like Opeth's Deliverance, and it sounds a tad too distorted. Even the distortion patches sound heavier than what they sound in accurate reproduction (on the much more expensive but exceptionally pristine B&O Beolit 15, for reference). Even grunge tracks may face the same issue, of audio sounding "dirtier" than what the creators intended them to be.
"The UE Roll brings with it a lively sense of celebrating life"
Except for this, there is not much that we have complained about, in the UE Roll. Sure, it does not come armed with a host of connectivity options as many other speakers do nowadays, but it doesn't even intend to. The UE Roll is very light, weighing just 330 grams, making it one of the most likeable speakers we have come across of late. To add to this, it claims to last for 9 hours on one full charge, which it nearly has, till now.
PROS
Excellent audio quality
Waterproof
Looks bright and lively
Light, easy to setup and use
CONS
Bungee suspender is too tight for tying to wrist
Metal and grunge tracks sound dirtier than usual
Who should buy this?
Priced at Rs. 8,495, the UE Roll should hold a massive appeal to the wide audience of the music-loving youth. The UE Roll has the potential to please the audiophiles as an inexpensive, carry-around speaker for social gatherings, and casual listeners may just absolutely love the pancake-shaped speaker from Ultimate Ears. For the audio experience it presents and the aspect of waterproofing, we will suggest you to go buy the UE Boom. It may even appeal to adults, but not for the most sophisticated room setup (it may just find itself out of place inside a Jaguar XJ, in case you were wondering).
JBL Flip 3
Much to the tune of the UE Roll, the JBL Flip 3 comes with splash-proofing, and is a well-designed speaker that sounds slightly biased towards the highs. The JBL Flip 3 is incredibly loud, although it is not as loud as the Creative Sound Blaster Roar. As we saw during our Bluetooth speaker shootout a few months ago, the treble bias marginally takes away the dominance of bass frequencies. The mids, however, are not suppressed, and audio clarity is decent, although now, the UE Roll sounds much better than the Flip 3. We are yet to do a direct comparison between the two, but from what we have heard individually, the UE Roll seems better.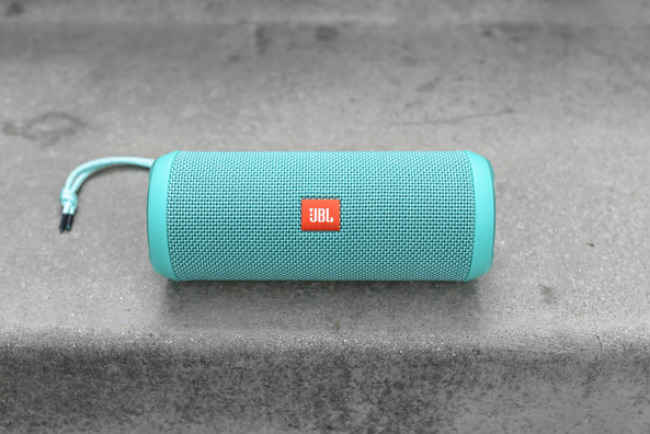 In comparison to the UE Roll's pancake form, the JBL Flip 3 looks like a tube. It is slim, with bass drivers on either ends. You may find it more comfortable to hold (without considering the bungee suspender on the UE Roll), and you cannot exactly plunge into the swimming pool with it. The JBL Flip 3 is splash-proof, and it is an ideal resident on the poolside during a summer party (its loudness comes in effect here). You also get an on-speaker button to receive calls from, which is a neat addition with its splash-proof build, seeing that you would not want to touch your smartphone with wet hands. The build of the JBL Flip 3 itself induces a confidence in its splash-proofing, which is an excellent aspect of the speaker.
"The on-speaker call button can be a deciding factor for many"
One aspect where the JBL Flip 3 scores above the UE Roll is its in-built power bank capability, which many may find a very useful addition, seeing as how our smartphones are perennially out of charge. For a price of Rs. 8,270, the JBL Flip 3 was an excellent proposition, until the UE Roll came up beside it. The UE Roll seems like the better audio performer right now, but the power bank may act as a major decider for many.
PROS
Decent audio quality
Really loud
Splash-proof
Power bank capability
On-speaker call button
CONS
Not the best balance of audio
Lacklustre looks in comparison to UE Roll
Who should buy this?
The JBL Flip 3 was the ideal speaker within this budget for the action-oriented music-loving youth (the Mini Lifejacket 2 sounded nowhere near as good), until the UE Roll arrived. Like we stated before, this one's yours if you would want a power bank fused into your speaker, for fractionally heavier weight. You will not go much wrong with it.
P.S. I'd pick the UE Roll over the JBL Flip 3, based on the better audio delivery. For my smartphone, there's always the power bank.
Altec Lansing Lifejacket 2
The Altec Lansing Lifejacket 2 is the most expensive in terms of the portable speakers here, and will possibly rank the lowest in terms of audio fidelity, portability and design. At 907 grams, it is the heaviest among these. Even without comparing it to any device, it is a very heavy device. Its audio performance is mediocre in comparison to the UE Roll — while the audio is balanced well, the Altec Lansing Lifejacket 2 misses a sense of compactness from its audio, which the UE Roll possesses. However, the passive bass radiators render very good bass from audio tracks, and metal and grunge tracks sound better on the Altec Lansing Lifejacket 2.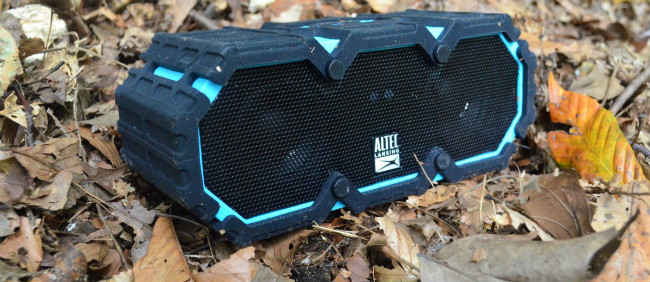 Beyond its audio performance, the Altec Lansing Lifejacket 2 is built almost like a tank — it is waterproof, shockproof, sandproof, snowproof and dustproof. An interesting aspect here is that it remains afloat on water. This leads to its music being more audible when you plunge it into water. The UE Roll sinks right to the bottom of the water body you submerge it in, and ends up losing its connection with the device, even with it being submerged in a one-foot-deep water tumbler. This is one aspect where the Altec Lansing trumps over it, with an excellent build quality and incredible durability.
"Do you love off-roading, adventure and grunge?"
Looks, however, is a completely different story. The Lifejacket 2 is possibly the most serious-looking speaker here, and has a flavour of ruggedness that finds its place inside an open-hood off-roader, leather jackets and rough terrains. It is not the playful entity that the UE Roll is, and imparts a completely different sense of aesthetics that may appeal only to a very selective audience.
You will really need to be into adventure sports and music at the same time, to find the Altec Lansing Lifejacket 2 attractive.
PROS
Well-balanced audio
Extremely durable
Good battery life
Power bank capability
CONS
Heavy
Not as generally attractive as others
Lack of clarity at higher volume
Who should buy this?
The Altec Lansing Lifejacket 2, similar to Bose, will appeal to you if you were a fan of the same company that made the MX5021 and VS3251, years back. Alternatively, you are probably a fan of grunge, metal and rough terrains, to like the entire package. For a price of Rs. 12,600, the UE Roll gives you a better proposition to buy in terms of audio quality.
After all, it is only once in a while that you will need to run your car over the speaker, isn't it?