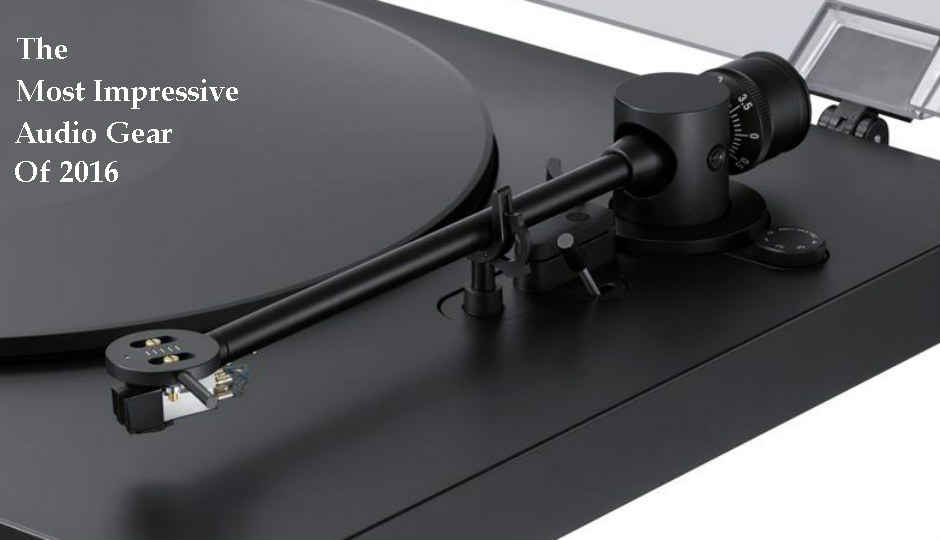 HIGHLIGHTS
From a Hi-Fi vinyl turntable to futuristic 3D-scaping headphones, the following are the most impressive audio gear from 2016.
Audio makers always come up with awe-inspiring, unique audio gear that make you step back and appreciate the beauty of innovation. Like every year, 2016 is no exception, and the year has seen a number of fine gadgets being unveiled. While some have come from the big players in the field of audio, a few others have their origin in ambitious crowdfunding campaigns that achieved and exceeding funding goals.
Without further ado, we talk about the pick of our most impressive audio gear that we've seen in 2016. Each of these have added to the world of audio innovation with new technology that takes personal audio further, or revives the glory of the olden days with digital wizardry.
Sony PS-HX500 Hi-Fi vinyl turntable
We begin with a throwback to the glorious days of circular records and playback turntables. The Sony PS-HX500 support both 33.3rpm and 45rpm LPs, and has an analogue-to-digital converter along with being based on Sony's Hi-Fi engine. It also has a highly stable belt drive, a more accurate tone arm and a dedicated Phono EQ for precise audio reproduction. This one is truly impressive for its sheer finesse, and the fact that very few in the world would have actually, probably bought this.
Google Home
Sure, the concept is not really "new", but the Google Home is actually a great presentation of how audio equipment will be in our future. It is also more equipped for the masses, responding to OK Google, has universal compatibility, and more mature AI in Google Assistant, and even makes for a future-proof connected home speaker. Google Home impressed us with its simplicity and versatility, all at the same time.
Sony MDR-1000X
Like Google Home, the Sony MDR-1000X is yet another show of how personal audio gear is headed towards intelligent features like voice assist, noise pass filters and gesture controls. The MDR-1000X is also among the best wireless headphones in terms of audio quality, and has made it to lists of the best wireless headphones of 2016. Need we say more?
OSSIC X 3D headphones
This one's mighty impressive in terms of the technology being used. The Ossic X 3D headphones employ advanced 3D engines to recreate space in simulation with reality, and deliver audio with advanced spatial distribution of sound. With the rise of virtual reality, Ossic X has every potential to be the perfect pair of headphones for surround sound experience. It also delivers on its promise, and alongside being a novelty, the Ossic X headphones are a great experience for anyone who is into new age technology and advanced audio.
Bang & Olufsen Beoplay A1
The Beoplay A1 is the first time that Bang & Olufsen brought its signature designing and rich, wholesome audio to the more affordable segments. Crafted by Danish designer Cecilie Manz, the Beoplay A1 is a mighty impressive Bluetooth speaker that delivers on its promise of being the "affordable" luxury audio companion. Give it a try, you most certainly will not be disappointed!
Snooz
The reason why Snooz falls under our audio segment is because it makes a very unique use of sound to give you the one thing that you most certainly love – sleep. Snooz uses an actual fan nestled inside a casing to produce the sound of pleasing, calm white air – a soothing sound that induces sleep. It is not a commonplace audio gear, but makes a unique use of sound to become one of the most impressive audio equipment of 2016. The Snooz, as they say, is a sound conditioner. Needless to say, we agree!