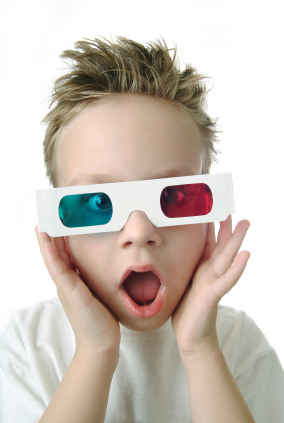 Get this: viewing 3D video is probably bad for you, at least that's what Samsung and Nintendo are saying! So, if you felt disoriented, nauseous and tired, or experienced some eye or muscle twitching after seeing a 3D movie, you aren't alone. These symptoms are caused by your temporarily reduced binocular vision, and your eyes' struggle to cope with it.
Nintendo has just released a warning to go along with the Nintendo 3DS, one that states the portable gaming device is not suitable for children below the age of 7, at least when it is displaying 3D (you can make it show only 2D by switching the 3D Depth Slider off).
Samsung also issued a warning accompanying the release of its 3D HDTVs, calling them a potential health risk for children, pregnant women, and the elderly. Users were also warned to take frequent breaks from 3D viewing, and to avoid watching 3D when they are fatigued or inebriated.
The fact of the matter is, the hazardous effect that the viewing of 3D video has on the human eye is well noted, and the information has existed since the early 1990s, when Sega perfected and then ditched its VR headset, after being alerted to its harmful possibilities by the Stanford Research Institute, who said: "You can't give this to kids". This information was however only recently made available to the general public when Audioholics interviewed Mark Pesce, one of the pioneers of VR technology, who also helped develop the VR headset for Sega.
The possible side-effects are especially well-documented for children, that if they are exposed to 3D video in their formative years, which is from birth to about 7 years of age (a period that is also known as the critical period in which remedial therapy was considered possible, though modern techniques claim to be able to treat the problems to a more advanced age), they could develop conditions like strabismus and lazy eye, which hinder the sufferer from experiencing full binocular vision or depth perception.
Effects of long-term 3D video exposure on adults are not as well documented, but the human eyes' techniques of seeing 3D from stereoscopic images are similar to the symptoms of strabismus, or in other words, the eyes end up forced into defocusing by the 3D glasses allowing them to compile the two isolated images received by each eye. We have already experienced the effects of short term exposure to 3D video, but it is now believed that long term exposure to such images could result in a more permanent (but corrective) reduction of binocular vision and depth perception. How autostereoscopic screens (currently available with multi-parallax barrier (3DS) and lenticular technologies) will effect the eyes is something that is still not yet known, and we'll simply have to wait for more reports that have researched the long and short-term exposure to stereoscopic and autostereoscopic screens.