And then there were Four… If you are in the market for smart speakers in India, you will find yourself hard-pressed for choice with both Amazon and Google now offering devices in the category. While Amazon made the first big splash in the smart speaker space with the launch of the Echo, Echo Dot and Echo Plus last year, Google entered the arena just a few weeks back with the launch of the Google Home and Home Mini. All these smart speakers are voice activated and bring up music, web search results, calendar entries, news, horoscopes and much more with simple commands. More than that, the current crop of smart speakers are designed to control smart home products and introduce automation into your daily living. But, there's one feature that all of the available smart speakers in India lack - A display.
Sensing the need for a visual experience married with voice commands, and for strategic reasons of once again being the first one to do so, Amazon has now launched the Echo Spot in India. Just like existing Echo devices, the Amazon Echo Spot is an Alexa-powered table-top device which can make use of the virtual assistant's 15,000 plus skills available in India, while adding some of its own new Skills to the mix.
"In the last couple of months, we have added a Skill almost every 90 minutes. Lot of them are India relevant Skills like the ones we launched from Zomato, Ola, and more. Developers are constantly adding skills and that adds use cases in the way to use the device," said Parag Gupta, Head of Sales and Marketing at Amazon Devices, building up to the announcement of the Echo Spot.
In terms of design, the Echo Spot brings a compact, circular touch interface which can be used to further interact with Alexa. The display is 2.5-inch in diameter and the device stands 3.8-inches tall. The volume up button, volume down button, and Mic/Camera on/off button rest behind the display on top, while the back bottom holds the power port and 3.5mm audio out jack so users can wire in other speakers to the device. There are 4 second generation far field mics also situated at the back of the device to recognise users' voice from various different directions and distances. During the demo given to us, the Echo Spot could easily hear and respond to commands from a 10 feet distance.

"The idea behind this is that everything Alexa knows or does, all of that happens on the Echo Spot as well, but by adding a screen, the richness of interaction that you can have and the new experiences that you can create, like news and entertainment, adds another dimension to your experience with Alexa," Gupta elaborated.
So how does the screen add to the Echo Spot's USP? For starters, one of the coolest (and probably the most vital) use case scenario of the screen on the Echo Spot is to make Alexa-to-Alexa video calls. Users can call the Echo Spot through any other Echo device (and vice-versa) or even through the Alexa app available on iOS and Android. Video calls on the Echo Spot are displayed with the picture-in-picture feature, much like WhatsApp calls, wherein users can see the caller as well themselves in a tiny window. There's also a drop-in feature which allows users to drop into the Echo Spot unannounced from anywhere in the world, but worry not, customers get full control to select who can drop in and who cannot. A Do Not Disturb feature can block all calls or drop-ins on the device and users also get the ability to choose a particular device to call incase one has multiple Echo Spots at home.
One neat security feature built into the Echo Spot is that users can turn the mic and camera off with a button so as to avoid any unwanted drop-ins or even a security breach. When the camera and mic are turned off with the button, they are electrically disconnected. "Customers may be vary that Amazon will not do something wrong but what if a hacker gets access to it, then any engineering student knows, once you electrically disconnect, hacker or no hacker no one can use the mic and the camera," explained Puneesh Kumar, Country Manager - India, Alexa Experience & Devices.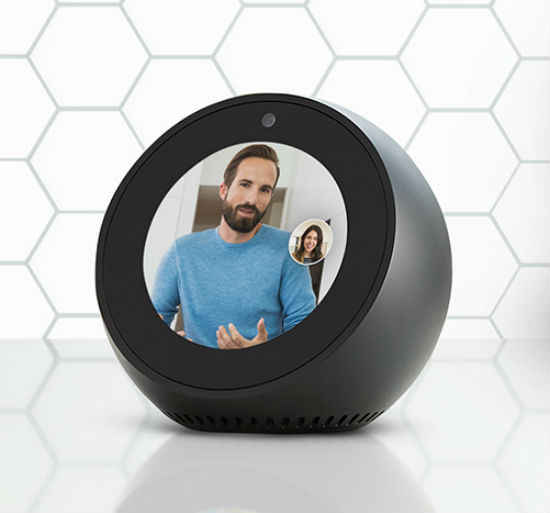 Apart from calling, the Echo Spot's screen can also be used to view movies, TV shows, music videos, trailers, recipes and more thorugh various skills, including - Amazon Prime Video, IMDB and Vimeo. Vimeo's skill will be available on the Echo Spot at launch. There is, of course, no skill for YouTube, owing to the fact that Google has chosen not to make the platform available on Amazon devices. "We believe in a very open architecture, where we are not restricting any third-party provider from using our devices or extending beyond our own devices, for instance you can put Alexa on Harmon Kardon. We are absolutely okay. Every company has its own comfort level. It was not our decision not to have YouTube, it was YouTube's decision that we don't want to be on any Echo device worldwide. So, I think those conversations will keep going on," Kumar said responding to our question on any signs of a truce between Google and Amazon.
As far as the experience of watching videos on the Echo Spot is concerned, we will be able to tell you more once we get the device in our labs, but at first look, it's not impressive so to say and not something we would consider as a criteria before purchasing the device. Afterall, you are restricted to a 2.5-inch display, smaller than even the most compact smartphone out there.
What the screen is good for, apart from calling, is displaying the time. At first look, the Echo Spot seems like the perfect bedroom or kitchen table-top alarm clock. The device features various digital and analog watch faces on the home screen. Users can also customise the watch face by choosing from their own photo library and set the same as a wallpaper for the home screen. Users can even command Alexa to bring up different clock faces, while third-party watch faces are also easy to build as an Alexa Skill.
For the Alarm function, the Echo Spot makes use of a feature called 'Musical Alarms' which allows users to set any song as their wake up jam. Adaptive screen brightness also helps automatically dim the screen or make it brighter in tune with the surroundings.
"We have made sure the device is still a voice-first device. We don't expect people to be clicking on everything. The convenience and the beauty about the device is a hands-free nature. So we have given all functionalities which are voice first as an ingress and a control, but the screen is more of a supplemental interface so you can consume information in a visual way if you want to," said Kumar.
All-in-all, at first look, the Echo Spot smart speaker with a display makes a good case for itself, given the added visual element. However, its price seems to be a dissuading caveat given that it is not a smart home hub like the Echo Plus. At Rs 12,999 (only Rs 2,000 lesser than the Echo Plus) compared to its US price of $129 (Rs 8,559 approx), buying the Echo Spot is a pricey affair. Currently, the smart speaker with a display is priced at a discount of Rs 2,500 and is available for Rs, 10,499 on Amazon.in without the need for an invite. Is it your money's worth? We'll tell you more in our review.