A considerable demographic is getting serious about fitness and want relevant services to track their progress. FitCircle is among the plethora of other fitness tracking apps that employs software chat bots to give its users an easier method to maintain their fitness regime. Aarti Gill sheds some light over how they are making it possible.
Digit: Why enter the fitness space? What are the recent developments in this sector that encouraged you to launch FitCircle?
Aarti: The reason is pretty simple - it's the need of the hour, something that the country really needs. People are short on time, it's difficult to adopt a healthy lifestyle – so we built an ecosystem of experts and a strong community by leveraging technology that will help them analyse their individual health problems specifically around nutrition and workouts & guide them in making healthier choices at the touch of a button on their smartphones.
These days, tech savvy users are relying on advanced technology for almost every aspect of their life, be it shopping for groceries or buying medicines online to seeking advice on their nutrition and daily eating habits. Technology is growing rapidly and people are fast jumping on the bandwagon of health apps, wearable technology and fitness trackers.
Digit: There are a horde of other apps in the fitness category already investing into health monitoring and activity tracking. What new feature is your service bringing to the table? Tell us more about the software bots that you've deployed in your system. What are they capable of and what do they intend to do?
Aarti: At FitCircle, we have built innovative chat bots on various messenger platforms like Slack and WhatsApp to ensure quality engaging content and advisory can be leveraged by users in the most convenient way. Chat bots are computer programs designed to simulate an intelligent conversation with one or more human users and can do whatever they are programmed to do. These computer programs can engage, entertain, monitor, track and alert users through different platforms.
To cater to our customers more effectively, our chat bots understand a user's preference and problem areas and suggests options accordingly. The unique combination of Experts and bots enables the company to offer global users instant, high-quality advice anytime, even at the upper scale. FitCircle has also optimised the behavioural triggers that keep users engaged and motivated to achieve their fitness goals.
Digit: Why should regular users start using fitness apps? What are the advantages over the traditional methods of staying fit?
Aarti: Being a part of FitCircle community on any platform - assures accessibility to good quality content and constant motivation in the real time at the tap of a button.
The new way of getting advice on health and fitness issues has been revolutionised through technology and innovation with omni-channel fitness chat bots by FitCircle. Also, FitCircle plays an important role in encouraging social fitness in society. The app connects like-minded health enthusiasts and assists them in making a lifestyle change.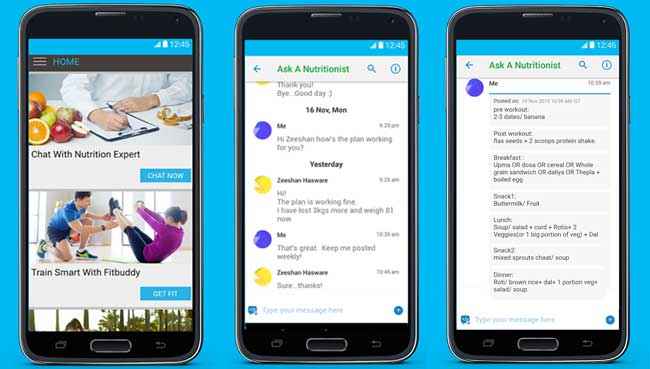 Digit: What demographic do you think will use your service? What does your research say about the people who are seeking for such services?
Aarti: We have seen a great traction from the age group of 18-35. Majority of the users come to achieve the following goals - weight loss, weight gain, muscle toning. We have also seen a rise in users who are looking for Sports Nutrition guidance. The experts guide them on diet, workouts and other healthier options that they can adopt.
We also create goal based support groups so that people can help each other in adopting a healthier lifestyle.
Digit: Apart from the current set of features, how do you plan on expanding? Are you going to extend support for more platforms?
Aarti: FitCircle is offering its users personalised advice through a team of expert coaches, nutritionists and health advisors on the app. As we have already made our services available on popular Platforms like Slack & WhatsApp, we have plans to offer it on Twitter, Facebook Messenger, Skype & Telegram. This way we can reach out to wider user base.
Read more on best fitness gadgets to stay in share here.