Instagram is one of the most popular social media platforms where more than 1 billion users share photos, videos, stories, and more. However, if you want to take a break from the onslaught of "picture-perfect" moments from everyone else's lives, it is best to delete your Instagram account.
How to easily delete your Instagram account
If you are looking for a social media detox you can choose to temporarily disable or permanently delete the Instagram app from your mobile phone. Do note that once you delete your Instagram account, it can't be undone. All your pictures, videos, and account history, including followers, likes and comments, will be permanently deleted. If you choose to re-join Instagram after a break you will not be able to sign up using the same username.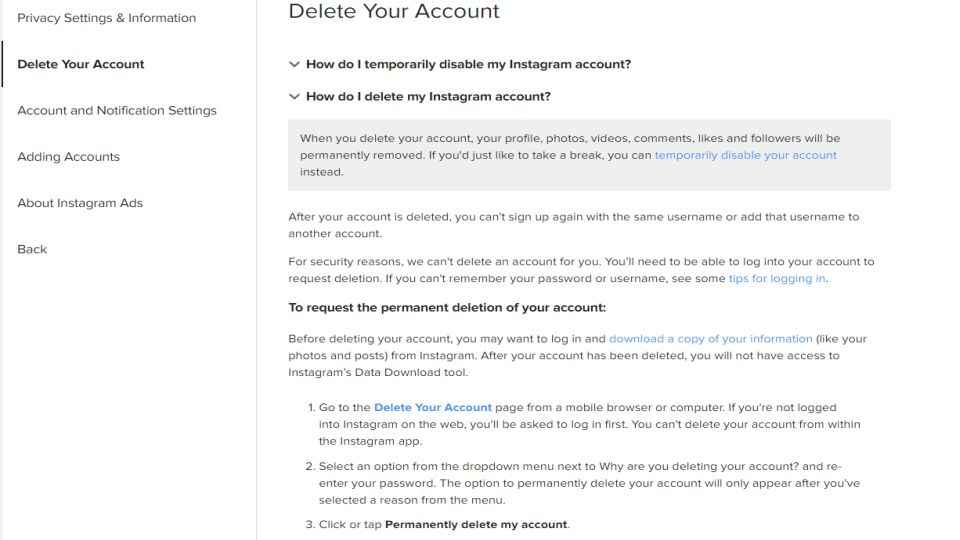 These steps will allow you to take a break from Instagram and delete your account permanently.
1. First login to your Instagram.com from a computer or mobile phone. Instagram doesn't allow you to delete your account from its app.
2. Click on delete your account page
3. Select an answer from the drop-down menu to Why are you deleting your account.
4. Next the site will ask you to enter your password.
5. Click on Permanently delete my account
How to deactivate your Instagram temporarily
If you are just looking for a small break from Instagram you can also choose to deactivate your account for a while. You can choose the temporary deactivation option, which allows users to disable their account for some time and return to it later. All your profile, photos, videos, comments, and likes will be hidden from other users for a short while and will reappear once you choose to reactivate your Instagram account.
1. To deactivate your Instagram account temporarily, login to your account on instagram.com from a computer or mobile browser.
2. Then click on the person icon to access your profile.
3. Click on Edit profile.
4. Next go to the 'Temporarily disable my account' option and click it.
5. Instagram will ask you to choose an answer to "Why are you disabling your account?". Select an answer from the drop-down menu.
6. Renter your password for security.
7. Next just click on the 'Temporarily Disable Account" button.
8. Simply click on it to deactivate your account.