Amid the vast expanses of Google Play Store, there are a lot of specialised apps meant for a particular profession or interest. Curofy is one such app meant for people in the medical profession. It has a lot of interesting features, but overall it can be described as a social network for the medical industry.
According to their numbers, the platform has more than 85,000 doctors from over 600 cities from specializations like Cardiology, Dermatology, Radiology, Orthopaedics, Paediatrics, Internal medicine, General Practice, Dentistry, Endocrinology, Pathology, Pulmonology, Sexology, ENT, Ophthalmology, General Surgery, Gastroenterology and much more. They also have tie-ups with medical associations like FOGSI, API, ASI, IDA etc to conduct live coverage of their conferences.
The app highlights jobs from various private and government hospitals from across the country. A doctor can create their profile on the app and apply to their dream jobs with a single tap. Once the app is downloaded, it asks you to create a profile. This is where it gets serious. If you are registering as a doctor, you will need to provide your registration ID using which the app verifies that you are a genuine doctor. Also, if you are registering as a student, you are required to provide a picture of your college ID. So as you can understand, the platform takes extensive measures to make sure that the people on the platform are actually from the medical world.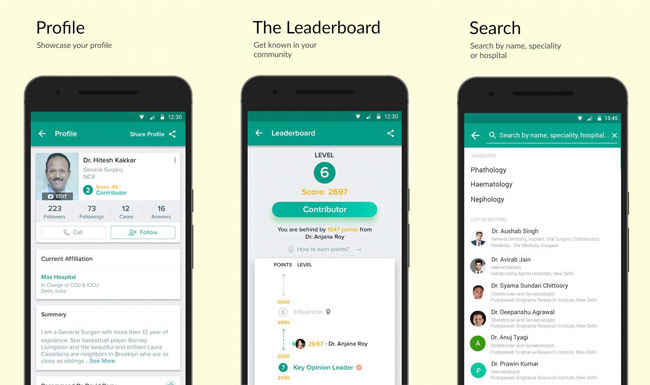 In the Discuss tab, you can start a case discussion with some of the best doctors in the industry. The News section provides you live updates relevant to medical science. It also highlights content from renowned medical journals like BMJ and Research Gate along with interviews from reputed doctors. While the Jobs tab highlights the jobs posted on the app, the Notification section contains updates to any of the discussions you have started or are following.
Apart from a host of medical uses, this app can be used by medical students to get proper career guidance from industry experts about MD and PG exam. From more of a social networking aspect, doctors can use this app to connect with their alumni. The search option gives you these features.
Although this may not be useful to the average person directly, the features and functionalities it provides to our doctors can only make them better with the support of the best in their field, which is beneficial to every average person who needs a doctor.