A smartphone is only as smart as its apps, and while regulars like WhatsApp and Uber will continue to serve you just fine, it's time you took a look at some lesser-known apps you ought to be using.
1. BroApp
You can't go wrong with an app that calls itself "Your clever relationship wingman". The app sends out automated text messages to your girlfriend or significant other on a set schedule, freeing up time for your manly pursuits, like playing football with your bros, getting a beer with your bros or even going shopping with your bros (it's totally cool, bro). You can enter a list of custom messages and a time, and the app will send out a random message from the list around the set time. It sends out the message at a slightly different time every day, lest she get suspicious, and you can even disable the messages when you're connected to your girlfriend's WiFI network to avoid awkward situations. The devs claim that users have responded with a "99% Bro satisfaction rating and a 3 fold increase Bro happiness", even resulting in one marriage proposal, so you know it's legit, bro. Download it for iOS and Android.
2. Blinkist
We like to think that we're well read, with the ability to have intelligent and engaging discussions on economics, philosophy, science and technology. Our non-fiction reading lists are growing longer every day, just as our attention spans are dwindling - which makes one wonder, just how much longer can we keep up the charade? That's where Blinkist comes in. By distilling the essence of over 1000 popular works of non-fiction into 15 minute-long snippets, the app is a lifesaver for those of us without the time or discipline to sit through an entire book. The curated selection includes an eclectic mix of bestsellers and lesser-known titles, spanning neuroscience, cognitive economics, startups and technology, politics and self-help. You also have the option to listen to an audiobook version of the snippet, and the app has an offline mode so you can read without an active internet connection. Interesting passages can be highlighted, and you can take notes and export them to Evernote. Plus, if you prefer doing your reading on the Kindle, you can have your daily 'blinks' delivered directly to your device or the Kindle smartphone app. Download it for iOS and Android.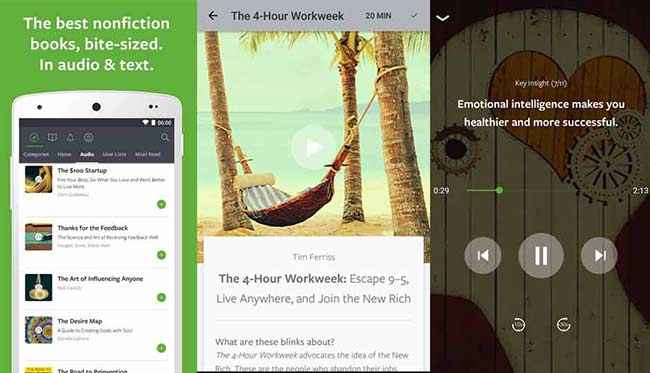 3. Li.st
Remember B.J. Novak? He played the inimitable Ryan Howard on The Office while also being a writer and an executive producer on the show. B.J. Novak loves lists, so he brought out an app that's built around lists. Now, before you go all "Not another list app" on us, Li.st is not a to-do list, neither is it an app to help you remember things. Think of the app as an Instagram for lists. Users can create lists about practically anything that interests them, and can follow their friends, celebrities or companies to see what they're listing. These lists can include text, pictures and location data, with celebrities like Mindy Kaling posting some hilarious ones like "Things I Love About Broad City", "A Few Great Beards" and "Actors That Will Make Me More Likely To See A Movie". Of course, you can also use the app to get expert recommendations for books, movies, restaurants etc. by following accounts such as The New Yorker, Slate magazine or Cracked.com. Download it for iOS and Android here.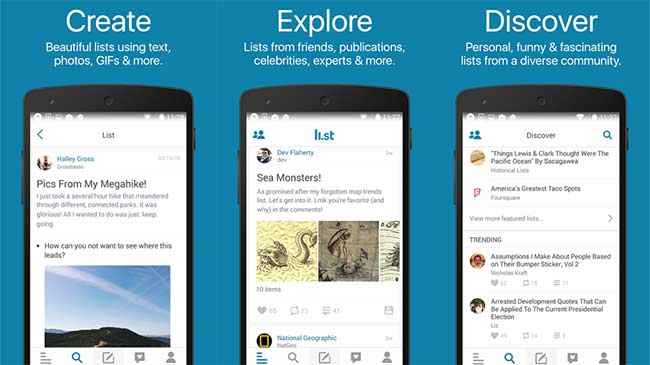 4. RunPee
Runpee is one of those apps that's so simple and useful that you'll wonder how you got by without it before. The app has a list of movies, each with a few "carefully selected peetimes" - short intervals of time in the movie that don't contain any major scenes that you can't afford to miss. Use these peetimes to answer nature's call, without the fear that you'll miss out on some major plot twist or hilarious scene, sparing your friends from having to explain the part that you just missed. The app has a timer that you can set at the start of the movie, and it will gently vibrate at the start of each peetime, sparing you from checking your phone every few minutes. One killer feature of the app is that it also tells you if there are any extra scenes after the end credits that you'll want to stick around for. Download it for iOS and Android.
5. Skiplagged
Using a brilliant technique known as the 'hidden-city' rule, Skiplagged finds you cheap flights that other, conventional flight search apps can't (Airlines HATE this app!). Basically, Skiplagged exploits the messy algorithms that determine airfares, by booking a flight with a different destination on a route that includes your desired destination as a stopping point. Once you've reached the layover city, you simply hop off the flight and "forget" to board for the remainder of the flight. Of course, one caveat of this system is that you must not have any checked baggage, and you'll have to book your return trip as 2 one-way flights. While you'll end up paying the fare for the complete journey, this fare will be up to 80% cheaper than what you would have ended up paying for a direct flight to your destination. Download it for iOS and Android.
6. Wakie
Waking up in the morning is probably the hardest part of our day, and no amount of sleep is going to change that. You know the drill - wake up confused to the sound of your alarm, snooze it while trying to steal a few precious minutes of sleep, only to wake up groggy with little time left for breakfast. Wakie is an app where you set the time you want to be woken up, and another user from across the globe will call you, in the hope that a conversation with a complete stranger will be stimulating enough to rouse you from your slumber. In addition to using it as an innovative alarm app, you can also use Wakie to have anonymous phone conversations about any topic - just select the topic you're interested in, and Wakie will match you with someone who's willing to talk (or listen). Download it for iOS and Android.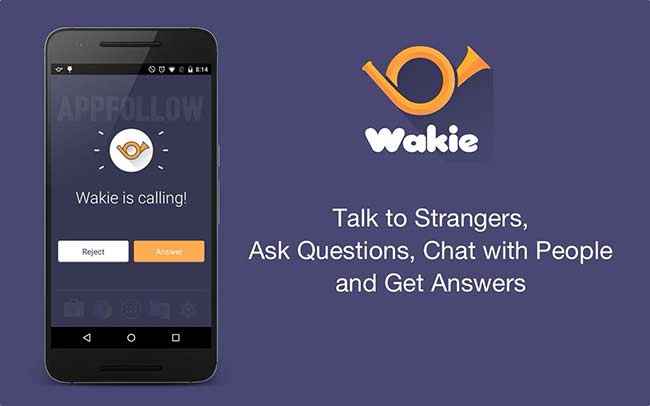 7. Zombies, Run
Being chased down by zombies who're out for your blood isn't something new - after all, games like Temple Run shot to popularity on the back of this concept. But take the same concept, and adapt it to real life, and you've got quite a game going. Zombies, Run is a game that motivates you to run by chasing you with virtual zombies, and rewarding you with virtual supplies and weapons as you complete your tasks. Put on your earphones, and let the game talk to your through a mission - you'll have to speed up if you're being chased, slow down to catch your breath, and you can even collect supplies along the way to build a base. You can even create your own missions if you have a specific type of workout in mind, or challenge your friends to a mission. Download it for iOS and Android.
8. BodBot
The easiest thing in the world to do is to come up with excuses for not getting in shape. Whether it's lack of time, lack of resources or just plain laziness, none of them are valid when it comes to taking care of your body. BodBot is an all-in-one fitness trainer app, that will help you design a customized plan for your workouts, whether you're just looking to lose some weight, improve your stamina or build muscle. It adapts to your schedule, so you can use it effectively even if you've just got a few hours every week to spare. You can set goals for yourself and track your progress through the app, which will adapt your workout regime depending on your performance. The killer feature is a built in nutrition planner that provides detailed nutrition information, a meal plan in line with your fitness goals and a meal tracker to keep your calories in check. Download it for iOS and Android.
9. Unf**k your habitat
A messy home impresses no one, and if you're looking to have some company over, a tidy room is going to make a great first impression. If you still need some reason to keep your surroundings clean, this app is for you. The app guides you using small intervals of time - 5, 10 or 15 minutes a day, to make sure your habitat remains clean. It goes into some interesting details, including doing the laundry, the dirty dishes, making your bed and even a section on "emergency cleaning" - for when you only have a few minutes to tidy up your place before an imminent visit. A fun aspect of the app is the "Challenge", where you're tasked with cleaning up traditionally messy areas of your house such as the front door, your shoe rack, your stash of unread letters and flyers or your fridge within a given time. Download it for iOS and Android.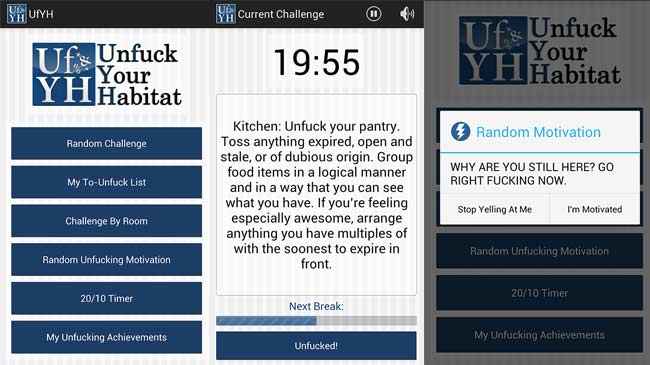 10.CrownIt
We get it - you've worked hard all week, so you've earned that drink (or five) over the weekend. Or maybe you detest cooking, and would rather stuff your face with a 3 course meal at an Italian restaurant. But if you find yourself staring at a depleted bank balance every month (urban poor, anyone?), you'll want to check out CrownIt. This app rewards you with cashbacks on your spends at approved restaurants and bars in your city in the form of 'crowns'. These crowns can be redeemed on online shopping sites like Flipkart, Amazon and BookMyShow, or you can use them to pay your mobile and telephone bills. Just snap a photo of your bill within 30 minutes of your meal and upload it using the app to be eligible for a cashback. Once your bill is approved, you'll see your crowns credited to your CrownIt account. Download it for iOS and Android here.
11. Buddhify
Mental health has garnered a great deal of awareness in recent years, bringing to light the prevalence and danger of a lot of mental illnesses. One effective way to maintain mental hygiene, is to dedicate a few minutes every day to the act of meditation. Meditation can seem like a daunting activity at first, but it doesn't have to be. Being mindful of oneself is a great skill, and Buddhify will help you develop that skill by through a set of guided meditation sessions. It has more than 80 guided-meditations, suited to accompany daily activities such as waking up, eating, commuting to work or just generally feeling stressed out. Download it for iOS and Android.
12. Places I've Pooped
Everyone poops. Whether you love it, loathe it, or just prefer not to talk about it, the fact remains that we spend a significant portion of our lives on the pot. What if you could mark off the places you'd pooped on a map? What cities, countries or continents would it include? You've got to admit, that would be a pretty cool graphic to look at. You can even follow your friends to see where they've pooped - the "Poop Feed" shows live updates from your friends. One handy feature of the app is it allows you to attach a photo and rating of the location, so you'll know which are the pooping spots! Download it for iOS and Android.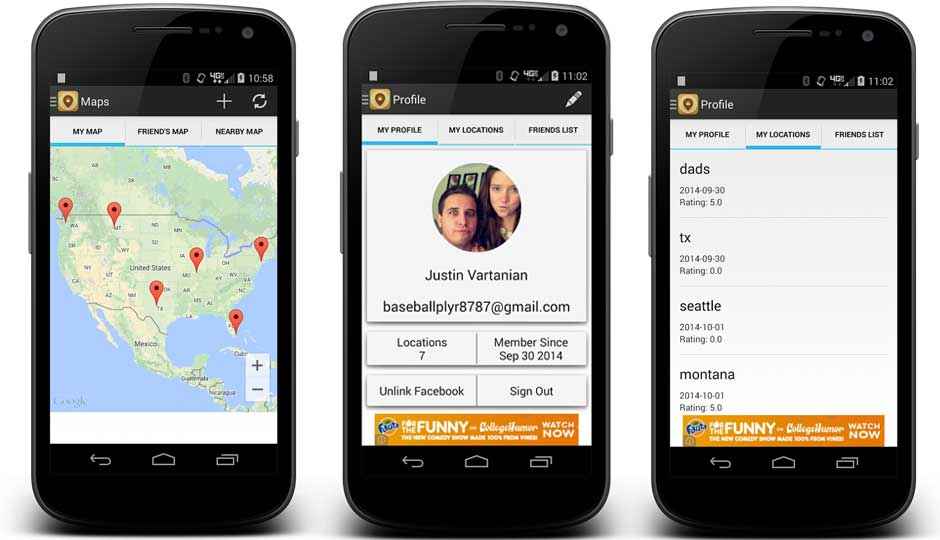 13. Mixlr
Podcasts are great - you can learn about a wealth of topics on your commute, while driving, or just doing the chores at home. It's pretty easy to start your own podcast, but if you find the entire process of finding the right equipment, software and platform daunting, Mixlr is as easy as it can get. The app's main function is to let you create audio streams, and broadcast them live to an audience - you can choose to have the app automatically list your station on TuneIn Radio. Alternately, you can embed the link to your stream within Soundcloud, Facebook or Twitter, and Mixlr will automatically create a 'Livepage' for your stream, letting you engage with your audience in real time. Apart from regular talk shows, you can also live-stream a radio show or a DJ set using Virtual DJ and a MIDI controller. Mixlr's desktop app for Windows and Mac also lets you live-stream a Skype call to your listeners. Download it for iOS and Android.
14. TripIt
As much as we all love to travel, planning a trip can be quite an exhausting process - you've got to keep track of flight bookings, hotels, taxi bookings and also take into account changes in schedule or cancellations. Managing all this info can be daunting, particularly if you're travelling in a group. TripIt simplifies the entire experience, by automatically creating a trip itinerary for you that you can share with your friends. Sign in with your Gmail account, and the app automatically forwards all travel-related information to an email address and builds your itinerary, notifying you in case of flight delays, changes in bookings or cancellations. The app will also provide you with maps and directions when you arrive at your destination, and for a fee of $49/year, provide real time flight tracking and seat tracking. Download it for iOS and Android.
15. 1 Second Everyday
The idea of keeping a personal journal is really appealing, except when you realize it's going to take discipline to update it everyday. 1 Second Everyday is a really unique concept - you use your phone's camera to take a video clip everyday, exactly 1 second long. Do this for a few months, and the app will stitch all your 1 second moments into a video that will serve as a wonderful, nostalgia-filled video diary of your life. Use it to document your life, watch your little one grow up, or even as a gift for a loved one. It's a really neat idea that requires literally one second of your day, but the results are sure to bring a smile on your face. Download it for iOS and Android.
This story is part of our 15 year Anniversary Special collection which will hit newsstands this June. Be sure to prebook using this link and avail a discount.