Today the Times of India carried an advertisement apparently "Issued in public interest". The advertisement (and we call it that because of the obviously desperate information it consists of) was about buying a TV stating that certain brands are the top T
Buying a TV isn't an easy decision today. It is an investment more than an impulse purchase. This black mirror will hang on your wall for years before you decide to upgrade it. This black mirror will act as a window into various worlds that will make you laugh, cry, take you on adventures and make you feel like the neighbourhood superhero. Needless to say, the right TV can give you a fantastic entertainment experience. So here is the question? Who chose these particular brands over all others to put on a pedestal?
The advertisement boldly states, "If you're thinking of buying a TV, it makes sense to choose a top TV brand instead of an unorganised, licensee or assembled TV brand." If you are someone that knows even a little about the TV industry in India, you will realise that this is intended as a blow not only to brands that have entered India in the past year or so, but also to all the other brands operating in India for over 20-30 years which are not even mentioned in this so called "Top TV Brands". There is no question that some of these listed brands are known for their prowess in the television industry, but there are many other brands (experienced or new) that make some pretty good TVs. Its surprising that they aren't a part of the "Top TV Brands", speaking to the misleading nature of this ad.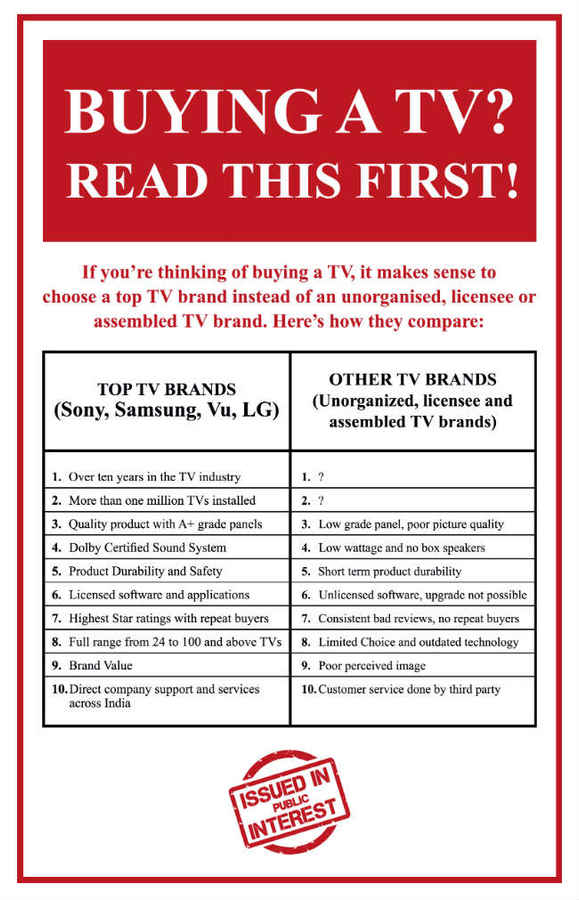 If you read the ad in detail, it goes on to make some ridiculously bizarre claims. Point number 5 is especially hilarious - "Product durability and safety". Who has ever heard of a TV exploding? Wasn't that a smartphone thing? The words "build quality" are very smartly and clearly avoided here.
The first point itself made us question the advert. "Over 10 years in the Industry." A few brands have been in the industry for a while and vanished without a trace. Others have been her for about a year and claim to be number 1. There are brands that were the pinnacle of TV technology once and today are struggling to maintain market dominance.
Let's jump to the other side of the fence for a bit – "Other TV Brands". Point 4 here got me scratching my head for a bit. What the hell are "box speakers" when it comes to a TV? Googling "Box Speakers on a TV" yielded no educated results. So, if there is anyone out there that can explain this to us, we're all up for it.
Point 7 and 9 got us questioning how could these companies exist? If a company has consistently received bad reviews, has NO repeat buyers and has a poorly perceived image, then how can that company even survive in a competitive environment populated with some fantastic products at aggressive price points. Sure, you will get a few units out the door, but with "consistent" bad reviews, you will have to shut shop, right?
If you, whoever you are, wanted to issue a public advisory television buying guide, you could have actually printed a truly helpful TV buying Guide because god knows you bought enough real-estate in Times of India to print a novella. You could have bust some popular myths like A+ grade panels are the last stop when looking at display quality, instead of blatantly claiming, without any proof, that all other brands have "low grade panels and poor picture quality". Even the statement that a brand proves its worth, if it has an install base of millions of TVs, is unsupported by facts. A large install base can also be achieved by selling low-quality, cheap televisions in a price sensitive market like India.
So, whoever decided to issue this senseless and baseless "public advisory" probably has a thing or two to learn about the television market in India and what people should actually be looking for before buying a TV. We at Digit have reached out to the said "top brands" and asked them for a comment on this advertisement. What do you think, will someone step up and claim this ignorant rant or better yet, debase it?