At the Toshiba Cricket LED TV series launch in Mumbai, we got a fleeting glimpse at the company's two Cricket Mode enabled LED TVs – the Toshiba 50L2300 and Toshiba 39P2305. Both are full HD resolution TV sets running on Toshiba's REGZA engine.
Anticipating a huge buying rush around the current and upcoming festive season, Toshiba India wasted no time in laying down the marker in TV segment. It has announced a whole new range of LED TVs in the Indian market, sporting – what it claims to be – the "world's first Cricket Mode" (re: enhanced for viewing cricket) TVs for cricket fans. The new LED TVs were unveiled in Toshiba's P2305, L2300 and the flagship L3300 series.
It doesn't stop at that. According to Toshiba, cricket maestro Sachin Tendulkar helped co-create the TV's Cricket Mode feature, contributing his cricketing insights in ensuring the best possible way to enjoy cricket on Toshiba's new lineup of TVs. The idea is to maximize the cricket viewing experience and even take it to a whole new previously unforeseen level – at least that's what Toshiba would have you believe – as Cricket Mode enhances the lush green outfield inside a stadium, the cracks on the pitch & the fast moving cricket ball – also the wear and tear it's subjected to and its subtle shift in appearance throughout a game.
Cricket Mode Magic!
Toshiba claims that Cricket Mode detects the motion and brightness to enhance the contour of objects, enhancing the details and sharpness of the objects. For example, the cricket ball and the details of the cricket pitch are more distinct and stand-out than the background. Grass field is reproduced in its natural texture. In addition, Cricket Mode claims to reduce the MPEG noise, reproducing smooth and sharp moving images.


Image on left doesn't have cricket mode, while the TV on right has cricket mode enabled
Can you see a difference between the two images? And which one do you like the best? If you're a cricket fan, go to your nearest electronic store (or an authorised Toshiba retail outlet) and test out the new Cricket Mode on Toshiba's TVs. Let us know if you're sold on Cricket Mode, coz the jury's still out in our court. In our brief time spent around these TVs at the launch event, Cricket Mode felt like a glorified preset, nothing more.
Toshiba also took the opportunity to provide some interesting information regarding the company's TV division's success and opportunities. Mr. Sanjay Warke, Country Head, Toshiba India - DS Division, confirmed that Toshiba has sold over 1 million TVs in India, while Mr. Amitabh Tiwari, Vice President - Sales and Marketing for Consumer Products, Toshiba India - DS Division, stated that the company aims to garner over 10 per cent market share of total TV sales in India for the current financial year.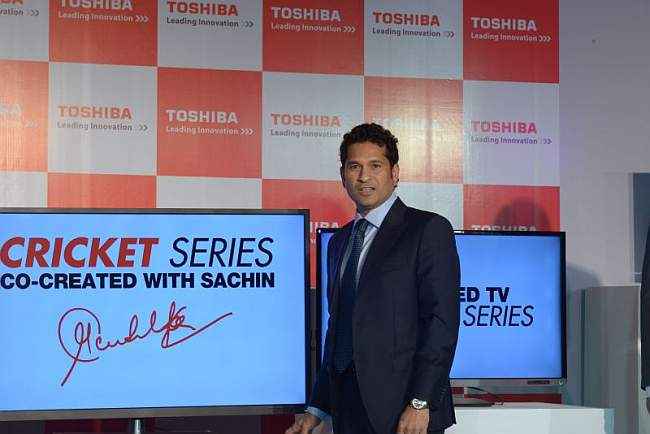 The new Toshiba Cricket series LED TVs is co-created with Sachin Tendulkar's inputs
What's new?
The Cricket Mode technology debuts in the following new series of Toshiba LED TVs – the P2305, L2300 and the flagship L3300 series. Toshiba claims that all the new TVs sport a new slimmer design with narrower bezel, and the Cricket Series TV sets adorns Sachin Tendulkar's personalised signature on the bezel or the sound bar – disappointingly it's only a sticker, not a metal engraving on the TV's bezel, as confirmed by a Toshiba representative. Shucks.
The new Cricket Series has an Active Motion Rate image-processing technology that reduces motion blur and keeps up with fast-moving sports and action sequences, Toshiba claims. AMR image-processing technology enhances the TV panel refresh rate, video processing speed, and ups the backlight in Toshiba LED TV Cricket Series. The Audio Distortion Control (ADC) & Spectrum Analyser create and refine frequency to create a sound which is not only stadium like, but clear and distortion free as well. ADC minimises sound distortion during high volume by suppressing the distortion of individual frequencies without lowering the overall sound pressure. Therefore, the audio quality can be optimised. With Spectrum Analyser, you can also see how the audio is reproduced in different frequencies and amplitude level.
Toshiba P2305 LED TV
Toshiba's entire P2305 LED TV Cricket Series comes with the revolutionary Auto Clean, Auto Signal Booster and AutoView technology, along with 10-bit video processing that produces over 1 billion colours, more than 64 times as many colours as conventional 8-bit processors. With the loud 20W audio output and the front design speakers, the sound delivered is clearer & more focused.
The P2305 series offer Full HD LED TV in a 100cm (39 inches) and HD sharp images in 81cm (32 inches), 74cm (29 inches) and 61cm (24 inches) screen sizes. The series is exclusively available in India, at all Toshiba brand shops and major electronics retailers at a price of Rs. 47,490, Rs.28,990, Rs. 25,990 and Rs. 16,990, respectively.
Toshiba 50L2300 LED TV
Encased in a narrow bezel, the 50L2300 is a 50 inch Full HD LED TV. The 100Hz Active Motion Rate (AMR) image-processing technology enhances the refresh rate of the panel, enabling the users to enjoy clearer fast-action cricket with less blurred images.
Coupled with the two powerful 10W speakers, the Dolby Digital decoder, Power Bass Booster and Audio Distortion Control, the 50L2300 is all about enjoying every bit of the cricket viewing experience. The 50L2300 will be available at a price of Rs. 85,990.
Toshiba L3300 LED TV
The L3300 series showcases two of Toshiba's latest innovations in image processing: Turbo LED and Detail Booster. Turbo LED boosts brightness dramatically, by 50 per cent, delivering clearer, smoother images with superb resolution, Toshiba claims. The feature is controlled by the viewer and can be used when needed, keeping power consumption to a reasonable level. Detail Booster enhances both resolution and image texture, improving the overall resolution by restoring image edge sharpness affected by the upscaling process, while texture enhancement analyses the original images and hones a stereoscopic effect by strengthening their brilliance. With brighter, cleaner pictures, it delivers greater viewing pleasure.
L3300 also features the Screen Mirroring technology that can wirelessly connect the TV with your smartphone, tablet or PC. Users can sit back and enjoy their favourite photos/videos from the comfort of their couch or listen to music from their phone via the TV's speakers. The L3300 Cricket Series will be available in 81cm (32 inches) and 100cm (39 inches) size models, priced at Rs. 36,990 and Rs. 50,990, respectively.