Netflix's streaming service starts from Rs. 500 per month with the first month being free and there doesn't seem to be a lot of India specific content at the moment.
At CES 2016, Netflix CEO, Reed Hastings announced the commencement of Netflix in India. Subscription plans begin at Rs. 500 for the basic plan without HD, Rs. 650 for HD and Rs. 800 for Ultra HD. The basic plan allows you to stream onto one screen at any given time. Standard allows for two simultaneous streams and Premium makes that to four. All plans allow streaming to laptops, TV, phones, tablets and streaming dongles (like Chromecast and Roku) that plug into your display. And the best part? The first month's free!
Aside from India, Netflix has commenced services in Azerbaijan, Nigeria, Poland, Russia, Singapore, Indonesia, etc,. totalling up to 130 new countries except China, obviously. You can head over to their website to figure out if your country is among the lucky ones.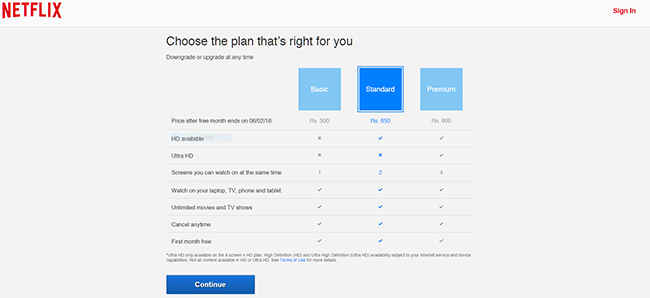 Subscription plans for Netflix India
Netflix has evolved from being an offline media distribution service to an online streaming service that has since then evolved to become the biggest in the market. The service was only available to subscribers in North and South America, Australia, New Zealand, Japan and certain European countries till now.
Netflix boasts of an immensely huge library of international movies and TV shows, and quite an impressive set of original productions including House of Cards, Narcos, Marvel's Daredevil and Jessica Jones, and Orange Is the New Black.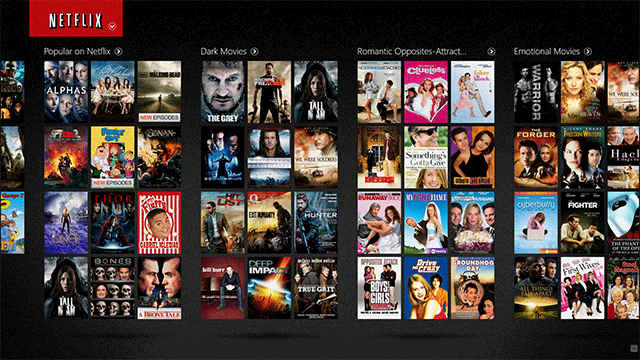 Subscription Plans and Content
Netflix's subscription plans are quite decently priced given that they offer more content than any other provider in the Indian market, most of which is available in Full HD (1080p) or better. There are plenty of Indian streaming services like BoxTV, Spuul, BIGFlix, Eros Now, HotStar, Hungama Play etc., and they have a lot of regional content. It seems like Netflix has teamed up with regional production houses to bring Indian content onto the platform. So it'll be worth knowing how these Indian services will adapt to the threat that Netflix now poses to their subscriber base. The basic plan of Rs. 500 is quite comparable to all the all-encompassing subscription plans that Indian DTH services currently provide. We've listed the pricing for HD packs offered by Indian DTH service providers below.
| | | |
| --- | --- | --- |
| Provider | Pack Name | Cost (Rs.) |
| Videocon | Platinum HD | 608 |
| DishTV | New Titanium | 499 |
| TataSKY | Ultra HD | 730 |
| Airtel | Magnum | 675 |
| SunDirect | HD+ Mega | 500 |
It is necessary to note that all of these packs include Sports channels that Netflix does not have. Also, all of the above service providers provide a certain discount if one subscribes to their annual package. And lastly, existing exclusivity agreements with TV channels in India will ensure that certain content remains, well, exclusive to TV channels only. So that's another thing you won't have on Netflix at launch. But contracts are re-negotiated on an annual basis and hopefully, within a year we should see some of these exclusive agreements ending.
What is the competition saying?
Hungama Play
Speaking on behalf of Hungama Play, Mr. Siddhartha Roy, CEO, Hungama said, "Within a short span of five months, Hungama Play has seen aggressive growth in consumption of video, driven on the back of the largest movie library of over 7500 titles on offer. This has led us to recently add our catalog of over 15,000 music videos to the existing movies offering on Hungama Play. Till recently video streaming services were pegged back due to the inadequate data infrastructure in India. With telcos rolling out 4G services Pan-India, 2016 will be a year for growth of video consumption. The incredible growth of smartphones in India has made the market big enough for multiple video streaming services to thrive simultaneously. We are glad that global players like Netflix are keen on entering the Indian market, since this will contribute in raising awareness about the streaming services as well as grow the market as a whole."
Payment problems
As of writing this, subscribing to Netflix requires a credit card. Indian debit cards will not work because of the two-step verification process (OTP / VBV / MasterCard SecureCode) that takes place each time a payment is initiated.
Time for some Netflix and Chill!