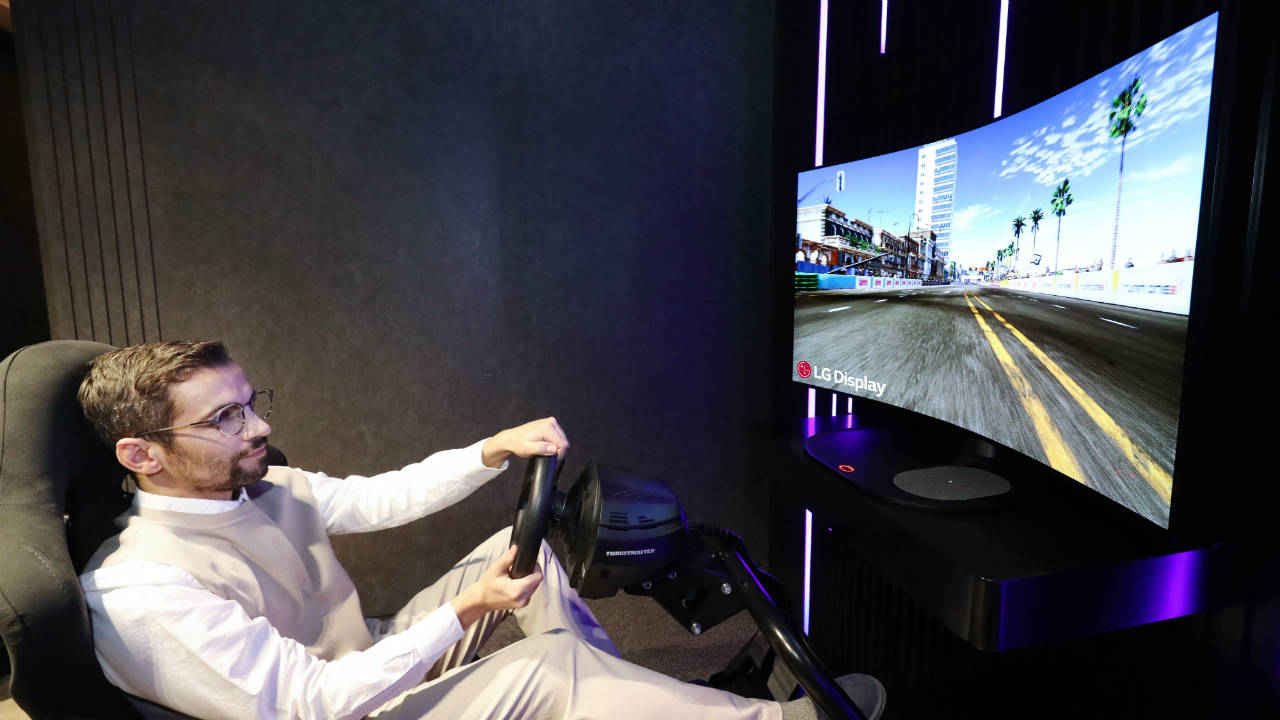 HIGHLIGHTS
The display can be bent to become a curved display for an immersive gaming experience.

It can become a flat display for consuming regular content as well.

Instead of traditional speakers, the display will have Cinematic Sound OLED (CSO) technology.
CES kicks off in January, introducing the world to the technology we can expect to launch throughout the year. One of the highlights of CES 2021 is the TV technology that will be shown off. It looks like 2021 will be packed with interesting TV technology, especially if you are a gamer. Last year, LG showed off its 48-inch CX OLED TV targeted at gamers as a gaming monitor thanks to its HDMI 2.1 functionality, support for AMD Free Sync and G-Sync.
This year, it looks like LG Display wants to take things one step further. The company has announced a bendable display that can be contorted to become a curved screen, giving gamers an even more immersive experience. It has a curvature radius of up to 1,000R, "meaning that it can be made to bend up to a radius of 1,000mm without affecting the function of the display". A curvature of 1,000R is said to be a sweet spot for gamers looking to get as much of the displays' information without moving their head to rotate their eyes too much around the screen.
But that's not all. When the display is not being used as a gaming display, it can go back to being a 48-inch flat-screen display for you to enjoy other content like movies, TV shows, etc.
What is LG Bendable Cinematic Sound OLED (CSO)?
Well, we've elaborated on the uniqueness of the display to bend to a curvature of 1,000R when gaming and going back to being a flat display when consuming other content. But the TV also has another technology it is implementing for the sound. According to LG Displays, "CSO technology enables OLED displays to vibrate and make their own sound without the use of any speakers, offering a vivid sense of reality as if the on-screen characters were talking directly to the viewer". Sounds familiar? Well, that's because we have seen this technology in action in the past on Sony OLED TVs. Sony calls this technology Acoustic Surface Technology and has been helming the audio in their flagship OLED's like 2020's A8H (review).
With the display vibrating to emit sound rather than traditional speakers, it will give a pinpoint location of sound coming from the display, adding to the immersion when gaming as well as when watching movies.
With OLED's offering a response time of 0.1 milliseconds (ms), a refresh rate of 120Hz with support for VRR, ALLM, G-Sync, Free Sync and more, they have the potential to be the ideal choice for gamers. Not to mention the deep colours and infinite contrast ratio thanks to the self-emitting backlighting. LG has implemented a lot of gamer-friendly features in its OLED TVs and you can check out our review of the LG GX 2020 OLED TV here.
"LG Display's 48-inch Bendable CSO display is optimized for gaming as it maximizes the use of advanced technology that produces another level in terms of providing an immersive experience. In other words, it offers the very best gaming environment to gamers," said Dr. Chang-ho Oh, Executive Vice President & Head of the TV Business Unit at LG Display.