LG says the new rollable display can be rolled up and stored, making it highly portable.
LG Display has announced that they will unveil a 65-inch UHD rollable OLED display at CES 2018. The company had previously showcased an 18-inch foldable display prototype during CES last year. Not much has been revealed about the product, however, its image reveals a slim display, which can be rolled up from a base. Its speculated that the base of the display could also double up as a soundbar.
According to LG, the display "can be rolled up and hidden when not in use, and the small size of the rolled-up screen means that it can be more easily moved and stored, allowing for better space utilisation, something existing displays can't deliver. With this portable and flexible feature, the 65-inch rollable display can offer users the high-resolution content anytime, anywhere."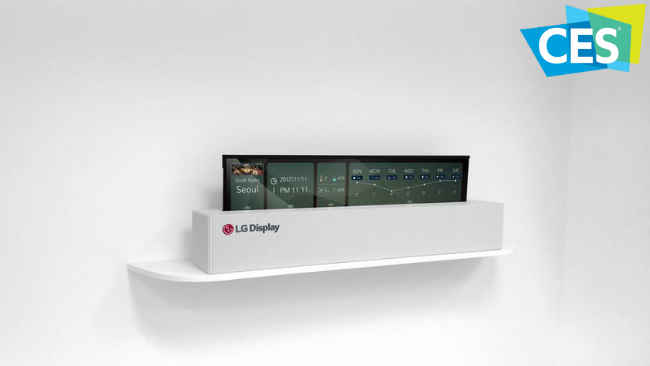 LG Display says that it has successfully upgraded the audio of Crystal Sound OLED displays from the current 2.1 channel sound to 3.1 and will also showcase a 55-inch transparent display and a 77-inch wallpaper OLED TV display. The company will also soon integrate the Crystal Sound technology into LCD products like notebooks and monitors, to eliminate the need for extra speakers. All the new products will be exhibited during the CES event at Las Vegas.
Apart from the rollable display, LG will also be showcasing its new 88-inch OLED TV with 8K resolution at the event. The company claims that it's the highest and largest resolution OLED panel manufactured to date and its specs and price are expected to be revealed at CES 2018. Some recent advancements in the company's Crystal Sound OLED technology, which makes sound emanate directly from the panel, will also be showcased.