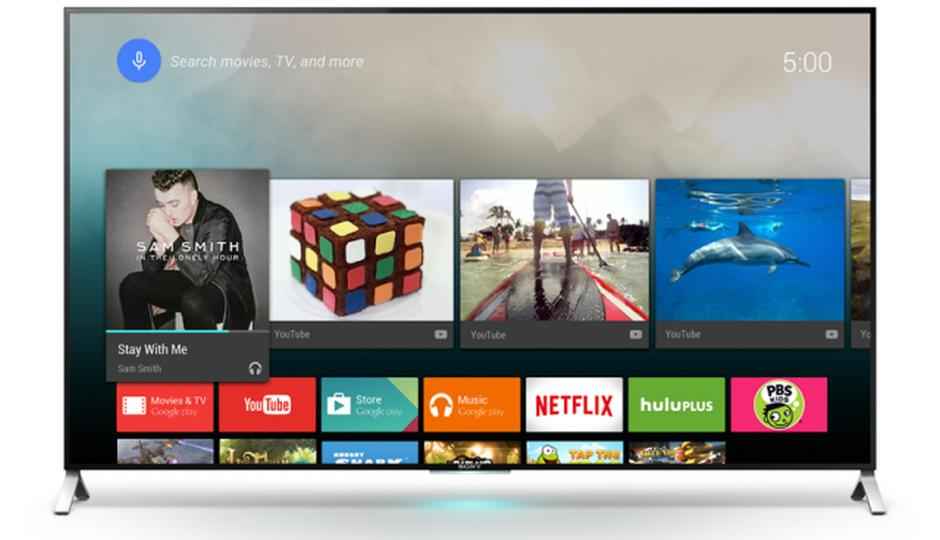 HIGHLIGHTS
Google announces Android TV from Sony, Sharp and Philips coming in Spring.
Google unveiled its Android TV platform at the Consumer Electronics Show 2015 in Vegas. The search giant has partnered with Sony, Philips and Sharp and says shipping will begin soon, in a blog post.
Android TV will allows users to stream movies and shows directly from Google Play and will have voice search functionality. Users will also be able to stream apps, Android games and more all with a single remote. The internet giant had introduced the latest version of its smart TV operating system at Google I/O in June, and made it available to users through its Nexus Player launched last year.
Google has also partnered with MediaTek for the its smart TV System on Chip (SoC) which will be used in Sony's Android TV. It will feature Sony's unique picture-quality algorithm, and run on Android 5.0 Lollipop software, according to the company. Sony's Android TV will also be Google Cast Ready, which will allow users to cast their favorite entertainment from a mobile device or laptop straight to the TV.
Ching-Jiang Hsieh, President of MediaTek stated: "We are very proud to stand alongside Sony in introducing the new Android TV device. The experience of Sony's Android TV will set the standard for future smart televisions. This is a momentous occasion for MediaTek to be changing the way people watch TV with our strong partner, Sony."
Masashi Imamura, President of Sony Visual Products Inc., said: "We are delighted to announce the new Sony Android TV at CES. Sony is committed to providing users with the best TV experience, featuring the best picture quality and rich features that are easy to use. MediaTek has a long heritage in cross-platform synergy and is well-poised to help us drive innovation in the home entertainment industry. Utilizing MediaTek's cutting-edge TV SoC, this partnership will allow both companies to spearhead the next level of television experience to the market."
Google also stated in a blog post that "a small subset" of Google TV hardware would receive a bump to Android TV, and while current Google TV sets and apps would continue to function, the platform's development libraries would "no longer be available" for continued development.