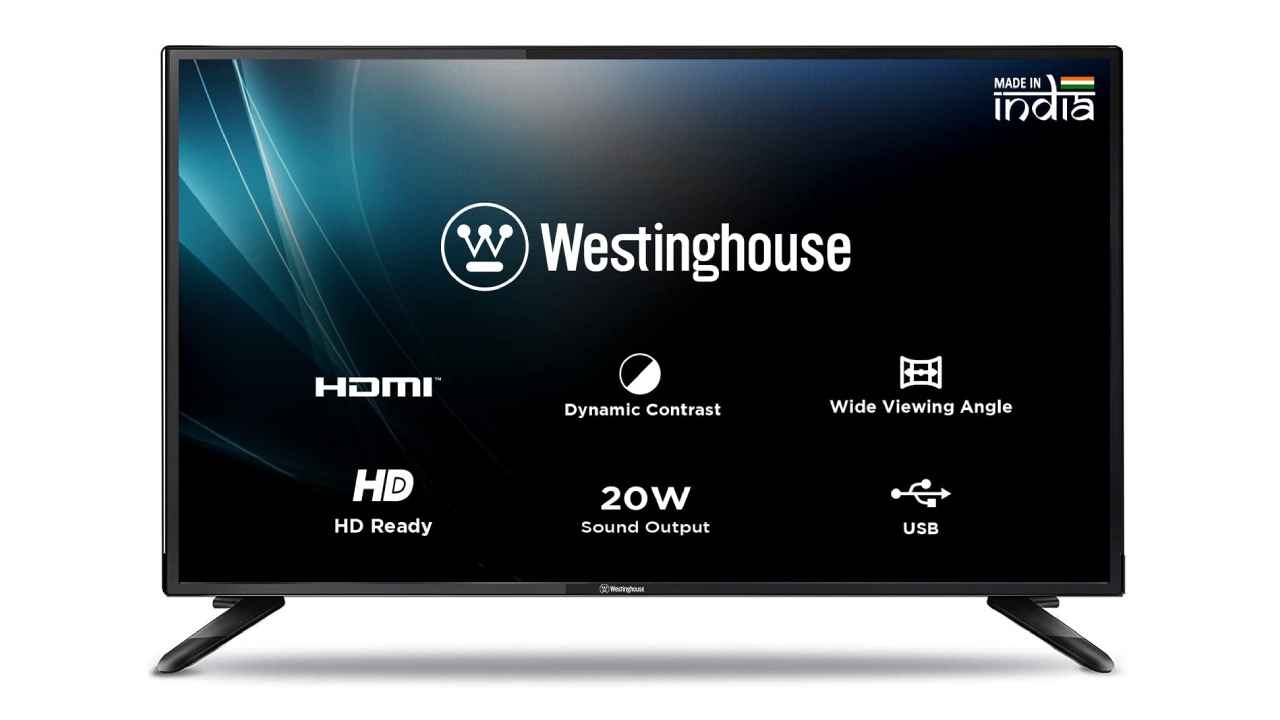 While bigger usually means better TV screens, a lot depends on the available space for your entertainment. Putting a massive display in a small room will make it feel cramped and make it difficult to achieve an ideal viewing distance. This is even more relevant for use cases like gaming due to the higher levels of focus required. With space constraints, you can go with compact TVs that offer an enjoyable experience for your needs. There are models that come with high refresh rates and other appropriate capabilities for gamers. Some such models are available on Amazon, curated based on their useful features and powerful specifications.
Westinghouse 60 cm (24 Inches) HD Ready LED TV WH24PL01
With a refresh rate of 60Hz; the Westinghouse TV ensures a smooth visual experience for your gaming needs. The model features 20W speakers inbuilt for impactful audio delivery out of the box. Its display panel supports a wide viewing angle of 178 degrees, keeping its visuals equally impressive for everyone in the room. With dual HDMI ports, you can keep your gaming console connected with another source at all times. Its A+ Grade panel aims for immersive visuals with high levels of realism. This is further enhanced by its Dynamic Contrast technology that fine-tunes the images for maximum impact.
VW 60 cm (24 inches) HD Ready Smart LED TV VW24S
The Visio World TV features a highly compact screen size of 24 inches, which helps it fit into even the most limiting spaces available. The HD Ready panel delivers visuals with better clarity, colour, and contrast with IPE technology. Additionally, you also get wider viewing angles on this model. The Cinema Zoom feature removes black bars around videos to fill the entire screen. This enhances immersion for your viewing experience. With M-Cast, you can easily share multimedia from your smartphone to the TV screen. Its TrueDisplay technology aims for an impressive array of colours for every type of content.
Shinco 80 cm (32 Inches) HD Ready LED TV SO3A
The Shinco TV's Adaptive Contrast, and Brightness feature adjusts the intensity of every frame depending on the contents. Its HRDP technology enhances the clarity and depth of colours during your gaming sessions. It also ensures low input lag for responsive gameplay. This TV is designed with high-quality internal components for added protection against lightning strikes and power surges. The design features smaller ventilation slots positioned at the rear of the TV to minimise dust particles' entry. By design, it is also heat-resistant, humidity-repelling and safe from voltage fluctuations. With a dedicated Energy Saving feature, you can minimise your power consumption with this TV.
AmazonBasics 80cm (32 inch) HD Ready Smart LED Fire TV AB32E10SS
The combination of HD ready resolution and 60Hz refresh rate on the AmazonBasics Fire TV can be adequate for regular gaming sessions. Its DTH Set-Top Box Content Integration feature lets you toggle between DTH channels and OTT apps from the home screen without switching between input sources. With Fire TV OS, you can access a vast library of popular apps such as Prime Video and more. Thanks to Alexa, you can explore this library and use your favourite apps with your voice. A quad-core processor under the hood keeps the performance of this TV free from lag. Technologies like Anti-aliasing, Dynamic contrast, backlight and MPEG noise reduction help produce crisp and detailed visuals.