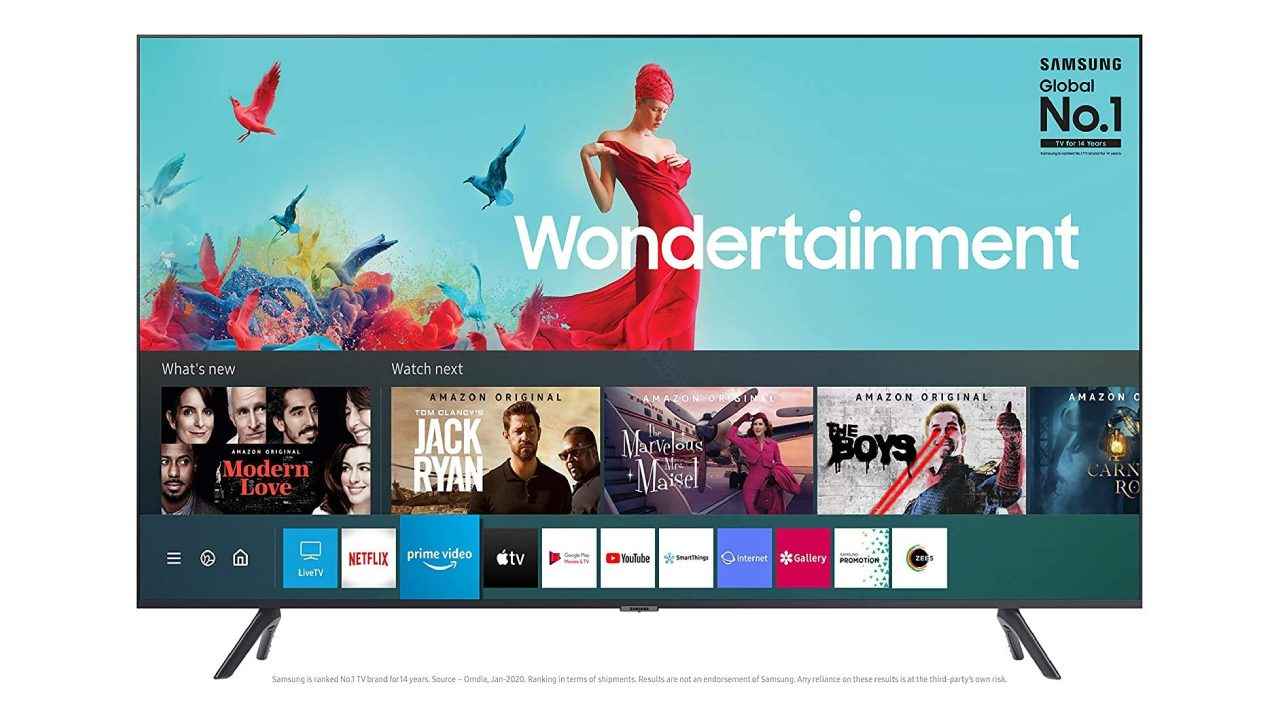 With the many advancements in TV technology, there are quite a few things to look out for when buying a new television. Often, TV terminology is not explained, which makes purchasing a TV quite a daunting task. If you're in the market for a new TV, then you've come to the right place. TVs with an OLED screen are the way to go these days, as they offer crisp colours and great dynamic range, but they cost a bomb. If you're looking for alternatives, there are some smart TVs with the entire range of smart features you would expect from a high-end TV, while giving you top of the line viewing and listening experience. These TVs are great for watching TV content, playing games and other entertainment purposes.
Sony Bravia 138.8 cm (55 inches) 4K UHD Certified Android LED TV
Sony presents a 4K UHD LED TV that should produce beautiful pictures. What gives the TV its power to produce such images is the technology used in the TRILUMINOS Display like the 4K X-Reality Pro, X-tended dynamic range pro and 4K HDR that all work together to produce dynamic pictures with every colour and hue reproduced by each LED. The X-motion clarity helps the TV produce crisper pictures even when there is a lot of fast movement on-screen. On the audio front, this smart TV delivers a 20W output, which is decent enough without any additional speakers in a smaller room. However, since it comes with four HDMI ports, you can easily plug in your Blue-ray speakers or home theatre system as well.
Sony Bravia 139 cm (55 inches)
Sony is one of the leading companies when it comes to TV technology. This Bravia TV has a great 4K resolution screen, which makes content on screen come to life – be it games, movies, music or pictures. The TV comes with an array of technologies – Full Array LEDs; an X1 HDR processor for impressive dynamic range; X Motion Clarity for impressive gaming performance; and Dolby Vision and Atmos for the top of the line audio experience – to give you an OLED screen-like experience, The screen size of this TV is pretty good too. At 55-inches, you won't be complaining about viewing angles or the size of the TV. The added functionality of smart features makes it a complete package.
Samsung 125 cm (50 Inches) Wondertainment Series
This offering from Samsung is nothing short of a multimedia powerhouse. It comes with a 4K 50-inch screen size, a perfect size for even large rooms. The 4K resolution goes a long way in producing your content in the best possible way – be it movies or games. Paired with HDR 10 capability, the 4K display makes you marvel at how good TV screens have become. Some other key features of this TV include adaptive sound and a game enhancer mode, which make this TV great for gaming and listening to music. It also comes preloaded with all the latest OTT streaming applications. Using the multiple connection options at the back, you can plug in a game console, or a Blu-ray player and switch on the fly.
OnePlus 138.8 cm (55 inches) Q1 Series 4K Certified Android QLED TV
The OnePlus Q1 Pro comes with a 4K QLED display that should be good enough to give one of the most holistic viewing experiences. Thanks to its Dolby Vision technology, the display supports HDR10 and HDR10+ picture quality to give you excellent video quality. With a whopping motion rate of 480Hz, this 55-inch TV should offer you incredible clarity even during fast image transitions. The Dolby Atmos technology and the 50W sound output, when coupled with the four-speaker system with two tweeters and two subwoofers, make it a smart TV that produces one of the best sounds in this segment. Furthermore, the TV comes with built-in Google Assistant, 3GB RAM and 16GB of internal memory with screencast features and OnePlus mobile sync technology to make it one of the best smart TVs in the market.
TCL 138.7 cm (55 inches)
This TV from TCL ditches the OLED panel to give you an equally good QLED screen, which cuts down on costs. QLED TVs use quantum dots to light up pixels, which reproduces content comparable to that on an OLED screen. Since this is a 4K UHD TV, you're going to have a gala time watching content on it. It also has extremely slim bezels at the sides, which give you a truly full screen, edge-to-edge display, which is particularly good for watching movies and playing games. You get 3 HDMI ports at the back, which is handy if you plan on using this TV as your primary entertainment hub.
Samsung 163 cm (65 Inches) Wondertainment Series
If you want a TV with a massive screen for your living room, without compromising on image or sound quality, then this 65-inch 4K offering from Samsung is a good pick for you. It comes with a single processor which orchestrates colour, optimises high contrast ratio, and masters HDR to give you an unparalleled viewing experience. It also has several different operating modes inbuilt – there's a gaming mode, a personal computer mode, an ambient mode, a music player mode and more. Furthermore, it also comes with smart features such as screen mirroring, voice control and the like, that make for a great TV.