UPDATE: Reliance Jio Prime Membership subscriptions will remain open till April 15.
Reliance Jio had announced a Summer Surprise offer on March 31, as an extension of its complimentary services. Jio's Summer Surprise offer not only extended the deadline for its Prime Membership subscriptions, it also extended the telco's complimentary services by 3 months, ending July 2017.
Now, as per the advice of the Telecom Regulatory Authority of India (TRAI), Jio is scrapping its Summer Surprise offer and withdrawing its 3-month long complimentary benefits to subscribers. However, all customers who have subscribed to Jio Summer Surprise offer prior to its discontinuation will remain eligible for the offer. While Jio shared these details through a press release, it did not mention a reason for TRAI's directive stopping the new offer.
One can only guess that the move by the regulator comes after immense pressure from incumbent telecom operators like Airtel and Vodafone. Airtel, expecially, has been locking horns with Reliance Jio for a while now. The two have unsettled disputes over the undue advantage given by TRAI to Jio for its complimentary data and voice calling services. The announcement of Jio's Summer Surprise offer could be seen as drawing the last straw of patience from imcumbent telcos, who have been bleeding chips since the launch of the Mukesh Ambani-led telecom service.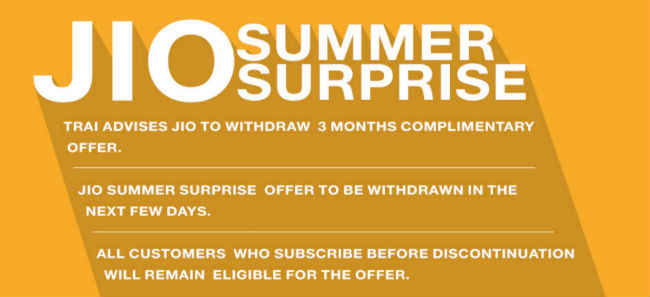 Jio has even put out the announcement on its own website, while users still have an option to recharge for the Rs. 303 Prime Membership for a few more days.