Vostro 3501
Popular tech to stay connected anywhere. Save more on exciting Dell PCs.
Click here to know more
Advertisements
Xiaomi launched its Mi Note 3 in China last month which has achieved an overall score of 90 points on the DxOMark test. DxOMark is a benchmarking website which tests and rates a smartphone's camera quality. As per their test results, the Mi Note 3 features an impressive camera setup, which puts it alongside the likes of the Google Pixel and the HTC U11, both the phones had DxOMark scores of 90.
DxOMark said, "With an exceptional Photo score for still photos of 94 points, and a solid video score of 84, the Xiaomi Mi Note 3 is a great choice for smartphone photography and video enthusiasts alike. Packed with top-end features, including a 2x optical zoom function, bokeh simulation mode, phase-detection autofocus, and 4K video, this device offers the capabilities and performance of premium flagship smartphones at a mid-range price point."
While capturing images, as per DxOMark, the Mi Note 3 is fast and accurate with good zoom capabilities and generally accurate exposure. The smartphone was also praised for its ability to reduce noise effectively in most lighting conditions and capture good bokeh shots. However, images lost fine details in low light conditions with some colour cast and some visible noise while capturing images in bright lights.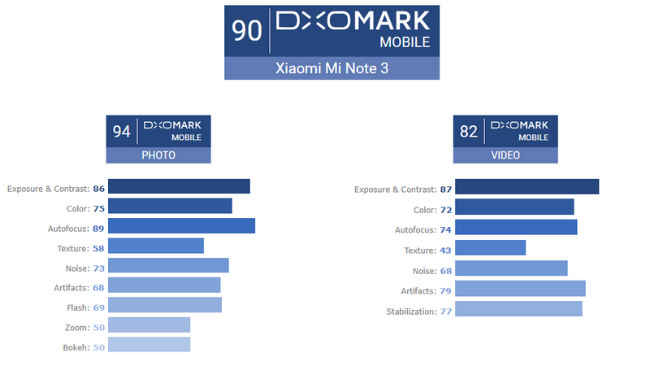 In terms of video recording, DxOMark notes that the Xiaomi Mi Note 3's auto-focus is fast with acceptable tracking, and the smartphone offers "reasonably effective stabilisation" with generally accurate exposures and usually accurate white balance count despite occasionally visible frame drops. However, the smartphone captures low details in all conditions and there is also a noticeable difference in sharpness between consecutive frames.