As per expectation, Apple showed off the new operating system for the mobile devices – the iPhone, the iPads and the iPod Touch. Named iOS 7, the new OS brings in a completely different user interface. Tim Cook described this as the biggest iOS update since the launch of the iPhone. Out go the skeumorphic layout, and in comes the cleaner layout with a completely new and crisper font. The focus is on the "depth" perception at most parts of the interface, and even overlays, like the Control Centre, tend to take influence from the part of the UI that is currently on the screen.
"There is a profound and enduring beauty in simplicity, in clarity, in efficiency. True simplicity is derived from so much more than just the absence of clutter and ornamentation—it's about bringing order to complexity," said Jony Ive, Apple's senior vice president of Design. "iOS 7 is a clear representation of these goals. It has a whole new structure that is coherent and applied across the entire system."
The new OS will bring in a lot of new features, as well as tweak some existing ones to make them better.
iOS 7 will introduce the Control Centre. This is essentially a bunch of settings that you can quickly access anywhere in the UI by swiping up from the bottom of the screen. Quick settings like Airplane Mode, Brightness levels, Wi-Fi, AirPlay, music playback etc. will be available.
The Notifications have been given an overhaul as well, and the new Today feature gives you an at-a-glance view of your day with a summary of the important details such as weather, traffic, meetings and events. Notification Center is now available from the Lock screen as well.
Multi-tasking has now been extended to all apps that you may have on the device, and the visual layout of how you manage switching between apps has also been given a complete overhaul. The method of double tapping the home key to get to the option remains the same.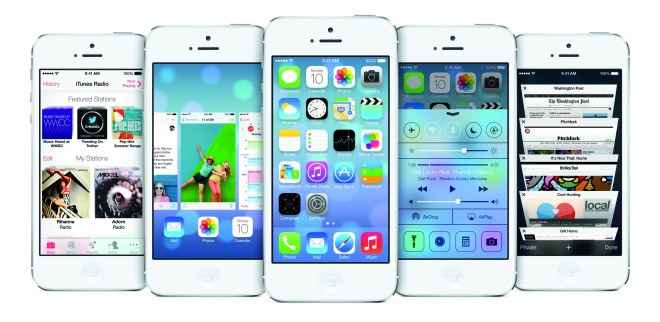 Apple has added the AirDrop feature to iOS 7, making sharing files between Apple devices a lot easier. It works exactly as it does between two Macs. Apple did take a dig at the NFC technology, by joking about the fact that AirDrop negates the need to go around tapping phones with each other!
iOS 7 gets a new Camera app, with new features like filters, allowing you to add real-time photo effects. The Camera app also gets the square camera option, and you can quickly and easily switch between your four cameras—video, photo, square and panorama—with just a swipe within the app.
Carrying on with the theme of photography, iOS 7 will feature a completely redesigned Photos app. The biggest new feature is called Moments, which automatically organises your photos and videos based on time and location they were shot. You can also see these Moments sorted by location, month and even by year. The updated iCloud Photo Sharing allows your family and friends to add photos to your shared photo streams, and the new Activity view displays updates from your shared streams all in one place. Now, iCloud Photo Stream also allows sharing videos.
Safari has been given a complete makeover as well. The redesigned interface focuses on bringing more content on the screen. Safari now gets the full-screen browsing mode as well. Smart Search field now looks through your bookmarks and online search results simultaneously. If you have multiple tabs open on the browser, the way they are stacked has been completely redone as well.
Safari will also benefit from the iCloud Keychain, which can now store your passwords and credit card information and make them available across all devices. The idea is to ensure that you have any login or transaction details available on any device at any time. Enhanced Parental Controls will allow specific websites to be blocked.
SIRI has been given some love as well. The female voice has been changed, and a male voice has also been added. There is now the language option as well, with German and French being two examples. SIRI now has Twitter integration, and will pull search results to show what people are saying. For the web based searches, Bing continues to be the engine.
The Music app on iOS 7 has been given a complete overhaul. The most important change is the addition of the new iTunes Radio, a free Internet radio service featuring over 200 stations and music from the iTunes Store.
Apple says, "When you tune into iTunes Radio on any device running iTunes, you'll have access to stations inspired by the music you already listen to, Featured Stations curated by Apple and genre-focused stations that are personalised just for you. iTunes Radio evolves based on the music you play and download. The more you use iTunes Radio and iTunes, the more it knows what you like to listen to and the more personalised your experience becomes." iTunes Radio also gives you access to exclusive "first listen" premieres from top selling artists, Siri integration plus the ability to buy anything you hear with just one tap. We had talked about the possible launch of the music streaming service recently (Read Here - http://www.thinkdigit.com/Apps/Apples-streaming-music-service-Why-iRadio-is_14981.html)
That's not all! iOS 7's feature list has not ended yet!
The new Find My iPhone Activation Lock feature that requires your Apple ID and password before you can turn off Find My iPhone, erase data or re-activate a device after it's been remotely erased. This is to make the iPhone, iPad or iPod Touch less enticing to steal!
FaceTime gets the audio calls feature, allowing users to make voice only calls over the service, on Wi-Fi or a mobile service provider's data connection.
The new Notification Centre comes with Notification Sync, which will sync your interaction with every notification across all devices. You don't need to repeat the same action across all devices now.
Phone, FaceTime and Messages blocking to prevent specific people from being able to contact you. Apple did not release many details regarding this feature, but we sure believe this is very interesting.
The iOS 7 beta software and SDK are available immediately for iOS Developer Program members. For the consumers, the new OS will be available "this fall". At the moment, Apple says the update will be available for the iPhone 4 and later, iPad 2 and later, iPad mini and iPod touch (fifth generation).