Research in Motion (RIM) has decided to change name of its forthcoming BBX platform to BlackBerry 10, after a trademark suit saw it blocked from using "BBX" as planned. The new platform based on QNX was announced in October this year. RIM had planned to launch the new OS in its PlayBook tablet and smartphones lined up for 2012. However, a software company called Basis International had already booked the BBX trademark and managed to get a restraining order against the Canadian company, blocking it from using the name of the trademark.
While rejecting the RIM's arguments, the US federal court in Albuquerque, said that the BBX mark was identical to the mark which RIM was going to announce in Singapore at an event. Though the two companies are not direct competitors, the court said, "the parties' respective BBX products are highly related and target the same class of consumers, that is, business application software developers."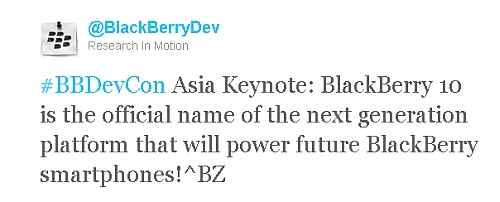 Meanwhile, RIM at its BlackBerry Devcon Asia event in Singapore claims that its performance has improved in Asia-Pacific region. It also highlighted that it was number one mobile phone maker in markets such as Indonesia. RIM hopes that BlackBerry will grow faster in the Asia-Pacific region. It says that number of BlackBerry Messenger users increased from 28 million to 50 million in the past year.
Also read,

Vote and Win!

Digit Icons of Trust 2011 Survey

Visit http://thinkdigit.com/trust to vote for your favorite tech brands in India.
Survey participation gives you a chance to win exciting gifts like wireless input devices, earphones and special edition Digit branded T-shirts.
As an appreciation of your valuable time and input, every participant will receive an assured gift in the form of Digit discount vouchers.
We encourage you to participate in multiple surveys to increase your chances of winning more goodies.