RED, the company behind professional cinematic cameras has been working on a $1,200 smartphone named Hydrogen One. The company has already started pre bookings for the device and has now shared more details about the smartphone.
YouTuber Marques Brownlee has posted a new video detailing some of the features of the Hydrogen One. In the video, he shows a non-working prototype unit of Hydrogen One, giving a glimpse into the final design of the smartphone. According to Brownlee, RED currently has three prototypes — one showcasing the final design, another one to demonstrate the holographic display and a third one that acts as a full-fledged professional camera with dedicated sensor and lens.
On the smartphone front, the RED Hydrogen One is just like any other conventional smartphone available in the market with its footprint somewhat bigger than the iPhone 7 Plus. However, it differs in terms of material, using Kevlar fabric and a rugged design that should be able to take a few bumps here and there. The smartphone will feature a 5.5-inch display and its power button will double as a fingerprint sensor. Staying true to its RED DNA, the smartphone offers a dedicated shutter button for recording videos. It features stereo speakers on the front and has a dual camera system for normal photography. It also has a headphone jack, a rarity among flagship smartphones.
In the video, Brownlee says the holographic display offers a "crazy, deep, sort of 3D look" and RED showed him 'four-dimensional' content shot specifically for the display. He also observed some light bleeding at the edges and stuttering since it's an early prototype.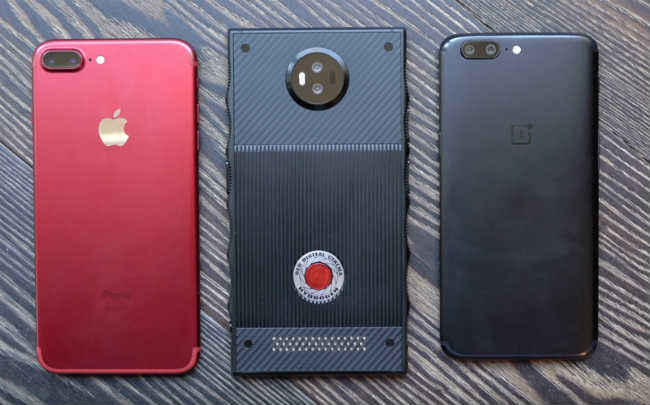 The RED Hydrogen One is a modular smartphone and will stand out against other smartphones primarily with its module, offering attachable lenses and a dedicated image sensor. This early look at the prototype makes it clear that RED is content to launch this smartphone in the next few days. Brownlee even mentions that the company plans to have a working prototype ready within the next 45 days. The idea might seem crazy, but RED seems ready to deliver a $1,200 smartphone, that is unlike anything else on the market.
Tags:
red
red hydrogen one
red hydrogen one specifications
hydrogen one prototype video
red hydrogen one features
red hydrogen one price
mobiles
smartphones