UPDATED:
The slides containing Qualcomm Snapdragon 820 specs have leaked. According to slides posted on Wiebo account of Chinese analyst Pan Jiutang, the Snapdragon 820 has new quad-core Hydra CPU cores instead of the expected Kryo cores. As per leaks, it is 35% faster than predecessor Snapdragon 810 processor. The latest processor will have Adreno 530 GPU which gives 40% better graphic performance. The Snaprdagon 820 is built on 14nm FF manufacturing process whereas in older processor, Qualcomm used 20nm.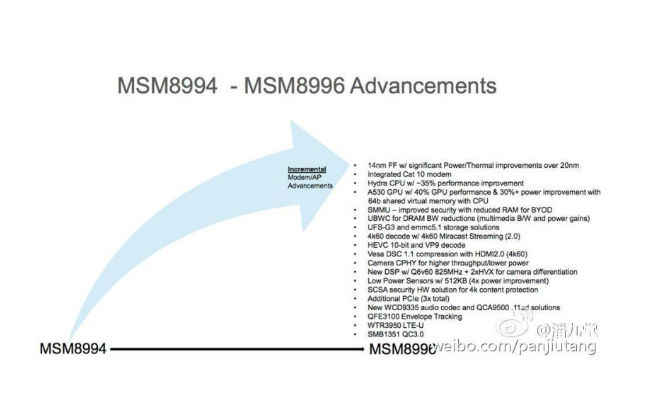 If rumors are to be believed, Qualcomm is all set to release its latest flagship processor Snapdragon 820 next week on August 11 at an event in Los Angeles. It will be successor to Snapdragon 810 released by Qualcomm last year.
Qualcomm first talked about the Snapdragon 820 at the MWC event held earlier this year. During the annoucement, they mentioned that processor is built upon Qualcomm's Zeroth platform which is a cognitive capable platform to make phones smarter. Here, cognitive capabilities refer to audio and sound recognition, immersive multimedia, intelligent connectivity, visual perception, etc.. The other specs of Snapdragron 820 include Adreno 530 GPU and it will be built on FinFET process.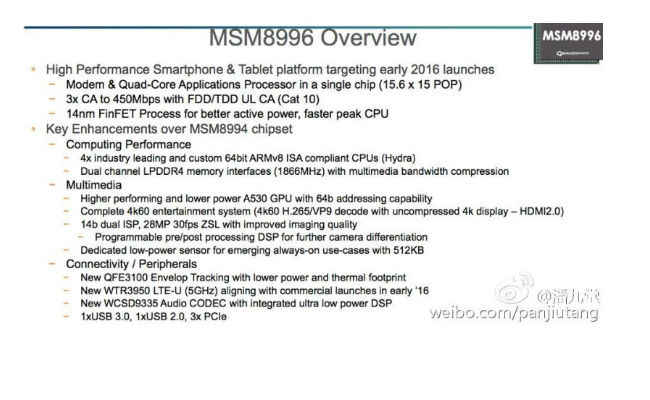 The rumors go on to state that Snapdragon 820 could clock up to 3GHz as comapred to 810 which clocks up to 2GHz. Even the Snapdragon 820 Geekbench benchmark tests showed it to be better than Snapdragon 810. For the tests done on Samsung SM-G9200, the processor had a single-core score of 1486 and multi-core score of 5284.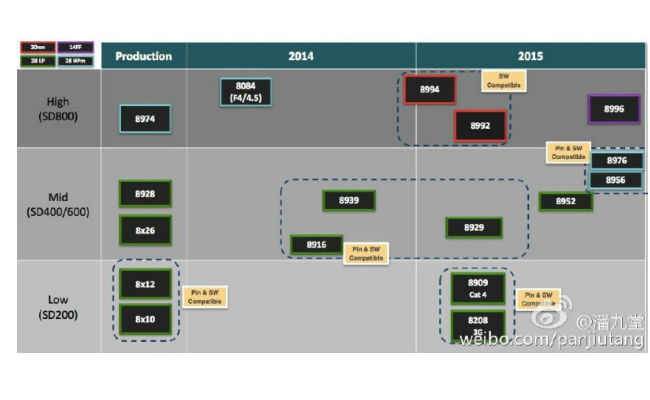 So whenever Qualcomm decides to release Snapdragon 820, be it on August 11 or some other time, there will be two interesting things to see: Whether it will heat up like its younger brother 810 released last year and whether it is actually fast enough as suggested by rumors. Although, they did bring an improved version of Snapdragon 810 for OnePlus device. Qualcomm would be expecting not to run into same or any other issues again.
Image source: Pan Jiutang Wiebo Profile.