Researchers develop 'Paperfold' smartphone, that lets users add/remove screens as needed.
Paperfold is an experimental bendable smartphone, that has three different displays that can fold over one another and are responsive to where they are relative to each other.
The smartphone prototype has been developed by Roel Vertegaal and Antonio Gomes from the Human Media Lab at Canada's Queen's University. They showed off the new e-paper phone at the ACM CHI 2014 conference in Toronto this week.
The shape-changing smartphone allows users to open up to three flexible 'electrophoretic' displays to provide extra screen space when needed. The three displays are detachable and users can easily fold the device into various shapes that can range from an ultra notebook shape to a foldout map. It will be powered by an E-Ink touch screen display and provide over a month of battery life.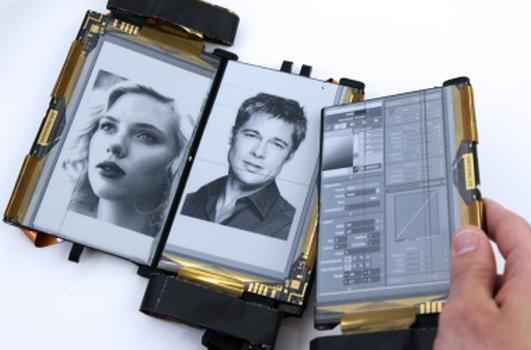 PaperFold automatically recognizes its shape and then changes its graphics to provide different functionality upon shape changes. For example, folding the device into an ultra notebook form-factor opens up a keyboard on the bottom screen. Similarly, while using Google Maps, the maps can be easily displayed over three displays when unfolded flat like a paper map. You can also fold the map into a rounded globe shape and get a Google Earth view or if you fold the device to a shape of a building on the map, the smartphone switches the view to a 3D-SketchUp model of the displayed building that is also ready to be sent to a 3D printer.
"In PaperFold, each display tile can act independently or as part of a single system," explains Dr. Vertegaal, a Queen's University professor at its School of Computing. "It allows multiple device form factors, providing support for mobile tasks that require large screen real estate or keyboards on demand, while retaining an ultra-compact, ultra-thin and lightweight form factor."
Roel Vertegaal had earlier demonstrated the PaperTab at CES 2013, in collaboration with Plastic Logic and Intel. The tablet screen has a high-resolution 10.7-inch plastic display that is as thin as a sheet of paper and is powered by Intel Core i5 Processor. The Paper Tab can be twisted or dropped without any damage to the screen. The 'revolutionary' Paper Tab screen is expected to replace your laptop in next five years.
Source: Human Media Labs