Working from home?
Don't forget about the most important equipment in your arsenal
Click here to know more
Highlights:
OnePlus 5 and OnePlus 5T are receiving OxygenOS 9.0.2 Hot Fix.
This OnePlus hot fix is an incremental rollout.
If you're not yet seeing the update yet, you should get it soon.
OnePlus' Android 9 Pie rollout for the OnePlus 5 and the OnePlus 5T seems to be stabilising a little over two weeks after its first announcement. According to a OnePlus Forum post, the two phones launched in 2017 are currently receiving OxygenOS 9.0.2, which is a 'Hot Fix release'. Do note that the Chinese smartphone company is performing an incremental rollout of the fix. So if you still aren't seeing anything appear in the System Updates section of your OnePlus, it's only a matter of time before you get it.
According to the changelog in OnePlus' post, OxygenOS 9.0.2 is a quick fix for problems related to Wi-Fi connectivity in some apps and the capacitive and physical navigation buttons on the OnePlus 5. Additionally, it has system-level fixes like improved Wi-Fi connection stability, optimised sRGB Display mode and Reading mode, the 4G VOLTE toggle option, and fixes for random reboots. "The OTA will reach a small percentage of users today, and we'll begin a broader rollout in a few days," wrote Manu J, OnePlus' Global Product Operations Manager in the OnePlus Forum.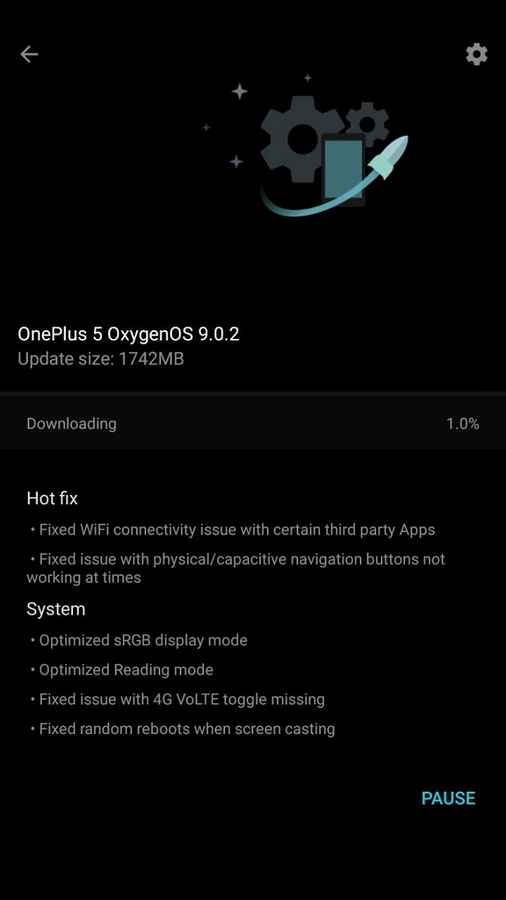 Though the original Android Pie (OxygenOS 9.0.0) rollout announcement for the two phones came out on Christmas Day last year, many of the devices (including our resident OnePlus 5 units) did not receive an update for a number of days. Just as the year was about to end, OnePlus Support admitted it had encountered 'issues' with the build and that it would roll out OxygenOS 9.0.1 in the following days.
OnePlus 5/5T users who did not receive their Android 9 Pie update all along can expect it now with the current OxygenOS 9.0.2 Hot Fix rollout. The update is 1,742 megabytes in size. If you're not seeing an update notification pop up on your phone, head to the System Updates section in Settings and tap 'Check for Updates'. With any luck, you should see the update appear. If not, have patience; you should get your share of the Pie soon.
Related Read: Next OnePlus smartphone may have UFS 3.0 storage