Meizu has started sending out media invites for its MWC event on February 28. The invite comes with a tagline 'Faster Than Ever', and latest rumours suggest the company will announce mCharge 4.0. Last year at MWC, Oppo unveiled new advancements in its VOOC fast charging technology, than introduce a new product. Meizu is looking at similar prospects this year. It is not clear whether Meizu will debut new smartphones, but that lightning sign on the invite confirms the unveiling of the new fast charging technology.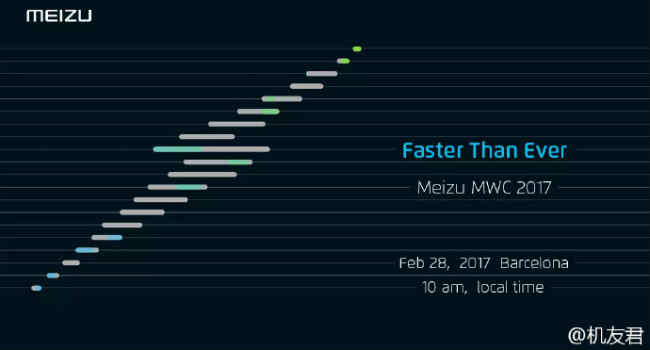 According to a Weibo leak, the new mCharge 4.0 will use a 9V/4A charge with 36W power output. The technology will charge devices at lower voltage of 9V and higher current rating of 4A. This seems identical to OnePlus' Dash Charging technology which will also uses 4A current rating. The new fast charging technology will reportedly charge a dead smartphone to full battery in just 45 minutes. It is not clear what battery capacity we are looking at, but it definitely seems to be a step in the right direction.
Meizu, the Chinese smartphone maker has changed its mobile strategy in the past few months. The company recently settled a lawsuit with Qualcomm and adopted Samsung's Exynos chipset for its flagship handset. The company recently introduced Pro 6 Plus, M5, M5 Note, and M5s - all aimed at different price segments. The new mCharge 4.0 is expected to debut first on the company's next flagship smartphone, dubbed Meizu Pro 7.
Mobile World Congress starts on February 27 at Barcelona, although most mobile manufacturers will announce their products on February 26. Nokia, LG, Samsung and Huawei have confirmed their pre-MWC events on February 26, while LG is expected to debut the flagship G6, Nokia will annnounce its comeback devices for the global market, which is highly anticipated as an emotional comeback for the much-loved Finnish company.