OnePlus TV 32Y1 - Smarter TV
Android TV with superior craftsmanship and elegant design.
Click here to know more
Advertisements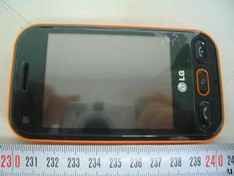 The Bluetooth SIG (Special Interest Group) is known for its innovative contributions towards Bluetooth wireless technology and its implementation across the latest handsets. Just like the FCC, the Bluetooth SIG does get its hands on a number of unreleased handsets prior to their launch, and now, they've confirmed that LG will be launching a new phone in August, starting with Europe, called the LG T325.
The LG T325 will reportedly ship with a 3.2-inch touchscreen display, and support Bluetooth connectivity and 3G networks. However, there is no official confirmation from LG on the exact release date or information on the operating system it would run on. Hopefully, LG doesn't keep us waiting for too long, as the 3G - touchscreen mobile market heats up with more competition everyday. Not to forget, the popularity and buzz created by the Cookie brand product line in the last few months, which the LG T325 will supposedly be a part of. We definitely crave more!