LG took its first step in the Android phone business with the LG InTouch MAX GW260. Today, LG Mobiles announced the launch of its flagship model LG GW620, running on the Android OS v1.5 (Cupcake) platform, for the Indian Market.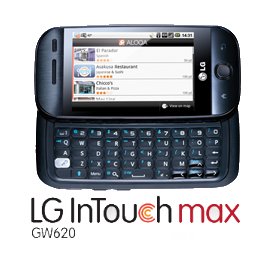 After Cookie Pep and the Chocolate models, LG's latest GW260 also focuses heavily on social networking and corporate customers. It is basically a sideways slide phone with a full QWERTY keypad, with a 3-inch TFT touch-screen playing at 320x480 resolution that supports up to 18bit(262K) colours. Connectivity-wise, this phone can handle both GSM and CDMA networks for multiple frequency bands and the packet data service is GPRS/EGDE class 10. Also, the very obvious features for a smartphone, like Bluetooth, WiFi, GPS and all these things come with the package too.

For multimedia needs, the LG InTouch MAX GW260 comes with a 5MP digital camera, microSD cards for storage up to 16GB, playback support for common media formats. This device supports 3.5mm audio input jack, so no need for proprietary headsets.

The social networking features are managed through a newly introduced application, named Linkbook™ whereas, the LG GW260 also features a Instant Messenger app and also a full web browser. For more corporate users, this phone consists of applications for basic office needs, such as Word, Excel, PDF viewer or, the Moxier Suite for Calender and Contact synchronization.

Now these are all mediocre features, quite common in most phones of this class, however this phone does feature something truly amazing and unique: a dual boot interface! Users can choose between the standard Android menu option or LG's S-Class UI (this may also expose a complete new aperture for some users to try out other mobile operating systems without the any boot patching to port the software). The home screen operates in a seamless loop for easy access of widgets, shortcuts and folders.

Now, wrapping up the whole thing, these all features bundled into one; LG GW260 comes within just Rs 16,490. It's true that this phone doesn't seem to be a groundbreaking gadget in its hardware features, however that multi-boot feature is something to look out for. Phones with multiple environments are the way to go in future devices, and as we reported before, VMWare has plans for multiple OS virtualization for mobiles in the future.

It seems to be a good value for money product, at least for those Indian customers who don't mind having an Android 1.5 phone while the latest Android 2.1 cousins are still pretty hard to avail.
Check out features and specifications of other latest LG Handset Models on Consumermate.com.